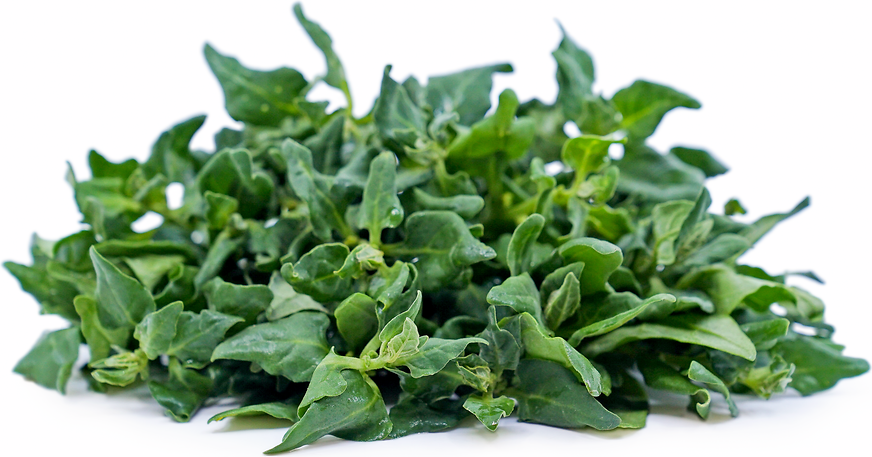 New Zealand Spinach
Inventory, lb : 0
Description/Taste
New Zealand spinach is a branching plant comprised of trailing, soft stems enveloped in small leaves averaging 5 to 10 centimeters in length. The dark green to yellow-green leaves grow in an alternate formation along the stems and have an oval to triangular shape, tapering to a pointed tip. The leaves also have a sturdy, chewy, and succulent nature and a glistening appearance created by the salt-retaining hairs covering the surface. These balloon-like hairs are sometimes referred to as salt bladders or trichomes and contain excess salt, allowing the plant to thrive in salty soils while carrying out photosynthesis as usual. The older the plant becomes, the more salt it gathers, causing the leaves to develop an unfavorable bitter and salty taste. Young New Zealand greens are the preferred state for culinary preparations and have a mild, vegetal, green, and salty taste with subtle grassy and metallic nuances.
Seasons/Availability
New Zealand spinach is available in the spring through fall.
Current Facts
New Zealand spinach, botanically classified as Tetragonia tetragonioides, is an ancient species belonging to the Aizoaceae family. The bushy, fast-growing perennial stretches in a sprawling fashion across the ground, extending 1 to 2 meters in length, but also grows slightly upright, reaching 20 to 60 centimeters in height. New Zealand spinach is an heirloom species native to Australia and New Zealand. The plant was prevalent as a food source among the Maori people in New Zealand and became famous when European explorers first recorded it in the late 18th century. Despite its moniker, New Zealand spinach is not related to common spinach and was given this descriptor for its similarity in flavor to spinach. When British botanists collected the greens in Botany Bay, Australia, in the 18th century, they were described as having a spinach-like taste, resulting in the spinach moniker. The greens were also commonly referred to as Botany Bay greens and Botany Bay spinach. Throughout history, New Zealand spinach has also acquired several additional titles, including Warrigal greens, a term developed from the seed's resemblance to a dog's face. Warrigal is a term taken from the Wiradjuri word for "dog" and was named after the wild dingo of Australia. New Zealand spinach is also called Maori spinach, Native Australian Bushtucker, Sydney greens, Cook's Cabbage, Sea Spinach, Tetragon, and Kokihi. In the modern day, New Zealand spinach is commercially grown in select regions worldwide and planted in home gardens as a heat and drought-tolerant species. New Zealand spinach is also foraged from wild plants, and the young leaves are consumed as a lightly cooked green.
Nutritional Value
New Zealand spinach is a source of calcium to build strong bones and teeth, vitamin A to maintain healthy organ functioning, vitamin E to reduce inflammation, and vitamin C to strengthen the immune system. The greens also provide vitamin K to assist in faster wound healing, iron to develop the protein hemoglobin for oxygen transport through the bloodstream, and other nutrients, including manganese, folic acid, B vitamins, phosphorus, and riboflavin. Beyond vitamins and minerals, New Zealand spinach contains oxalates with oxalic acid, an organic compound that may be harmful if ingested in large quantities. Oxalates can also accumulate in the body when eaten in high concentrations, sometimes contributing to the formation of kidney stones. Blanching the greens can help reduce oxalates in the leaves.
Applications
New Zealand spinach has a mild, vegetal, and salty flavor suited for lightly cooked preparations, and young leaves are the preferred age for use in culinary dishes. Before adding to recipes, it is recommended to soak the greens in cold water for half an hour or blanch them to reduce the oxalates in the leaves. Once prepped, the leaves can be mixed into pesto or chutney, layered into sandwiches, or folded into gnocchi and pasta. New Zealand spinach has a sturdier nature than common spinach and can be used in any recipe calling for spinach. The greens are popularly cooked into frittatas, stirred into casseroles, steamed as a simple side dish, or added to stir-fries. New Zealand spinach can also be stuffed into meats, peppers, and squash, cooked and added as a toast topping, or sauteed and served with roasted meats and seafood. Try adding New Zealand spinach to rice, use it as an ingredient on flatbread, or incorporate it into a spanakopita filling. The greens can also be added to soups, stews, and curries. New Zealand spinach pairs well with aromatics such as lemongrass, chile peppers, shallots, garlic, and ginger, mushrooms, bell peppers, potatoes, root vegetables, cheeses including feta, parmesan, and cheddar, and herbs such as parsley, cilantro, basil, and mint. Whole, unwashed New Zealand spinach will keep up to one week when stored in paper towels in a sealed container in the refrigerator's crisper drawer. The greens can also be frozen or canned for extended use.
Ethnic/Cultural Info
New Zealand spinach was rumored to have been one of the deciding factors in establishing Australia as a new British outpost. The Transportation Act of 1717 declared that British citizens found guilty of crimes could be sentenced to a British outpost to work and live. The length of the sentence was seven years for non-capital offenses and fourteen years for capital offenses, and the original outpost was the colony in America. More than 50,000 convicts had been sent to America before 1775, but with America's sudden independence after the Revolutionary War, the colony would no longer accept criminals. The British government had to search for a new outpost to send the growing population of prisoners and initially considered the Caribbean or Africa but decided against it. In 1783, officer James Matra proposed that the prisoners be sent to an outpost on Botany Bay in Australia. Matra had been a part of the first voyage with Captain James Cook to Australia in 1768 and deemed the land fit for a new colony. Botanist Joseph Banks was also on the voyage to Australia and agreed with Matra that the location would be suitable for a new colony. It is said that Banks stood in front of the House of Commons Committee to discuss the new land, and one of his notable mentions was of a plant similar in flavor and texture to spinach. Banks was referring to New Zealand spinach, and he shared how the green was plentiful throughout Botany Bay and would be an excellent food source for the convicts. The mention of New Zealand spinach is thought by historians to have helped sway the vote, and by 1787, the first fleet of British convicts was sailed from England to Botany Bay, Australia, arriving in 1788 to build the new colony.
Geography/History
New Zealand spinach is thought to be native to Australia and New Zealand has been growing wild since ancient times. Much of the history of the species is unknown, and some botanists argue that the plant may have evolved from a wild plant that floated from Africa over to Australia, naturalizing and transforming. The first written record of New Zealand spinach was documented in 1770 when Captain James Cook arrived with his crew from England to Australia. King George III ordered Captain Cook in 1768 to sail on the HMB Endeavour to Tahiti to document the Transit of Venus, a rare celestial event where the planet travels between the sun and Earth, only occurring every 243 years. After he recorded the details of this event, he was asked to find the land known as Terra Australis, now known as Australia. Captain Cook and his crew were the first Europeans to visit Australia, and the voyage was funded by Joseph Banks, a botanist who was also aboard the HMB Endeavor. At the time, Banks was a 25-year-old naturalist who desired to travel the world. Banks contributed 10,000 pounds to fund the voyage, a sum that equates to over 2 million dollars in the modern day. The HMB Endeavor was filled with more than 100 books on botany, and Banks hired botanical illustrator Sydney Parkinson and Swedish botanist Daniel Solander to help him document the new flora. In April 1770, land was spotted, and Banks and his team set foot at Botany Bay, Australia, where they spent every moment of their day cataloging, collecting, and describing plant species. Banks collected over 1,400 species, and one of the most notable discovered species was New Zealand spinach. Legend has it that the crew aboard the HMB Endeavor consumed New Zealand spinach on their journey to avoid getting scurvy. Banks also took New Zealand spinach seeds back with him to England and later gave them to Kew Gardens, where they were planted in 1772. In the 19th century, New Zealand spinach seeds were spread throughout Europe and were a popular plant in Victorian gardens. The species was also introduced to the United States and was featured in home garden catalogs in the 1880s, later fading from commercial popularity into obscurity. Today New Zealand spinach thrives in saline-rich soils or dry areas, typically along roadsides, on arid plains, woodlands, or sand dunes, and is also found in coastal wetlands, bluffs, saltmarshes, and disturbed areas. The species is present worldwide and is primarily grown as a small-scale commercial green in Australia, New Zealand, Europe, Southeast Asia, Africa, and the Americas.
Recipe Ideas
Recipes that include New Zealand Spinach. One

is easiest, three is harder.