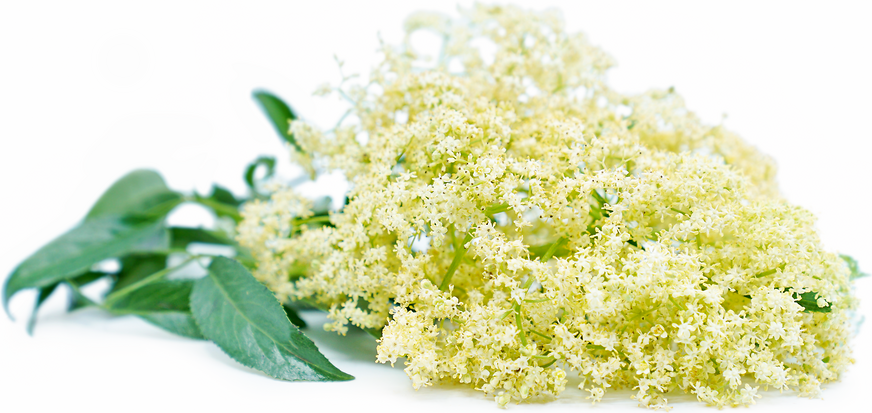 Elderflowers
Inventory, bskt : 0
Description/Taste
Elderflowers are very small, measuring 5 to 8 millimeters in diameter. The flowers bloom in large, dense umbels ranging in size from 6 to 12 centimeters and have a delicate, lacy appearance. The blossoms are comprised of five small, ovate petals, forming a star shape, with long cream-colored stamens extending from the center. They are attached to thick hollow stems interspersed with lanceolate leaves with serrated edging. Elderflowers have an incredibly heady aroma with notes of sweet muscat grapes and vanilla and a floral and somewhat bitter flavor with sweet notes of passionfruit, pears, and citrus.
Seasons/Availability
Elderflower blossoms appear in the early summer and extend through the middle of the season.
Current Facts
Elderflowers appear at the stem ends of large, tree-like shrubs called Elder trees. These shrubs, botanically classified as Sambucus nigra and Sambucus ebulus, can grow over seven meters tall in the wild but are often trimmed into smaller hedge trees. Elder trees are a member of the honeysuckle family and are easily identifiable by their intoxicatingly perfumy lace-like flowers and fissured corky bark. Elder trees are also known as Black Elder, Ellhorn, Pipe tree, and Bore trees. If left to fruit, the flowers will develop into small dark blue and green berries with a white powdery cover. The leaves, bark, roots, and unripe green berries of the Elder tree are mildly toxic and should not be consumed raw. The flowers can be consumed raw along with the ripened berries. Elderflowers are at their peak for foraging after the green buds have opened but before any brown discoloration develops. Elder is an ancient plant believed to have spread across the Northern Hemisphere during the Ice Age. The bushes grow in mountainous areas and river valleys with very little direct sunlight. The flowers and berries of the elder tree have been used medicinally by peoples in North America, Central America, and Europe for thousands of years, as well as in culinary applications. The twigs of the trees were also famous among children for making hollowed-out toys such as pop-guns and panpipes because of their unique removable cork-like centers.
Nutritional Value
Elderflowers contain high levels of vitamin C, a nutrient necessary for the growth, development, and repair of tissues within the body. Vitamin C also supports the immune system and helps to combat free radicals in the body that can cause inflammation. The flowers also contain quercetin and anthocyanins, two powerful antioxidants that support cognitive function, and chlorogenic acid; a compound believed to help lower blood pressure. Elderflowers have been thought to have medicinal and healing properties for thousands of years. Cordials and tonics made from the flowers have been used to treat symptoms of the common cold and arthritis and eye infections.
Applications
Elderflowers are suited as an edible accent, added at the end of preparations to maintain the flower's delicate shape and texture. The entire umbel is edible and can be used whole, or the petals can be separated and spread throughout the dish. Elderflowers can be sprinkled over salads, floated over soups and curries, placed into fruit bowls, or used as a garnish for sushi and sashimi. The flowers can also be used to decorate seafood dishes such as calamari, ceviche, and shrimp cocktail or strategically placed on pasta, seafood, sandwiches, appetizers, and other main plates for added aesthetic. In addition to using the flowers in their natural form, the blooms can be frozen into ice cubes to add color and flavor to a beverage, mixed into butter sweetened with honey to create vibrant compound butter, or pressed into cookies and soft cheeses for an elevated appearance. A cordial is regularly made from the aromatic blossoms and served in craft cocktails, mocktails, and other sparkling beverages. Elderflowers can also accent desserts such as cakes, scones, sorbets, crème brulee, cookies, puddings, and tarts, or they can be used as a garnish in craft cocktails. The flowers are also commonly battered and deep-fried as a fritter. Elderflowers pair well with chocolate, fruits such as coconut, strawberries, lemons, passionfruit, mango, and cherries; herbs including lavender, parsley, and mint; cheeses such as goat, brie, and blue; leafy greens, and springtime vegetables including asparagus, peas, green garlic, and fava beans. The flowers should remain attached to the stem as long as possible and used within 48 hours for best quality.
Ethnic/Cultural Info
Elderflowers have been used for centuries to create Elderflower cordial, a sweet and floral drink made from steeped Elderflower, sugar, lemon, and water. Elderflower cordials and syrups have been enjoyed as libations in Europe since the reign of the Tudors in the 16th century, and medicinal drinks made from the flowers had been enjoyed for many centuries prior throughout the world. While the drink remained popular for many generations, the first commercial bottle of Elderflower cordial was developed in the 1980s. The drink was created and marketed by Lord John Manners, the owner of the Belvoir Fruit Farm in Nottingham, England. The sweet and perfumy flowers mixed with bright lemon and sugar create a refreshing drink that can easily be incorporated into cocktails and other beverages. It is estimated that throughout Britain, over 10 million Elderflowers are gathered during the four-week harvesting window and that the UK consumes over 46 million litters of Elderflower cordial each year. The drink's popularity has soared in conjunction with the rise in the craft cocktail market in recent years. Elderberry cordials like the one developed at Belvoir farms have given way to Elderberry wines and liqueurs. The most popular elderberry alcohol is St. Germain, a French liqueur inspired by a cocktail containing Elderflower cordial. The company claims that each bottle of St. Germain has 1,000 elderflower blossoms and that the unique golden color of the liqueur is caused by the pollen from the flowers. Due to the limited harvest window, St. Germain produces limited batches of its famous liqueur annually.
Geography/History
Elder is an ancient plant indigenous to much of the Northern Hemisphere as well as parts of South America, Asia, and Australia. Botanists believe the plant was spread around the world as early as 12,000 BCE and took root in many different temperate and subtropical regions during the Ice Age, especially along rivers, streams, and canyon slopes. The earliest recorded cultivation of the flowers and berries was performed by a Neolithic civilization in Switzerland in 2,000 BCE. Elder trees have been the subject of folklore for thousands of years and were used medicinally in Ancient Egypt, Greece, and Rome, as well as by indigenous tribes worldwide. In Christian mythology, the crucifix is said to have been carved from an elder tree, and in many Pagan myths, the elder tree is tied directly to mother earth and the Fae realm. Today, the trees can be found growing throughout North and Central America as well as many parts of Europe and the United Kingdom. The flowers and berries are cultivated on a small scale for medicinal uses and for the production of Elderflower cordial. The flowers can be foraged in these regions during the summer months, or they can be found fresh at farmer's markets and specialty shops and dried through different online purveyors.
Recipe Ideas
Recipes that include Elderflowers. One

is easiest, three is harder.
Podcasts