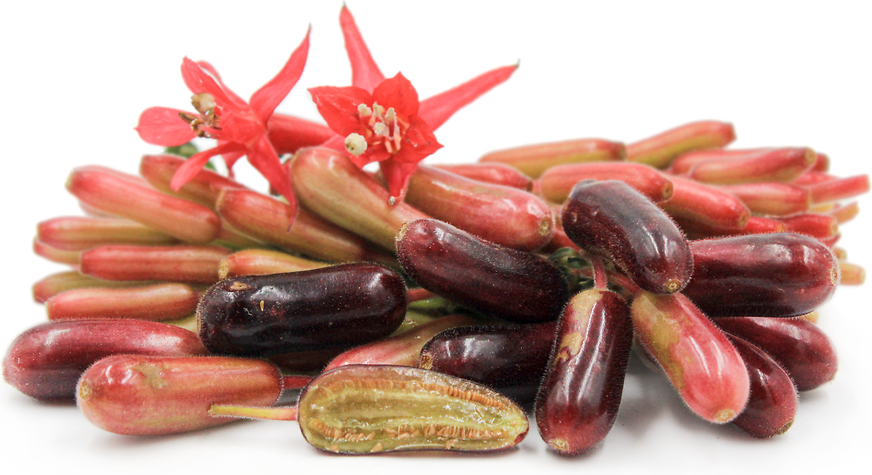 Bolivian Fuchsia Fruits
Inventory, lb : 0
Description/Taste

Bolivian Fuchsia fruits are small in size, averaging 1 to 3.6 centimeters in length and less than 2.5 centimeters in diameter, and have a straight, cylindrical, to tubular shape with blunt, curved ends. The fruits hang in dangling clusters, and the skin is semi-thin, smooth, taut, and glossy. Bolivian Fuchsia fruits ripen from green to red, purple-red, to dark purple when mature. It is important to note that only ripe fruits should be eaten, and generally, the darker the coloring, the sweeter the fruits. Underneath the surface, the fruits have a gelatinous, aqueous, and succulent texture similar in consistency to a grape or cherry. The pale green flesh also encases up to 200 tiny brown edible seeds, giving the fruits a slightly crunchy mouthfeel. When ripe, Bolivian Fuchsia fruits have a refreshing, sweet, and subtly tangy green taste.


Seasons/Availability

Bolivian Fuchsia fruits are available in the summer and fall. The flowers remain on the plants for extended periods, almost in bloom year-round in mild, tropical climates.


Current Facts

Bolivian Fuchsia, botanically a part of the Fuchsia genus, is a South American species belonging to the Onagraceae family. The flowering, evergreen plant grows 4 to 6 meters in height and is native to the Andes region of South America, where the blooms and fruits have been used for centuries as a medicinal ingredient and food source. Bolivian Fuchsia flowers are the most recognizable portion of the plant and are comprised of scarlet red, funnel-shaped blooms 3 to 6 centimeters in length. The flowers grow in hanging clusters and remain on the shrubs for extended periods, making the species a favored ornamental landscape plant. Once pollinated, the flowers transition into elongated edible fruits. Bolivian Fuchsia fruits are secondary to the flowers and are relatively unknown outside of South America. In its native growing regions, the fruits are primarily consumed among communities in the Andes mountains and are harvested from wild plants and eaten fresh as a snack.


Nutritional Value

Bolivian Fuchsia fruits have yet to be studied for their nutritional properties. The fruits and the flowers are a source of anthocyanins, natural pigments that give the blooms and fruits their saturated hues. Anthocyanins contain antioxidant-like properties to reduce inflammation and protect the cells against the damage caused by free radicals and oxidative stress. Bolivian Fuchsia flowers are also used in natural medicines throughout South America to improve the spirit and health of the heart. The blooms are sometimes called Corazon-Corazon for their rumored heart-healthy properties.


Applications

Bolivian Fuchsia has a subtly sweet taste suited for fresh and cooked preparations. The fruits can be consumed straight out of hand, and only ripe fruits are eaten, as unripe Bolivian Fuchsias will have an astringent and bitter flavor. The fruits can also be sliced and tossed into salads, mixed into grain bowls, or displayed on charcuterie boards as a specialty item. Bolivian Fuchsia fruits are rare in markets outside of South America and have remained limited in their culinary use. The fruits have been increasingly used in high-end South American restaurants as a garnish and flavoring, and the fruits are popularly simmered into syrups, jams, and jellies. Bolivian Fuchsia can also be incorporated into baked goods such as scones, muffins, and cakes, or they can be mixed into parfaits and puddings. In addition to sweet dishes, Bolivian Fuchsia can be cooked into savory sauces or added to juices for a refreshing taste. The flowers are also edible, and the petals can be scattered across salads, rice dishes, meat main dishes, and desserts. Bolivian Fuchsia, both the flowers and the fruits, should be immediately consumed for the best quality and flavor and will only keep for a day or two in a sealed container in the refrigerator.


Ethnic/Cultural Info

Bolivian Fuchsia was sacred among the Incas and was a bloom closely associated with Inti, the Sun God. Inti was one of the most prominent and powerful gods in Incan mythology and was viewed as a deity having control over agriculture and empires. The sun and gold were symbols of the god, as gold was thought to be the sweat of the sun and much of the Inca Empire's daily life was filled with traditions and offerings to Inti. Bolivian Fuchsia was known among the Incas as Chimpu-Chimpu, Quwapaq, Uchu-Uchu, and Nukch'u, and the elongated flowers were said the resemble the Inti chimpu or the rays that surrounded the Sun God. The vibrant red hues of Bolivian Fuchsia were also used to inspire the red fringed headband of the Sapa Inca, a ruler thought to be a direct descendent of Inti. Sapa Incas traditionally wore elaborate outfits that reminded others of their status and connection to Inti. The rulers wore gold-plated chest pieces with large, engraved suns, and the red fringe on their headbands was meant to symbolize their faces being surrounded by the chimpu rays of the Sun God, an image of their divine connection. Only the Sapa Inca could wear this headpiece, and the fuchsia-inspired red fringe was a vibrant hue representing blood, power, and conquest. Beyond their divine symbolism, Bolivian Fuchsias were also a flower used in designs for religious and political ceremonial cups known as keros. In the modern day, Bolivian Fuchsias are still found lining the trails and roads leading to Machu Picchu, further exemplifying the plant's significance as a culinary, religious, political, and medicinal staple among the Incas.


Geography/History

Bolivian Fuchsia is native to South America and has been growing wild since ancient times. The species was thought to have been initially present in Bolivia, Northern Argentina, and Southern Peru and later naturalized in Colombia, Venezuela, and Central America. The flowers and fruits were utilized as culinary and medicinal ingredients among the indigenous people groups of the Andes and were most notably used by the Incas. Bolivian Fuchsias are depicted on select pottery and wooden bowls discovered in Inca archeological sites and were thought to have been an important symbol in various ceremonies of the civilization. Over time, Bolivian Fuchsia was spread for unknown reasons into Central America and Southern Mexico and was described by botanists in the 1870s. Today the species thrives in cloud forests less than 3,000 meters in height and can grow in other mild climates and home gardens. Bolivian Fuchsia has also spread worldwide for its ornamental nature as a landscape plant and is found on a small scale in parts of Southern Asia. When the fruits are in season, they are primarily sold through local markets and consumed as an edible food source in their growing region in South America.