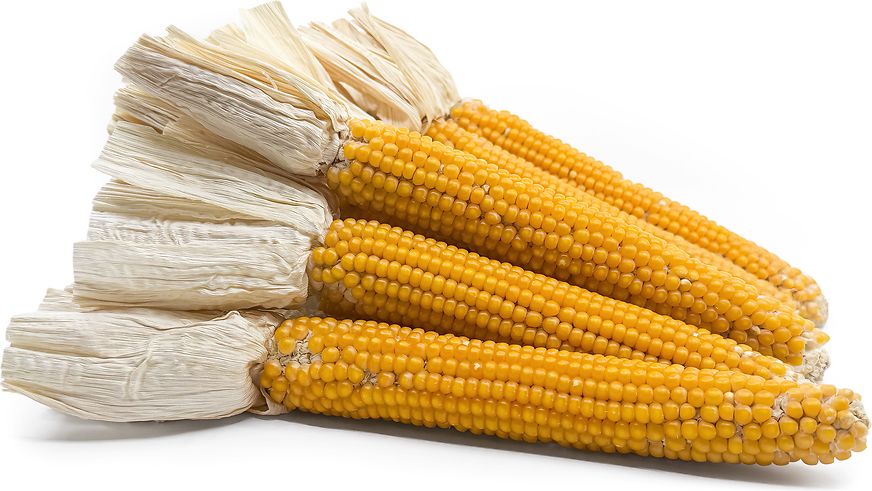 Popcorn On The Cob
Inventory, ea : 0
Description/Taste
Popcorn on the Cob is harvested when the kernels are hard and dry. The tear-drop shaped kernels have round tops and are flat on one side. Popcorn kernels have hard, moisture-resistant outer shells that protect a dense pocket of starch. The kernels can be white, yellow, red or black and vary in size from small, medium or large. When popped, some varieties have a snowflake or winged "butterfly shape," while others have a rounded top "mushroom shape." Popped Popcorn on the Cob has a nutty flavor and crunchy texture.
Seasons/Availability
Popcorn on the Cob is available in the late fall and through the early spring months.
Current Facts
Popcorn is one of 4 types of corn and the only type that pops. The other types are dent, flint, and sweet. Popcorn varieties are botanically classified as Zea mays var. everta. It is technically a sub-variety, or mutation, of flint corn. They are harvested when the moisture content is around 13-14% so that when heated, the water inside turns to steam and causes the kernel to pop inside out. Remains of ancient popped Popcorn were found on the northern coasts of Peru and date back nearly 6,700 years ago.
Nutritional Value
Popcorn is a good source of dietary fiber and manganese. It is a source of protein and zinc, as well as magnesium and phosphorus. It has trace amounts of B-complex vitamins, iron, potassium, copper and folate. Popcorn is considered a low-calorie, low-glycemic food.
Applications
Popcorn on the Cob is generally popped and seasoned as a snack food but has a wide variety of both sweet and savory uses. Mushroom-style kernels are large and firm and are ideal for coating with sauces like caramel or for making kettle corn. Coat popped, salted kernels in chocolate for a sweet and salty snack. Butterfly-style Popcorn is smaller and more tender; it is used in movie theaters and for microwavable popcorn. Seasonings, salts, powdered sugar, and flavorings will stick to the snowflake-patterned kernels. Popped Popcorn can be seasoned when hot and used as a garnish for soups or added to salads. Top brownies, fudge, ice cream, chocolate bark or donuts with lightly salted, popped kernels. Keep unpopped Popcorn in the refrigerator so it doesn't dry out. Popcorn kernels that barely pop are referred to as "parchies". Popcorn kernels that don't pop at all are called 'spinsters' or 'old maids.' The kernels wont pop properly if they are too dry; add a small amount of water to a jar of unpopped kernels and shake 2 or 3 times a day for a period of a week to restore moisture.
Ethnic/Cultural Info
French explorers in North America at the beginning of the 17th century wrote about the Iroquois of the Great Lakes region who popped Popcorn in pottery jars filled with heated sand. Early Colonists in the area grew familiar with the use of the hardened corn kernels and enjoyed it as a snack and even as a breakfast cereal topped with cream. Popcorn was popular as a family snack by the mid-1800s. It was during the 1890s when Chicago entrepreneur Charles Cretors created the first Popcorn-popping machine from a peanut roaster.
Geography/History
Popcorn is native to Central and South America and is descended from a wild grass, teosinte, that originated in Mexico over 9,000 years ago. Different varieties of Popcorn evolved from the original flint-type that first developed in Mexico. The oldest Popcorn fossils were discovered in Peru, the cobs were much smaller, measuring 2 to 6 centimeters long, with only 8 rows of 12 kernels each. The macrofossils were found between 2007 and 2011 and represent a small part of the largest and most diverse collection of well-preserved corn specimens ever found. Popcorn kernels were brought to Europe with French explorers after their encounter with the Iroquois around 1612. Popcorn on the cob may be spotted at local farmer's markets or in home-gardens in the American mid-west and in other temperate climates.
Recipe Ideas
Recipes that include Popcorn On The Cob. One

is easiest, three is harder.