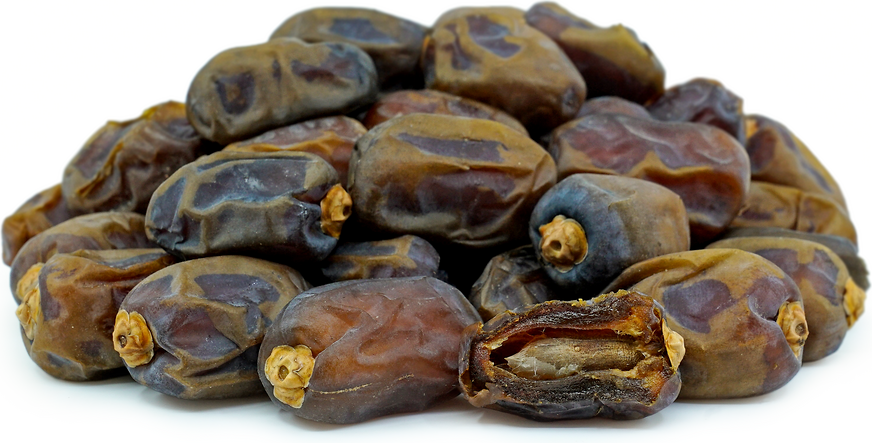 Kustawi Dates
Inventory, lb : 0
Podcasts
| | |
| --- | --- |
| Food Buzz: History of Dates | Your browser does not support the audio element. |
| Food Fable: Dates | Your browser does not support the audio element. |
Description/Taste
Kustawi dates are a small to medium-sized varietal, averaging 2 to 5 centimeters in length, and have an oval to oblong shape with a broad center and blunt, curved ends. The date's skin ranges in appearance from smooth and glossy to creased and folded, a surface characteristic sometimes formed when the skin pulls away from the flesh during the ripening process. The skin is also thin, showcasing a translucent, golden-brown hue and delicate in nature, being easily punctured or damaged. Underneath the surface, the orange-brown to dark brown flesh is thick, dense, and sticky with a soft, chewy, and fibreless consistency. The flesh also encases an oblong to obovate brown seed that is slightly elongated and pointed at both ends. Kustawi dates have a creamy texture reminiscent of caramel and a rich, sweet, and syrup-like flavor.
Seasons/Availability
Kustawi dates are harvested in the late summer and can be professionally stored until the early spring.
Current Facts
Kustawi dates, botanically classified as Phoenix dactylifera, are a mid-season variety belonging to the Arecaceae family. The sweet, sticky dates are native to the Middle East and are an ancient variety commercially cultivated in Baghdad. Kustawi dates are a dessert cultivar, praised for their richly sweet taste and smooth, fibreless consistency. The dates are primarily consumed fresh, out of hand, but they are also incorporated into syrups, desserts, and savory preparations. Kustawi dates are among the most popular varieties grown in Baghdad, but the variety is the most delicate commercial cultivar due to its thin skin. As a result, the variety is not commercially produced on a large scale outside of the Middle East and is grown by specialty farms as a delicacy.
Nutritional Value
Kustawi dates are an excellent source of fiber to regulate the digestive tract and potassium to balance fluid levels within the body. The dates also provide magnesium to control blood pressure, copper to maintain a healthy nervous system, manganese to promote connective tissue development, and other nutrients, including vitamin B6, iron, and vitamin C.
Applications
Kustawi dates have a sweet, sugary flavor well suited for fresh and cooked preparations. The dates can be consumed straight, out of hand as a sweet snack, or they can be sliced and tossed into salads. Kustawi dates also have a sticky, chewy feel, adding flavor and texture to rice, roasted meats, and side dishes. The dates can be cut open, removing the seed, and stuffed with nuts, spices, and other flavorings. In the Middle East, it is customary to stuff dates with an almond or pistachio paste. The stuffed dates are also sometimes scented with rose water or cooked in a honey-saffron sauce. Try incorporating Kustawi dates into desserts such as cakes, muffins, and ice cream or using them in cookies blended into a sticky filling. In addition to stuffing and chopping the fruits, Kustawi dates can be infused into syrups and sauces used as a sweetener. Date syrup is often drizzled over yogurt, mixed into tahini, stirred into tea, spread over bread, or folded into fudge. Kustawi dates pair well with meats such as beef, lamb, and poultry, cheeses including cheddar, goat, and fromage, spices such as cinnamon, cardamom, and turmeric, sesame seeds, salted caramel, chocolate, olives, pomegranate, and citrus. Whole, unwashed Kustawi dates should be immediately consumed for the best quality and flavor. The dates will also keep for a couple of days at room temperature or stored in the refrigerator for two weeks.
Ethnic/Cultural Info
Kustawi dates are often incorporated into maamoul, date-filled cookies served throughout Eid al-Fitr, or the Festival of Breaking the Fast, during Ramadan. This celebration is a one-to-three-day event, depending on the country, marking the end of the month-long fasting that was practiced to honor and draw the soul closer to Allah. Eid al-Fitr celebrations feature a wide array of sweet snacks, especially cookies, and these treats act as a reminder that there is always a sweet reward after disciplined fasting. Maamoul cookies are an ancient dessert prepared from a spiced date paste folded into a buttery, shortbread-like cookie dough sprinkled with powdered sugar. The cookies are also made into creative shapes using wooden molds to give them an attractive, festive appearance. The word maamoul, also written as ma'amoul, means "stuffed" and is a traditional cookie prepared for holiday houseguests, served with coffee. Women of the household take pride in making Maamoul cookies for visitors, and friendly competition is annually held in communities to see who can make the best cookies. Family maamoul recipes are often kept a secret, only being passed down through trusted relatives. Dates are used as the cookie's filling because they offer nutritious qualities, a creamy texture, and sweet taste. The fruits are also held in high regard over religious holidays as they were one of the fruits mentioned in the Quran. Maamoul cookies are symbolic of the fasting process. The shortbread-like crust is meant to be like fasting, having a neutral flavor, but once the fasting is complete, the sticky and sweet, soft center is the accomplishment, a reminder that perseverance will bring rewards.
Geography/History
Kustawi dates are native to the Middle East and have been growing wild since ancient times. The dates were extensively cultivated in Baghdad, the capital city of Iraq, and were a popular commercial variety favored for their flavor and smooth texture. Kustawi dates remained localized to the Middle East until the early 20th century. In 1902, David Fairchild, Barbour Lathrop, and Messrs traveled to Iraq on a fruit hunting expedition and returned to the United States with several new date varieties, including Kustawi. Dates in the United States remained somewhat rare, only grown in small quantities, until 1912, when Paul Popenoe and his brother Wilson Popenoe traveled to the Middle East and shipped back many date palm offshoots for their father's nursery in Altadena, California. The Popenoe brothers gathered 9,000 palm offshoots from Southern Iraq and Baghdad, including Kustawi dates, and imported them into California. After their introduction, only around a dozen date varieties were considered commercially viable and were planted in California and Arizona. Today Kustawi dates are still found in the Middle East, cultivated commercially, and are grown in Arizona and in smaller quantities in California in the United States. The specialty dates are sold direct to consumers from the growers and are also offered through select distributors.