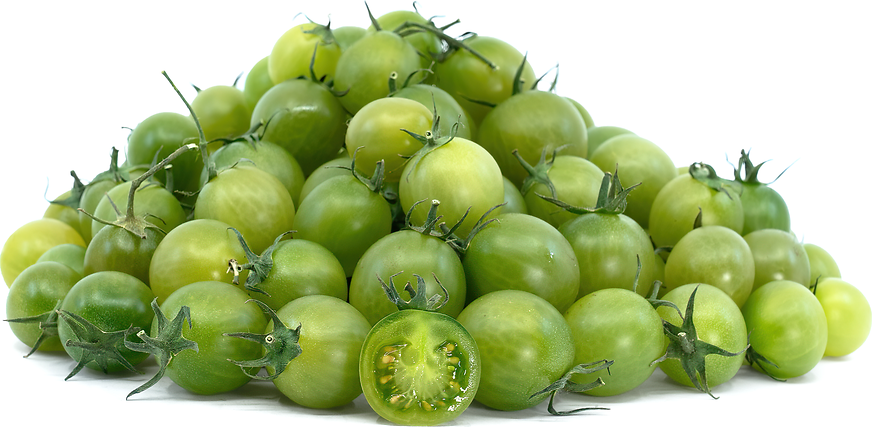 Sungreen Cherry Tomatoes
Inventory, bskt : 0
Description/Taste
The Sungreen cherry tomato is a bite-sized, lime green hybrid tomato variety known for its candy-sweet, slightly zesty flavor. Sungreen cherry tomatoes have a thin skin, and will still be green in color at full maturity with a yellowish hue, and tender to the touch. The texture is meaty and juicy, and with their high Brix level they are much sweeter than most other cherry tomato varieties. The Brix level is a measurement for the amount of sugars and minerals in a fruit or vegetable, and high Brix level is often considered indicative of high quality. Sungreen cherry tomatoes have a Brix level of nine, whereas a classic cherry tomato has seven. Sungreen cherry tomato plants are categorized as indeterminate as they have vines that continue to grown and set fruit throughout the season.
Seasons/Availability
Sungreen cherry tomatoes are available from mid-summer through early fall.
Current Facts
Sungreen cherry tomatoes are a recent hybrid variety developed specifically for their color and sweetness. The biggest challenge for the innovative Sungreen cherry tomato was the skepticism over the unusual green color, which is largely associated with unripe fruits. However, thanks to their deliciously sweet taste, the coloring did not become a deterrent. Tomatoes are in the genus Solanum, and are scientifically known as either Lycopersicon esculentum or Solanum lycopersicum, as a debate over the classification has recently surfaced due to modern molecular DNA evidence. Cherry tomatoes are part of a subgroup, or variety, that represents their variation within the tomato species, and they are further identified botanically as var. cerasiforme.
Nutritional Value
Due to their antioxidant rich make-up, including the natural antioxidant Lycopene, tomatoes are known as a cancer-fighting food. Tomatoes are an excellent source of vitamin C and vitamin A, and because of their high levels of vitamin B and potassium, they are effective in reducing cholesterol levels and lowering blood pressure. Hence, tomatoes may help prevent heart attacks, strokes, as well as many other heart related problems.
Applications
Sungreen cherry tomatoes can be used among a variety of multi-colored cherry tomatoes to create a colorful and delicious dish, such as a caprese salad or pasta. Eat them fresh for a quick, tasty snack, or slice them in half and roast or marinate. Try stuffing Sungreen cherry tomatoes with soft cheese or crab meat, or slice and add them to homemade pizza. Store Sungreen cherry tomatoes at room temperature until fully ripe, after which refrigeration can prevent further ripening and slow the process of decay.
Ethnic/Cultural Info
The color and taste of the Sungreen cherry tomato garnered attention after its release, and the variety was nominated for the Fruit Logisitica Innovation Award in 2012. Sungreen cherry tomatoes have been through trial and testing in the United States, Italy, France, Japan, and a few other select countries. For now, the focus markets are European, American and Japanese, however the Tokita Seed Company does intend to take the Sungreen into other markets eventually.
Geography/History
Sungreen cherry tomatoes were developed by the Tokita Seed Company in Japan, and were released at the end of 2011. The company's philosophy is, "breeding innovation and not breeding copies," and they certainly held true to that with the novel Sungreen cherry tomato hybrid.
Podcast