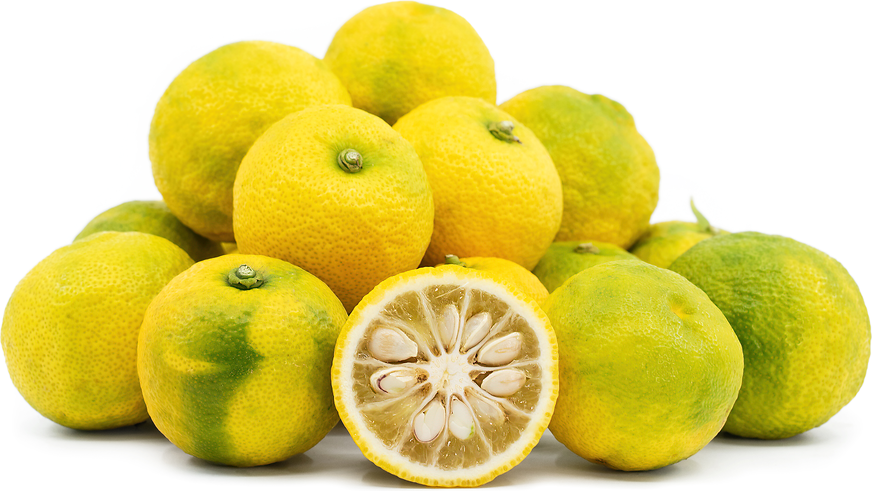 Yuzu Limes
Inventory, lb : 0
Description/Taste
Yuzu limes are small, slightly flattened fruits, averaging 5 to 10 centimeters in diameter, and are round, oblate, to lopsided in shape. The peel is thick, pebbly, and rough, pocked with many prominent oil glands and pores, and matures from dark green to golden yellow. Underneath the peel, the yellow flesh is minimal but juicy, divided into 9 or 10 segments by white membranes, and is filled with many large, inedible cream-colored seeds. Yuzu limes are highly aromatic, and the rind is rich in essential oils that are released when the fruit's surface is scratched or cut. The juice and zest have a unique, acidic blend of sour, sweet, and floral flavors mixed with notes of lime, grapefruit, mandarin.
Seasons/Availability
Yuzu limes are available in the winter through early spring.
Current Facts
Yuzu limes, botanically classified as Citrus junos, are highly fragrant fruits that belong to the Rutaceae family. Believed to be a hybrid between the satsuma mandarin and the ichang papeda, Yuzu limes are not botanically a lime but have earned this title since they are seldom consumed as a fruit in the traditional sense and are utilized for their tart and aromatic juice and zest. Yuzu limes have been used for centuries in Asia as a lighter, tangier, and floral forward flavoring in sauces, marinades, and dressings. The fruit's scent is also a dominant fragrance in cosmetics, candles, cleaning supplies, and bath products. Though once reserved to regions within China, Japan, and Korea, Yuzu limes have recently achieved global popularity in culinary applications and have expanded into the cuisine of the western world. Yuzu is still considered to be a premium fruit in North America due to its limited availability, but as California growers are increasing cultivation, the fragrant fruit is becoming available to everyday consumers for use in home cooking, soaps, and essential oils.
Nutritional Value
Yuzu limes are an excellent source of potassium and vitamin C, which is an antioxidant that is believed to help boost the immune system. The fruits also contain flavonoids, vitamin P, which can increase the absorption of other nutrients and circulation, and nomilin, which can help aid the body in relaxation.
Applications
Yuzu limes are traditionally used as a tart flavoring in both raw and cooked applications. The juice and zest are the most-used components of the fruit in culinary applications, and Yuzu lime juice can be mixed into sauces, vinegar, dressings, and marinades to create a sour and bright taste. One of the most famous sauces incorporating Yuzu in Japan is known as ponzu sauce, which is a mixture of soy sauce and Yuzu. The juice has also been trending in the craft cocktail industry and can be shaken into cocktails, flavored water, and tea. In addition to the juice, Yuzu lime peels can be used to flavor salted butter for seafood dishes, zested over salad or sashimi, cooked into jams, served over vegetables, or ground into powdered form and sprinkled over dishes such as hot pot for a concentrated flavor. In Japan, Yuzu peel is used in kosho, which is a spicy and salty, ground-up paste of Yuzu peel, salt, and chile peppers, utilized as an all-purpose seasoning and flavoring. Yuzu lime juice and zest can also be baked into tarts or pies, mixed into sorbets, or used in custard. Yuzu limes pair well with herbs such as coriander and mint, eggs, seafood, meats such as poultry, steak, and pork, pepper, black sesame seeds, spices such as cumin, cloves, and cinnamon, raspberry, pomegranate, and cherries. The fresh fruits will keep 1-2 weeks when stored whole and unwashed in the crisper drawer of the refrigerator.
Ethnic/Cultural Info
In Japan, Yuzu limes are one of the most popular fragrances, favored for its bright, sweet, and floral qualities, and is utilized in many creative ways across the island nation. The essential oils in the rind are most well-known for their use in cleansing baths. Each year during the winter solstice, public bathhouses slice the fruit in half and float the limes in hot water, creating an aromatic experience. This bathing practice dates back to the 18th century, and soaking in Yuzu infused water is believed to help increase circulation, heal dry skin, and prevent sicknesses such as flu and colds. The essential oils and vitamin C are also believed to help soften the skin and relieve pain. Another use of Yuzu fragrance can be found in Yuzu tama or Yuzu egg production. On the island of Shikoku, Japan, farmers feed their hens a mixture of Yuzu peel, sesame seeds, corn, and kale to naturally create an egg that has the flavor and scent of the Yuzu lime. These eggs are sold at a premium price and are traditionally used for tamago kake gohan, which is cooked rice with a raw egg mixed in.
Geography/History
The origin of Yuzu limes is somewhat disputed, but the majority of scientists conclude that the fruit's native region is within the upper regions of the Yangtze River in China and have been growing wild since ancient times. Yuzu limes were then introduced to Japan and Korea in the 7th and 8th centuries, where they became increasingly popular for their light scent and medicinal value. Yuzu limes remained localized to Asia until the early 20th century, but in 1914, Frank Meyer, the man who discovered the Meyer lemon, visited China and brought Yuzu seeds back to the United States. Select California farmers began cultivating the fruit for domestic use, and while cultivation began under the radar in the early 1900s, Yuzu limes gained national recognition in 1994 from their use in a popular dressing served over a mushroom salad at the restaurant Nobu in New York. Today Yuzu limes are still found growing wild in China and Tibet and are highly cultivated in Korea and Japan for sale through local markets in Asia. Outside of Asia, there are a few farms in California and Australia that commercially cultivate the fruit and sell through farmer's markets and specialty grocers.
Recipe Ideas
Recipes that include Yuzu Limes. One

is easiest, three is harder.
the other 6...