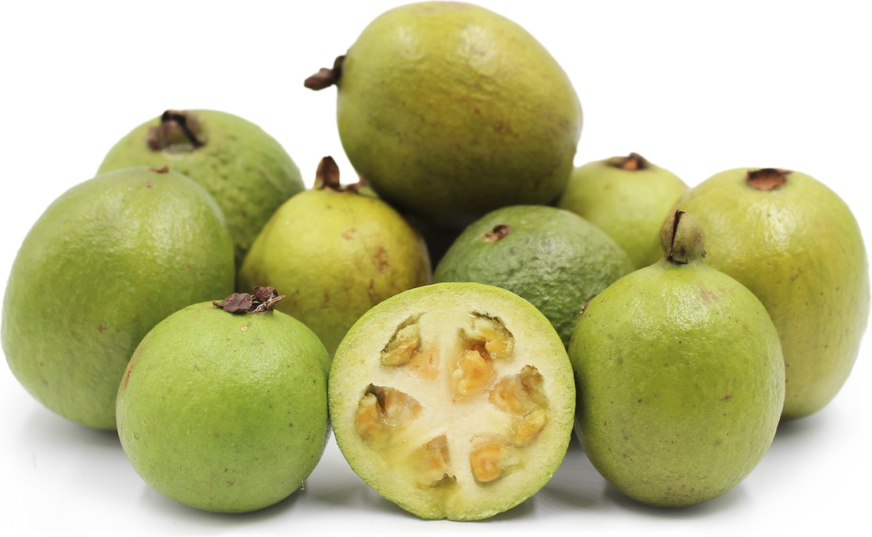 Azeda Guavas
Inventory, lb : 0
Description/Taste

Azeda guavas are small to medium-sized fruits, averaging 3 to 8 centimeters in diameter, and have a round, oval, to pear shape. The skin is smooth, taut, and thin, easily damaged and often showing brown markings, and ripens from light green to golden yellow-green. As the fruit matures, the firm surface will also soften, giving slightly when pressure is applied. Underneath the skin, the white to yellow flesh is dense, soft, aqueous, semi-grainy, and creamy, similar in consistency to a banana. The flesh also encases many small, edible but hard, cream-colored triangular seeds and emits a pungent, floral, and fruity aroma. Azeda guavas have high acidity, creating a tart, sour, and tangy flavor. This acidity is combined with sweet, tropical, and floral notes reminiscent of lemons and bananas.


Seasons/Availability

Azeda guavas are available year-round in tropical regions of South America, with peak seasons June through August and again in November through January.


Current Facts

Azeda guavas, botanically classified as Psidium acutangulum, are rare fruits belonging to the Myrtaceae family. The South American native grows on a small evergreen tree or shrub that can reach 6 to 12 meters in height and thrives in tropical climates, specifically regions of the Amazon. Azeda guavas are not true guavas and received their guava moniker from their similarities in appearance and flavor. The fruits are also known as Pará guavas, Guavas del Pará, Araca Pera, Chovas, and Crown guavas. The name Azeda translates from Portuguese to mean "sour" and is a descriptor for the fruit's acidic flesh. Azeda guavas are not commercially grown and are only found in the wild or through a few select farms in South America. These aromatic, tropical fruits are generally localized to their growing regions and are valued as a refreshing juice or flavoring in desserts, jams, and sauces. Azeda guavas are also grown as an ornamental in home gardens.


Nutritional Value

Azeda guavas are an excellent source of fiber to regulate the digestive tract, vitamin A to maintain healthy organ functioning, and vitamin C to strengthen the immune system while reducing inflammation. The fruits also provide calcium and phosphorus to strengthen bones and teeth, potassium to balance fluid levels within the body, and other amounts of iron, B vitamins, magnesium, zinc, manganese, and folate. Azeda guavas are known for containing antioxidants to protect the cells against free radical damage and reduce symptoms associated with harmful intestinal bacteria that cause digestive issues and cramping.


Applications

Azeda guavas have a strong floral and fruity flavor combined with high acidity, suitable for fresh and cooked preparations. The fruits can be consumed straight out of hand when ripe, or they can be sprinkled with sugar or salt to create a more balanced flavor. Most consumers consider the acidity unpalatable when served raw on its own. Azeda guavas are most popularly pressed into a juice, removing the seeds before serving or pureed as a thicker pulp-like beverage. The fruits are used to create refreshing drinks such as fruit juices, smoothies, and carbonated beverages, or they can be incorporated into cocktails. In Colombia, Azeda guavas are mixed with honey or sugar and carbonation to make a fizzy, sweet, and sour drink. Azeda guavas can also be simmered with sugar into jams and preserves or cooked into sauces to drizzle over meats, salads, and side vegetable dishes. The fruits can also be reduced into a paste and spread over toast, stuffed into pastries, or incorporated into other desserts. In addition to jellies and spreads, Azeda guavas can be pureed and frozen into ice creams, sherbets, and granitas. Azeda guavas pair well with fruits such as watermelons, limes, and pineapple, honey, brown sugar, spices including turmeric, ginger, and cinnamon, and nuts such as cashews, walnuts, and hazelnuts. Whole, unwashed Azeda guavas will ripen at room temperature, and once mature, they can be kept for an additional 2 to 4 days in the refrigerator.


Ethnic/Cultural Info

Azeda guavas are being grown by a few small farms in southeastern Colombia in an effort to preserve the rare variety. The fruits are not well-known outside of their growing regions, and the farms are cultivating the variety for use as pulp and fresh fruits. In Colombia, guava pulp and similar Psidium species are popularly incorporated into the famous dessert bocadillo con queso. This sweet, salty, and savory dish is comprised of guava paste layered with a slice of cheese. Bocadillo con queso can also be served as a midday snack, and the bite-sized "sandwiches" are traditionally cut into small rectangular or square blocks. When bocadillo, the thick guava paste, is given as gifts to friends and family, it is wrapped in dried corn, banana, or bijao leaves.


Geography/History

Azeda guavas are native to tropical regions of South America and have been growing wild since ancient times. The variety is traditionally found in low to medium elevations with ample rainfall and is believed by experts to have arisen from northwestern areas of the Amazon rainforest in Brazil. The variety was naturally spread to other regions of South America through migrating people and animals dispersing seeds through consumption and excrement. Today Azeda guavas are cultivated on a small scale through farms in Brazil and Colombia and are found in home gardens and in the wild in Venezuela, Guyana, Bolivia, Ecuador, Peru, Brazil, and Colombia.