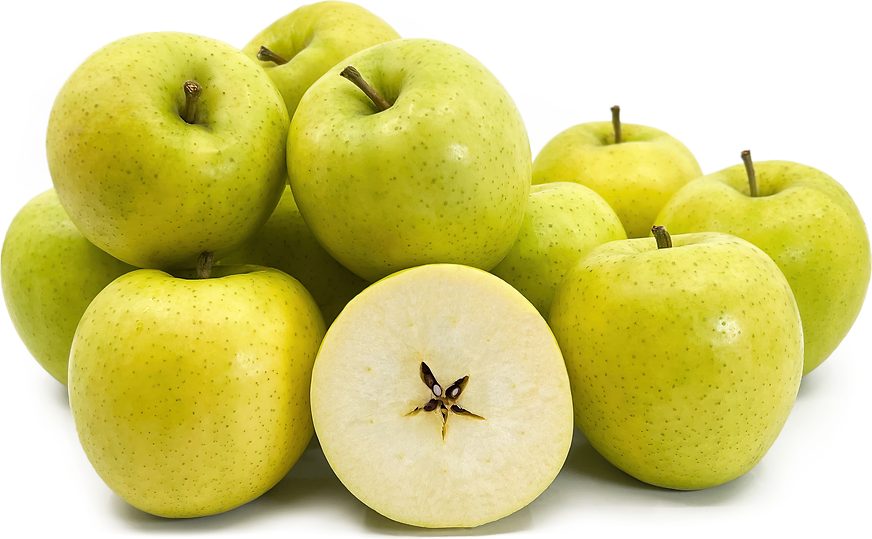 Tsugaru Gold Apples
Inventory, lb : 0
Description/Taste

Tsugaru Gold apples are a medium-sized varietal, averaging around 300 grams in weight, and have a round, oval, to conical shape with flat, broad shoulders, a curved center, and a tapered, narrow base. The apple's stem is long, slender, woody, and dark brown, connecting into the fruit through a narrow cavity. The skin is semi-thick, smooth, glossy, and taut, ripening from yellow-green to yellow. The skin is also covered in prominent, small grey-green lenticels scattered across the surface, giving the fruits a speckled, dotted nature. Underneath the skin, the pale yellow to ivory flesh is dense, aqueous, firm, and slightly coarse, with a crunchy consistency. The flesh also encases a central fibrous core filled with tiny black-brown seeds that are inedible and should be discarded. Tsugaru Gold apples release a subtle aroma when ripe and are known for their high sugar content, reaching around 14 degrees Brix. This high sugar content, combined with low acidity, develops a refreshing, mild, and sweet flavor.


Seasons/Availability

Tsugaru Gold apples are harvested in the mid to late fall.


Current Facts

Tsugaru Gold apples, botanically classified as Malus domestica, are a Japanese variety belonging to the Rosaceae family. The mid-season apples are a rare variety only grown in the Aomori Prefecture in Japan and are yellow or gold apples favored for their texture and flavor. Tsugaru Gold apples have a crunchy, juicy consistency reminiscent of Chiaki apples and a subtle aroma similar to Orin apples, the cultivar's parent varieties. The apple was bred to be an easy-to-grow variety with favorable characteristics for fresh eating. In the modern day, Tsugaru Gold apples are challenging to find and are offered in limited quantities as a specialty apple in Japan. The variety is sometimes known as Ishikawa Gold apples in some markets.


Nutritional Value

Tsugaru Gold apples have not been studied for their nutritional properties. Like other gold apples, the variety is a source of potassium to balance fluid levels within the body, vitamin C to boost the immune system while reducing inflammation, and fiber to regulate the digestive tract. The apples also provide copper to develop connective tissues, magnesium to control optimal nerve functioning, calcium to build strong bones and teeth, vitamin E to reduce inflammation, and other nutrients, including vitamin A, manganese, zinc, phosphorus, and vitamin K.


Applications

Tsugaru Gold apples have a sweet, subtly tart taste suited for fresh and cooked preparations. The variety is popularly consumed straight out of hand and is savored for its crunchy, juicy nature and rarity. Tsugaru Gold apples are challenging to find in markets and are often eaten fresh to experience the full flavors of the variety. When sliced, Tsugaru Gold apples oxidize relatively quickly, leading the flesh to turn brown with time. Tsugaru Gold apples can be chopped into salads, dipped into nut butter, or incorporated into fruit medleys. The apples can also be thinly sliced into fresh spring rolls, served on crostini, or used as a topping over yogurt, oatmeal, and porridge. In addition to fresh preparations, Tsugaru Gold apples can be simmered into jams, jellies, and sauces or cooked into apple butter as a sweet condiment. The variety can also be pressed into juice or blended into shakes and other cold beverages. Tsugaru Gold apples pair well with spices such as ginger, cinnamon, nutmeg, and cloves, nuts including walnuts, pecans, and pine, cheeses such as cheddar, parmesan, and blue, and fruits including peaches, nectarines, strawberries, grapes, and melon. Whole, unwashed Tsugaru Gold apples will keep for several weeks to months when stored in a cool, dry, and dark place such as a cellar or the refrigerator's crisper drawer.


Ethnic/Cultural Info

Tsugaru Gold apples were born from the need for apple breeders to develop modern cultivars within the Aomori Prefecture. The variety was one of six created by Mr. Seiichi Kudo, a local apple breeder in Aomori, and when it was first released, it was known as Ishikawa Gold apples. Diversification was vital in the Aomori Prefecture during the late 20th and early 21st centuries as pomologists realized that too many growers were cultivating Fuji apples, creating a high risk of disease devastation. Competition from other apple-growing regions in Japan, as well as international markets, also encouraged Aomori growers to develop new varieties. In 2002, Mr. Seiichi Kudo released six new apple varieties, including Tsugaru Gold apples, and partnered with Hiroka Hirosaki Chuo Seika to exclusively market the cultivars. Hirosaki Chuo Seika is a company that distributes fresh produce to wholesale markets in the Hirosaki region in Japan.


Geography/History

Tsugaru Gold apples are native to Japan and were developed through apple breeder Mr. Seiichi Kudo in the locality of Ishikawa in Hirosaki City within the Aomori Prefecture. The variety was bred in 1982 from a cross between Orin and Chiaki apples, and only seedlings exhibiting strong characteristics and an easy-to-grow nature were selected for evaluation. Seedlings were tested, examined, and propagated for several years, and in 1999, breeding was completed when a seedling was selected and considered stable. In 2002, the chosen seedling was registered as a new variety in Japan under the name Ishikawa Gold apples. Since its release, Ishikawa Gold has remained a localized, specialty variety grown on a small scale in the Aomori Prefecture. Hirosaki Chuo Seika, a company that manages wholesale markets in Hirosaki city, recommended Ishikawa Gold apples as one of six new promising varieties of the prefecture and labeled it under the name of Tsugarian apple, earning it the Tsugaru Gold moniker. Today, Tsugaru Gold apples are only found in Japan and are a rare variety of the Aomori Prefecture, sold through fresh markets and select growers when in season. They are also occasionally sent to retailers in Tokyo as a specialty apple.