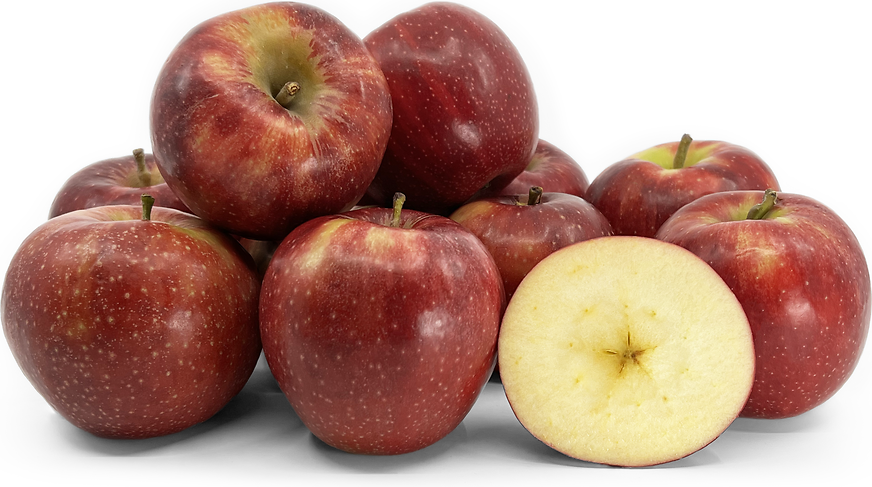 Red Jonaprince Apples
Inventory, lb : 0
Description/Taste

Red Jonaprince apples are a medium to large varietal, averaging 7 to 9 centimeters in diameter, and have a somewhat uniform, round to conical appearance with flat shoulders, a broad middle, and a narrow base. The apple's skin is semi-thick, smooth, taut, and glossy, showcasing prominent yellow-brown lenticels scattered across the surface. One of the distinct characteristics of the variety is its saturated crimson blush. The blush envelops almost the entire fruit, allowing some spots of the fruit's yellow base coloring to shine through, and it has a heavily pigmented, solid nature with faint striping surrounding the stem cavity. Underneath the surface, the ivory-to-yellow flesh is moderately coarse and aqueous with a crisp consistency. The cells are also small and compact, creating a dense, firmer apple than its parent, Jonagold. Within the flesh is a small central core filled with tiny black-brown seeds. Red Jonaprince apples have balanced sugar and acidity levels, creating a sweet, tart, and honeyed flavor that lingers on the palate. Some apples are more tart when freshly harvested, but if left in storage, their taste will become mellow, lessening acids and enhancing sweet nuances.


Seasons/Availability

Red Jonaprince apples are harvested in the fall and can be stored through the early spring.


Current Facts

Red Jonaprince apples, botanically classified as Malus domestica, are a multi-purpose variety belonging to the Rosaceae family. The apples were discovered growing as a sport of the Jonagold apple in an orchard in The Netherlands in the late 20th century and were selected for commercial propagation for their favorable characteristics. Red Jonaprince apples are also known as Jonaprince, Wilton's Red Jonaprince, and Wilton's Red apples and are an early to mid-season variety, being harvested several weeks before its parent variety Jonagold. The variety exhibits high yields, has a consistent annual bearing of uniform fruits, and the apples can be stored for extended periods, allowing them to be exported and saved as a winter apple. Apple enthusiasts value Red Jonaprince apples for their ability to be consumed fresh or cooked and have a sweet-tart, crisp nature that complements sweet and savory dishes.


Nutritional Value

Red Jonaprince apples are a source of vitamin C to strengthen the immune system, vitamin E to reduce inflammation, and fiber to regulate the digestive tract. The apples also provide potassium to balance fluid levels within the body, copper to support nerve functioning, vitamin A to maintain daily organ operations, and other nutrients, including phosphorus, zinc, calcium, vitamin K, magnesium, boron, and manganese. The apple's saturated, dark red skin is notably full of anthocyanins, colored pigments with antioxidant-like properties to protect the cells against free radical damage.


Applications

Red Jonaprince apples have a sweet-tart taste suited for fresh and cooked preparations. The large apples are popularly consumed straight out of hand as a dessert variety, and they can be sliced and displayed on charcuterie boards as a crisp addition. Red Jonaprince apples can also be chopped and tossed into salads, shredded into slaws, minced into dips, or cut and layered in sandwiches. The apple's sweet and tangy nature complements the richness of nut butter, caramel, and chocolate and can be used as a crunchy dipping vessel. The apples can also be chopped and served as a topping over grain bowls, overnight oats, yogurt, or waffles. In addition to fresh preparations, Red Jonaprince apples can be simmered into sauces as a sweet enhancement to roasted meat main dishes, or they can be cooked into jams, jellies, and chutney. The apples also hold their shape when heated, allowing them to be incorporated into pies, tarts, crisps, crumbles, cakes, or turnovers. Try stuffing the apples, wrapping them in puff pastry, and baking, shredded into fritters, or sauté the slices in browned butter and toss them with cinnamon as a decadent topping for ice cream. Red Jonaprince apples can be utilized in sweet or savory dishes and have a versatile nature. The apples can also be blended into smoothies, pressed into juices, or mixed and fermented into complex cider blends. Red Jonaprince apples pair well with herbs such as sage, rosemary, mint, and thyme, cheeses including blue, goat, feta, and parmesan, sweet potato, arugula, and honey. Whole, unwashed Red Jonaprince apples will keep for several months when stored in a cool, dry, and dark location. When kept in controlled atmospheric conditions, the apples will last through February.


Ethnic/Cultural Info

Apples are traditionally wrapped in pastry and fried in The Netherlands during Christmas and New Year. The fried apple-dough puffs are known as appelflappen or applebeignet and were first mentioned in Dutch cookbooks around 1945. The sugar-coated treats are a traditional, decadent dessert offered over the holidays and are meant to be enjoyed before New Year's resolutions are formed for healthy eating. European folklore also mentions that apples are good luck to consume during holiday celebrations as a blessing for health in the next year. The most popular modern-day appelflappen or fritter recipe includes filling the dough with apples, cinnamon, sugar, and raisins, and the warm cooked puff is also covered in sugar to serve as a dessert or accompaniment to tea and coffee. Historically, apple-like pastries have been made throughout Europe since the Romans. The ancient predecessor to the fritter was known as scriblita, and in medieval times, cryspeys were fritters coated in sugar. Despite their sweet nature, fritters were once considered dangerous by physicians as they were thought to be indigestible. It was believed that only hot fritters could be consumed, and the pastries were served as the last course of a meal.


Geography/History

Red Jonaprince apples are native to The Netherlands and were discovered growing as a sport of Jonagold apples in 1994. Jonagold apples were created in 1953 by the New York State Agricultural Experiment Station in Geneva, New York, and are a cross between the tart red Jonathan apple and sweet yellow Golden Delicious. Jonagold apples were released commercially in 1968 and were eventually introduced into The Netherlands. In 1994, a natural mutation caused an entire tree in a Jonagold orchard to produce dark red, crimson fruits distinct from the other apples. This apple tree was located in the orchard of Wilhelmus and Antonius Princen in Weert, a city in the province of Limburg in The Netherlands. The sport was named Jonaprince, combining the apple's parentage of the Jonagold with the brother's last named Princen, and was selected for propagation as a new commercial cultivar. Red Jonaprince apples are favored for their extended shelf life, lasting longer than the short season of Jonagolds, and their dense nature allows them to be commercially shipped long distances. In 1997, a patent application was filed by Wilton Weert B.V., granted in the winter of 1999, but the patent has since expired. Today Red Jonaprince apples are grown throughout Europe, the United States, and Canada in home gardens and through select commercial growers. The variety is also exported from Europe to markets in Asia and Africa.