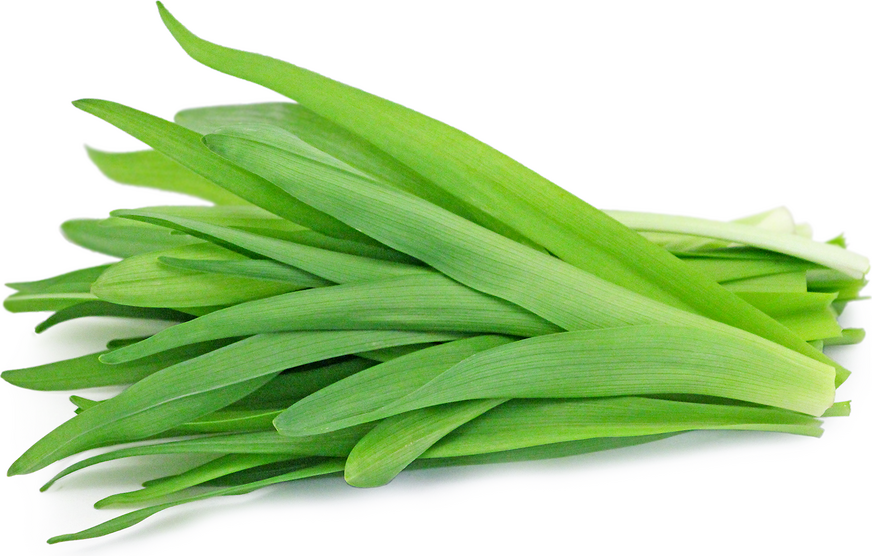 Nokanzo
Inventory, lb : 0
Description/Taste

Nokanzo is comprised of overlapping, young leaves growing from a singular base. The leaves form in pairs and extend opposite each other, creating a v-like shape, and the leaves are long and slender with a slightly tapered, pointed tip. Nokanzo is traditionally harvested when the leaves are between 7 to 20 centimeters in height, but if left to mature, the leaves can reach 40 to 70 centimeters. The green leaves are pliable, fleshy, and generally smooth, with faint ridging across the surface. Young leaves have a crisp, subtly chewy, and tender consistency, while mature leaves become tough, fibrous, and inedible. As the leaves connect to the plant's base, they become white and have a slightly slimy feel, reminiscent of the slipperiness of green onions. Nokanzo has little to no aroma and is mild and vegetal without acrid bitterness. When cooked, the leaves develop a sweeter, pleasant taste.


Seasons/Availability

Nokanzo is available in the spring through early summer.


Current Facts

Nokanzo, botanically classified as Hemerocallis fulva var. longituba, is the Japanese term for the young shoots of the daylily plant belonging to the Asphodelaceae family. The herbaceous perennial is native to Asia and has been cultivated for thousands of years for its colorful but short-lived blooms. In Japan, the tubers, leaves, and flower buds of daylilies are used in culinary preparations. Nokanzo specifically refers to the young shoots and leaves, and this portion of the plant is more of a secondary crop to the unopened flower buds, known as kinshinsai. When ready for harvest, the young shoots are cut at the base to promote regrowth and are sold in smaller local markets throughout the country. Nokanzo is a seasonal delicacy valued for its mild, non-bitter flavor and is mainly used in Japan. It is important to note that there are many species of daylilies, and some are easily confused with true lilies, which may be inedible, causing gastric distress. Research and caution should be taken when foraging for Nokanzo. It is recommended to consult with an expert before consuming foraged foods.


Nutritional Value

Nokanzo has not been extensively studied for its nutritional properties, but the leaves are a source of vitamin C to strengthen the immune system, vitamin A to maintain healthy organ functioning, and calcium to build strong bones and teeth. In Traditional Chinese Medicine, Nokanzo is used as a natural remedy to reduce swelling within the body and as a diuretic.


Applications

Nokanzo has a mild, vegetal, and subtly sweet flavor suited for fresh and cooked preparations. The young shoots can be added raw to salads, chopped into dips and spreads, layered into sandwiches, or incorporated into side dishes. It is important to note that the leaves should be consumed in moderation, as excessive quantities may induce hallucinogenic side effects. Blanching the leaves will remove this side effect and will also develop a sweeter flavor. Nokanzo can be sauteed, boiled, fried, or steamed, and the cooked leaves are coated in miso, vinegar, sesame oil, or soy sauce for added flavor. The leaves can also be fried into tempura, mixed into stir-fries, added to pasta, or baked in casseroles. In Japan, Nokanzo is popularly incorporated into ohitashi, a dish of cooked vegetables in a dashi broth. The leaves can also be simmered into other soups. Nokanzo pairs well with meats such as beef, poultry, and pork, seafood, celery, peppers, squash, broccoli, cucumber, tomatoes, and aromatics including ginger, garlic, chives, shallots, and onions. Whole, unwashed Nokanzo should be consumed immediately for the best quality and flavor. The leaves are perishable and will only keep for a few days when stored in a container in the refrigerator.


Ethnic/Cultural Info

Nokanzo is sometimes known as Wasurugusa in specific regions of Japan, roughly translating to "forgetful grass." This moniker is derived from an ancient Japanese legend that claimed daylilies are so delicious that they will cause you to forget your worries. Daylilies are also nicknamed "forget-me-nots" in Japan as the blooms only stay open for twenty-four hours. The short-lived blooms open and disappear faster than most people can remember them, inspiring the memory descriptor to appreciate the plant's fleeting beauty. Beyond folklore, mature daylily leaves were sometimes used throughout history to make footwear. The tougher leaves would be dried, woven into cords, and used as material to construct sandals and other protective shoes.


Geography/History

Nokanzo is native to Asia, mainly China and Korea, and has been growing wild since ancient times. The plants were introduced to Japan as a medicinal herb from China in the early ages. After its introduction, the plants escaped cultivation, naturalizing in temperate woodlands and meadows in the Japanese mountains. Nokanzo is also cultivated throughout Japan and is sold mainly as an ornamental. Today, Nokanzo is grown in Japan's Aomori, Okinawa, Kyushu, Yamagata, and Honshu prefectures. The leaves are a secondary crop to the unopened flower buds and are primarily sold through local markets and roadside stands.