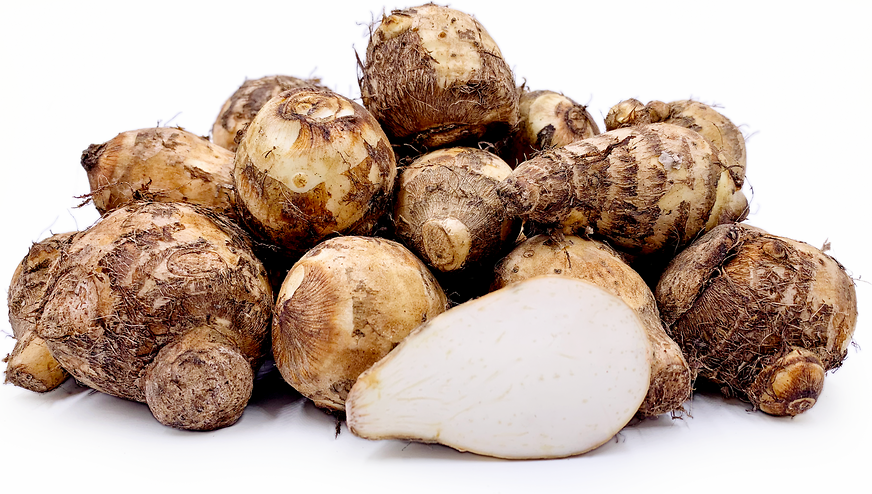 Arvee Roots (corms)
Inventory, lb : 0
Description/Taste
Arvee roots (corms) widely vary in size from small to large, depending on the specific variety, and have a round, elongated, to irregularly bulbous shape. The skin is rough, firm, ridged, and ranges in color from light to dark brown with patches of fibrous hairs. Underneath the surface, the flesh is dense, crisp, slightly sticky, and white. Arvee roots must be cooked before consumption as it is toxic when raw and can irritate the throat and mouth. Once cooked, the flesh softens, developing a starchy consistency similar to potatoes, and has a mild, nutty, and sweet flavor.
Seasons/Availability
Arvee is available year-round.
Current Facts
Arvee, botanically classified as Colocasia esculenta, is a tropical plant that is considered to be one of the oldest vegetables of the Indian subcontinent and belongs to the Araceae family. There are many different varieties generally labeled under Arvee in local markets, and both the corms and the leaves are edible once cooked. Arvee is also known as Indian Taro, Arvi, Arbi, Sivapan-kizhangu, and Colocasia, which is a short form of its botanical name. In India, Arvee corms are primarily used as a filling, starchy element in culinary dishes and are a common substitute for potatoes. The leaves are also a widely used ingredient, cooked in soups, curries, and rice dishes.
Nutritional Value
Arvee is an excellent source of fiber, which can help regulate the digestive tract and is a good source of zinc, iron, and potassium to balance fluid levels within the body. The corms also provide vitamins B6, C, and E, phosphorus, manganese, copper, and magnesium. In addition to the corms, the leaves are a good source of vitamins A and C, which are antioxidants that can boost the immune system and protect the body against external aggressors.
Applications
Arvee must be cooked as it contains toxic calcium oxalate crystals, which can cause extreme irritation to the throat and mouth if ingested. The crystals will dissipate with cooking and will not affect the consumer after appropriate heating. It is also recommended to wear gloves while handling Arvee raw, as it can sometimes cause minor irritation to the skin and hands. Arvee is popularly roasted, steamed, boiled, and baked. The corms can be sliced and mixed into stews, curries, and soups, pressure cooked with spices as a tender side dish, mashed and fried into fritters or pancakes, or steamed as a filling breakfast item. In northern India and Nepal, Arvee is boiled in salted water and cooked down into a kind of porridge. The corm is also commonly seasoned with ajowan, which is a seed that comes from a parsley-like plant in India. Ajowan is used as a spice and has a taste similar to thyme. In addition to the corm, the leaves of the plant are used as a vegetable and are incorporated into stir-fries, curries, and soups. Arvee pairs well with meats such as lamb, pork, poultry, and fish, coconut milk, turmeric, ginger, coriander, fennel, lentils, rice, tamarind, tomatoes, and onion. The corms should be used immediately for the best flavor and will keep up to one month when stored in a cool, dry, and dark place. The leaves will keep 1-3 days when stored in a dry, ventilated container in the refrigerator.
Ethnic/Cultural Info
During the monsoon season in India, which typically spans from May through October, local diets are altered to reflect the changing weather. Seasonal eating stems from Ayurveda, which is an ancient medicinal practice that believes in balancing three elements or doshas within the body, including kapha, pitta, and vata or earth/water, fire, and air/wind. During the monsoon season, it is believed that the vata dosha increases in strength and warming foods are consumed to help equal out the different elements and stimulate digestion. It is also thought that these warming foods will help boost the immune system to prevent common digestive diseases that arrive during the monsoon season. In Mangalore, India, which is a western coastal city known for its tropical monsoon climate, Arvee leaves are seen as a specialty ingredient that is commonly made into patra. The leaves are covered in a spicy and sweet, batter-like paste and are then rolled, steamed, and sliced to form small spiraled pieces. Patra can also be fried for a deeper flavor, and once prepared, the rolled leaves are frequently used as a side dish or snack served with tea. In addition to steaming, Arvee leaves are utilized in theryachero ganti, which is a curry dish of Arvee leaves tied into knots, wilted, and then cooked. Another curry known as alun dento combines Arvee stems in a coconut broth with hog plums, tamarind, and green amaranth. Alun dento is a traditional dish consumed during the annual Catholic celebration of the birthday of Mother Mary on September 8th.
Geography/History
Arvee is believed to be native to Southeastern Asia, India, and Bangladesh and has been growing wild since ancient times. With increased cultivation, Arvee was introduced into other tropical and subtropical regions around the world, where it is more commonly known under the name taro. Today Arvee is commercially cultivated throughout India and can also be found growing on small family plots for home culinary applications.
Recipe Ideas
Recipes that include Arvee Roots (corms). One

is easiest, three is harder.