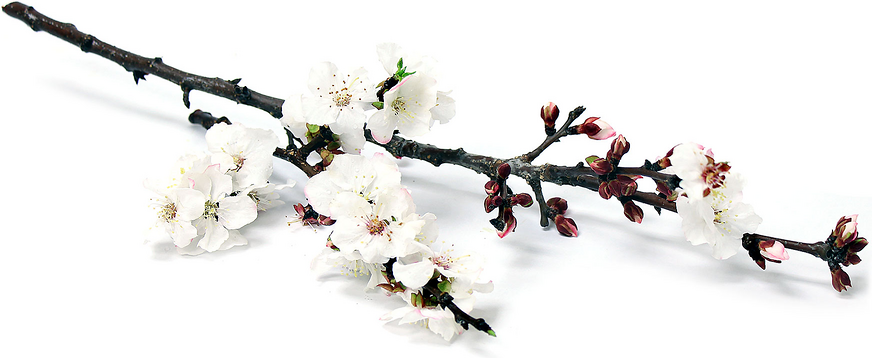 Apricot Blossoms
Inventory, bunch : 0
Description/Taste

Apricot blossoms are small flowers, averaging 2 to 5 centimeters in diameter, and are comprised of five broad, flat, and oval, curved petals. The blossoms first appear as tightly closed green to crimson buds along dark grey-brown branches and grow singularly or in pairs. As the flowers unfold from the bud, the petals bear a delicate appearance with a soft, crisp, smooth, subtly waxy, and velvety consistency. The petals are primarily white, sometimes tinged with a light pink to red hues, and in the center of the blossom, there are several slender stamens tipped with yellow pollen. Apricot blossoms offer a faint aroma and have a mildly sweet, floral, and fruity flavor with almond, vegetal, and nectar-like nuances.


Seasons/Availability

Apricot blossoms are available in the late winter through early spring.


Current Facts

Apricot blossoms, botanically a part of the Prunus genus, are the seasonal blooms of stone fruit trees belonging to the Rosaceae family. The delicate blossoms have been utilized in medicinal and culinary applications in Asia since ancient times and are harvested for their aesthetically pleasing nature, crisp and delicate texture, and subtle flavoring. There are many different Apricot cultivars that produce similar blossoms worldwide, grown for their fruits or as an ornamental addition to home landscapes. Apricot blossoms are considered edible, but they are not commonly used for culinary purposes. The flowers are more popularly incorporated as a garnish for added color and a touch of seasonality to both savory and sweet preparations. It is important to note that research and consultations with experts are vital when foraging for Apricot blossoms. The flowers can also be purchased through reputable distributors to ensure that the blossom has not been sprayed with pesticides or grown in polluted areas.


Nutritional Value

Apricot blossoms have not been studied for their nutritional properties, but the flowers may contain small amounts of antioxidants to boost the immune system, reduce inflammation, and protect the cells against free radical damage. The thin, crepe-like petals are also traditionally used in natural medicines and teas to relieve symptoms associated with insomnia, digestive discomfort, and detox the body.


Applications

Apricot blossoms are not a common culinary ingredient and are primarily utilized as an elegant garnish. The flowers can be placed whole as a decoration on cakes, pies, tarts, ice cream, crème brulee, and other desserts, or they can be used as garnishes on main dishes and appetizers. When used whole as a garnish, the flowers are not eaten in their entirety as the stamens, stigma, and anthers can impart a bitter flavor. The petals are the only part of the flower consumed. Apricot blossom petals can be sprinkled over salads, fruit bowls, or layered into sandwiches. The petals can also be candied as a sweet garnish, infused into honey, scattered across cocktails, stirred into water, or frozen into ice cubes. Apricot blossoms are often mixed with dried fruit pieces to make an Apricot tea, which can be served hot or iced. The subtle floral flavoring of Apricots complements green, black, or white teas. Apricot blossoms pair well with herbs such as mint, basil, and thyme, cinnamon, flowers such as lavender, elderflower, jasmine, and rose, lemon, oranges, quince, and pear. The flowers should be used immediately for the best quality and flavor.


Ethnic/Cultural Info

In Japan, more than 250 varieties of Apricots have been created over time, and the trees are favored for more than just the sweet-tart fruits. Many Japanese Apricot varieties have been developed for their delicate, showy blossoms and are ornamental trees planted in public parks, along city streets, and home gardens. The trees are an attractive addition to landscapes, and the ornamental cultivars have been improved to showcase vibrant pink, red, white, and bicolored flowers. Apricot blossoms are also a popular attraction in the spring, drawing many Japanese residents to picnic under the trees, take photos in front of the blooms, and stroll alongside paths lined with the flowering trees on an afternoon walk. In addition to the blossom's visual appeal, Apricot flowers are said to symbolize 'timid love' and can be given as a gift from an admirer.


Geography/History

Apricots are native to the mountainous regions of Northern China and have been cultivated since 2000 BCE. The fruits were spread across Asia through trade routes, primarily the silk road, and were widely planted along roadsides and in home gardens throughout the Middle East and Western Asia. Apricots were later introduced to Europe through Armenian merchants and were prevalent in Ancient Greece and Rome. In the 18th century, French explorers carried Apricot seeds to the New World and planted the stone fruits along the Eastern United States. The fruits were also planted along the California coast through Spanish Missionaries in the 18th century. Today Apricots are grown worldwide, and there are many different varieties favored for commercial and home cultivation. When in season, Apricot blossoms are found through select farmer's markets and specialty distributors.