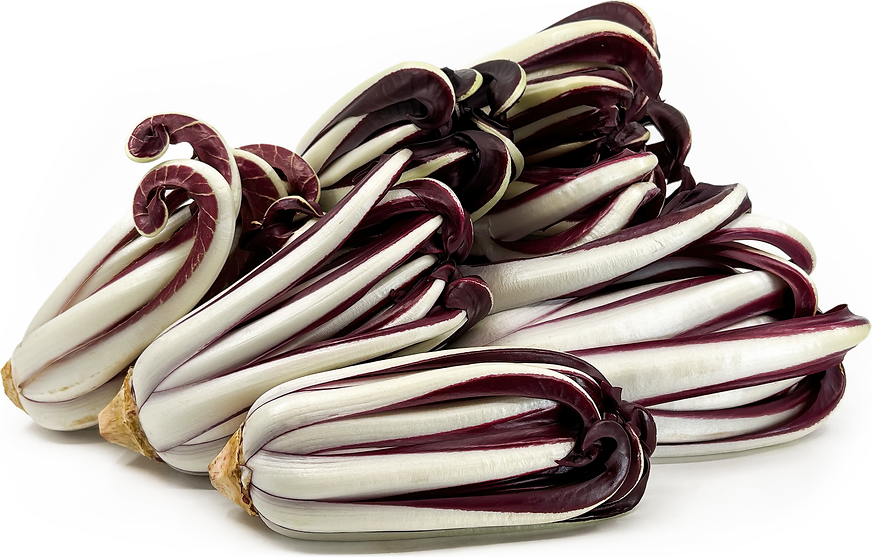 Tardivo Treviso
Inventory, lb : 0
This item was last sold on : 07/06/23
Description/Taste
Tardivo is comprised of tightly clustered bunches of long and slender leaves that curl inward at the top. The leaves connect into a central base, and each bunch varies in size, generally extending no more than twenty centimeters in length. The elongated but uniform leaves are narrow, appearing almost finger-like, and have one prominent rib. The dorsal ribs are smooth and firm, showcasing a white hue, while the delicate, pliable leaves vary in shades of red and purple and may exhibit faint veining. The brown to white root base is generally carved into a tapered, angled shape before transporting to markets and is trimmed to be six centimeters or less. Tardivo is crisp, succulent, and chewy. The leaves are edible raw or cooked and have a mild, bittersweet, earthy, and subtly vegetal taste.
Seasons/Availability
Tardivo is available in the winter through early spring.
Current Facts
Tardivo, botanically classified as Cichorium Intybus, is an Italian heirloom belonging to the Asteraceae family. The name Tardivo translates from Italian to mean "late" or "tardy" and is a type of Treviso grown as a late-harvest crop using specific forcing methods. Tardivo is also known as Treviso Tardivo, Fiori d'Iverno meaning "Winter Flower," and Radicchio Rosso di Treviso, translating to "Red Treviso Radicchio." Historically, Tardivo was created in Italy from the need to store edible greens during the bleak winter months, but the specialty-type Treviso evolved over time into a labor-intensive crop valued for its tradition, appearance, flavor, and texture. Tardivo is created when Treviso is hand-harvested from open fields after the first frost. The leaves are tied into upright bundles, and each bundle is placed in a dark room. The base of the bundles is immersed in spring water from the local Sile river for 15 to 25 days in a process known as blanching. During this time, new leaves in the heart of the plant develop without chlorophyll, giving the stems and midrib a white hue and the leaves a dark purple-red coloring. Once blanched, the outer leaves are stripped from the bundles revealing the crisp hearts, and the root base is shaved into an aesthetically attractive, angled shape. Approximately 60 to 70% of the plants are composted, and only the tender, succulent hearts that remain are sold in markets under the name Tardivo. In the modern day, Tardivo grown within the Veneto region of Italy is distinct as it has been granted a Protected Geographical Indication, meaning its quality and characteristics are created from a specific geographical area. Tardivo is also grown worldwide, and in culinary preparations, it is a delicacy beloved by chefs for its bittersweet nature and limited availability, utilized in an array of fresh and cooked preparations.
Nutritional Value
Tardivo is a source of potassium to balance fluid levels within the body, calcium to build strong bones and teeth, vitamin K to assist in faster wound healing, vitamin A to maintain healthy organ functioning, and copper to develop connective tissues. The leaves are also a source of fiber to regulate the digestive tract, vitamin C to strengthen the immune system, zinc to repair damaged tissue, and other nutrients, including vitamin E, manganese, phosphorus, and magnesium. The bitter flavor within Tardivo is created from lactucopicrin, and the red pigments within the leaves indicate the presence of anthocyanins that have antioxidant-like properties to protect the body against free radicals and oxidative damage.
Applications
Tardivo has a mild, bittersweet, and earthy flavor suited for fresh or cooked preparations. The blanched leaves have a crisp and succulent nature that complements dressings, other greens, and toppings in salads, or they can be placed as an edible garnish on dishes for color, texture, and visual appeal. Some chefs choose to shave small pieces of the curled, red portions of the leaves to create thin strips that can be used to top tarts, puddings, and main dishes. Tardivo can also be served on appetizer platters as a dipping vessel, drizzled in honey with crushed nuts, or shredded as an ingredient for sandwiches and open-face toasts. In addition to fresh preparations, Tardivo shines in cooked dishes and is popularly roasted, sauteed, baked, or stir-fried with olive oil, aromatics, and spices as a side dish. The leaves are also incorporated into pasta, minced into ravioli, stirred into risotto, or mixed into soups, stews, and curries. Try adding Tardivo into omelets, quiche, crepes, sauces, or slow-cooked vegetable dishes. The leaves can also be baked into focaccia, roasted and topped with poached egg, grilled, dipped in a beer batter, and fried as a crisp dish. Beyond savory preparations, Tardivo is simmered into jams, baked into a strudel, or incorporated into torta di radicchio, a sweet cake covered in a white chocolate glaze. Tardivo pairs well with cheeses such as parmesan, gruyere, ricotta, and asiago, aromatics including garlic, onions, and shallots, tomatoes, olives, herbs such as rosemary, sage, thyme, oregano, and basil, polenta, nuts including walnuts, hazelnuts, and almonds, pumpkin, carrots, meats such as sausage, prosciutto, beef, and poultry, and fruits such as pears, apples, citrus, and stone fruit. Whole, unwashed Tardivo will keep for 1 to 2 weeks when loosely wrapped in plastic and stored in the refrigerator's vegetable drawer. If the leaves begin to wither, they can be shocked in ice water to create a crisper texture.
Ethnic/Cultural Info
In Italy, Tardivo is monitored and protected by the Consorzio Radicchio di Treviso, or the Consortium for Treviso Red Radicchio. There are 140 members a part of the consortium, and the group was established in 1996 to ensure traditional techniques were being used to grow IGP Treviso. Tardivo has been heavily protected in Italy since its creation in the 19th century, and much of the specialty crop's success can be traced to the marketing and events established by agronomist Giuseppe Benzi. In 1900, Benzi organized the first Mostra del Radicchio di Treviso, translating to the Exhibition of Treviso Radicchio. The event was held at the Palazzo dei Trecento in Treviso, and during the festivities, bunches of radicchio were presented by local growers in a competition. The grower who won first prize was awarded a medal and notoriety. Since its inaugural debut, the Mostra del Radicchio di Treviso has been held annually for over 100 years, and the tradition of celebrating Treviso is an anticipated gathering each winter in Italy. At present, Tardivo is also featured in several other regional festivals throughout Veneto, Italy, and the celebrations entail live entertainment, curated meals and dishes centered around Tardivo, competitions and events, workshops, and the sale of goods made with the local crop.
Geography/History
Tardivo is native to Italy and has been growing in the region of Veneto since ancient times. The exact history of the variety is unknown, but cultivation began sometime around the 16th century. The creation of Tardivo, a variety of Treviso grown using specific conditions, was birthed around the 18th century in Italy when much of the population struggled to find food during the winter. Italian countryside residents would harvest the edible greens from the wild and attempt to store the greens in their stables and barns throughout the winter. During the process of trial and error in storing greens, it was discovered that keeping the greens in manure kept the hearts of the plants fresh. Over time, farmers switched from manure to spring water. The process of producing Tardivo was refined in 1870 when nurseryman Francesco Van De Borre arrived from Belgium. Borre was in charge of caring for an English garden in the Treviso Villa Palazzi and introduced blanching techniques that he learned in Belgium, allowing various Italian species to be grown and blanched in an organized, regulated system. Borre's blanching methods led to the creation of the style of Tardivo seen in modern markets, and in 1876, agronomist Giuseppe Benzi arrived in the city of Treviso and established Tardivo as a prized vegetable. Benzi was the head of the Treviso Agricultural Association and hosted several exhibitions of the vegetable in the early 1900s, popularizing the variety. Tardivo was eventually granted an IGP, or Indication of Geographic Protection, in 1996, a mark of quality for Tardivo grown within specific regions of Italy. Today Tardivo is grown in Veneto in the provinces of Treviso, Padua, and Venice. The plants thrive in these regions as they have hot summers, cold winters, and rich, fertile soil. These regions also are filled with pure groundwater from the Dolomites and spring water from the Sile river. Within Veneto, Italy, there are seventeen municipalities in Treviso, two municipalities in Padua, and five municipalities in Venice that cultivate Tardivo. Outside of Italy, Tardivo is grown in Australia, other parts of Europe, and the United States. It is important to note that Tardivo grown outside specific regions in Italy are not labeled with an IGP. When in season, the variety is found through specialty markets, grocers, and distributors.
Recipe Ideas
Recipes that include Tardivo Treviso. One

is easiest, three is harder.