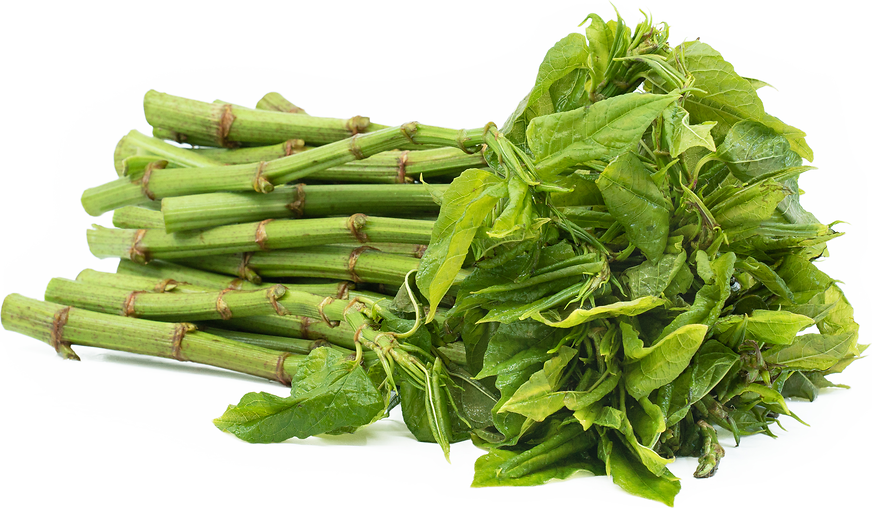 Japanese Knotweed
Inventory, lb : 0
Description/Taste
Japanese Knotweed is a dense, bushy plant comprised of upright stems and leaves, connected to underground, spreading rhizomes. The stems are narrow, cylindrical, and straight, showcasing raised nodes, and have a smooth, pale green surface covered in dark red dots, speckles, and markings. Each node also displays a bright red coloring, enhancing the visual contrast of the brightly colored stems against the green leaves. The leaves are small to medium in size, averaging 8 to 15 centimeters in length, and have an oval, tapered shape, ending in a distinct point. Japanese Knotweed is harvested for its young shoots and stems. When young, the shoots will have a crisp, aqueous, succulent, and mucilaginous consistency. As the stems mature, they become hollow and crunchy, easily snapping under pressure, and may have a slightly fibrous to stringy texture. Japanese Knotweed has a refreshingly sour, tart, vegetal, grassy, and earthy flavor. Some consumers liken the flavor to rhubarb and comment that Japanese Knotweed has a more vegetal and earthy, tangy asparagus-like taste when cooked. In addition to the leaves, stems, and rhizomes, the Japanese Knotweed produces small green-white flowers in the late summer.
Seasons/Availability
Japanese Knotweed is available in the spring.
Current Facts
Japanese Knotweed, botanically classified as Polygonum cuspidatum, is an herbaceous perennial belonging to the Polygonaceae family. The upright, shrubby plant is fast-growing, sometimes extending over thirty centimeters a day, and produces fibrous, knobby stems resembling bamboo, earning it the moniker Japanese Bamboo. Japanese Knotweed is also known as Asian Knotweed, Fleeceflower, Billyweed, Monkeyweed, Fallopia japonica, and Reynoutria japonica, and can reach up to 4.5 meters in height. The plant is native to Asia, mainly in Japan, where the young shoots are seasonally valued as a fresh springtime ingredient. Japanese Knotweed is typically foraged from wild plants when it is less than thirty centimeters in height and is favored for its refreshing, sour, and vegetal flavoring. Outside of Asia, Japanese Knotweed has developed an unfavorable reputation as an aggressive invasive species. The plants can alter home foundations, sidewalks, and paved pathways, continually growing back even after removal, and the plants can also produce dense patches of tall stems and leaves, destroying native plant populations. Despite their challenging eradication requirements, Japanese Knotweed has become a delicacy among springtime foragers, and chefs are using the young shoots and stems to create a wide array of usually flavored sweet and savory preparations.
Nutritional Value
Japanese Knotweed is a source of vitamin A to maintain healthy organ functioning and vitamin C to strengthen the immune system while reducing inflammation. The plants also provide manganese, phosphorus, zinc, and potassium. Japanese Knotweed is rich in resveratrol, the same substance in red wine that can help lower cholesterol levels and reduce the risk of a heart attack. In addition, consuming a large amount of Japanese Knotweed can act as a gentle laxative, and the sour taste stems from the compound oxalic acid.
Applications
Japanese Knotweed has a sour, vegetal, and earthy flavor well suited for fresh and cooked preparations. The young shoots are the main portion of the plant used in culinary recipes, as older stems become fibrous, stringy, and tough. It is recommended to consume shoots under thirty centimeters in height to maintain a more tender consistency. Japanese Knotweed also has a flavor that can be utilized in sweet or savory culinary dishes and changes when paired with various ingredients. The young shoots can be thinly sliced and added to salads, cut in half and filled with peanut butter as a variation of ants on a log, or chopped and mixed into dips, sauces, and salsas. Japanese Knotweed can also be infused into gin and served in cocktails. In addition to fresh preparations, the shoots can be lightly cooked. Many chefs advise peeling the shoots to remove any stringy fibers and lower the stalk's tartness. Japanese Knotweed can be chopped into curries, soups, and stews, stuffed with meat, herbs, and spreads and baked as a bite-sized treat, grilled, sauteed, or stir-fried. The stalks can be roasted with root vegetables, combined into sauces, or mixed with other vegetables to balance the plant's sour nature. Beyond savory dishes, Japanese Knotweed can be cooked into jams, chutneys, and marmalades or made into a puree with sweeter flavorings. This puree can be used as a filling for pastries, frosting, sorbet, mousse, cheesecake, muffins, and crumbles. It can also be mixed into yogurt and porridge. One of the most famous Japanese Knotweed preparations is pickling. Fermenting Japanese Knotweed allows the pieces to retain a crispness without becoming slimy. Fermented shoots can be diced into fish cakes, used as a topping in ramen, chopped into relish, or served with burgers, seafood, and salads. Japanese Knotweed pairs well with aromatics such as ginger, garlic, and curry powder, rhubarb, hibiscus, lemongrass, fruits such as grapes, apples, and pears, dairy, and herbs including peppermint, cilantro, lemon balm, and spearmint. Freshly harvested shoots should be immediately consumed for the best quality and flavor.
Ethnic/Cultural Info
Japanese Knotweed is known as Itadori in Japan and is consumed as a sansai vegetable. Sansai vegetables are traditionally foraged from the wild in the spring and are viewed as a delicacy to awaken the senses to prepare the palate for the coming fresh springtime flavors. Japanese Knotweed is also a common springtime ingredient as it is a sustainable method to control the plant's population. In Kyoto City, the small town of Kibune is known for the Kifune Shrine, a temple inspired by the goddess Tamayori-hime, who traveled to the site by boat up a river. The shrine is dedicated to water and features several waterfalls and places for visitors to drink fresh mountain spring water. The Kifune Shrine also holds the annual Itadori Matsuri, or Knotweed Festival, on the first of June. During the celebration, participants harvest the largest Japanese Knotweed stem they can find from the forest around the shrine, and a competition is held to see who can gather the longest and the most stems in a given period of time.
Geography/History
Japanese Knotweed is native to Asia, specifically Taiwan, Korea, Japan, and China, and has been growing wild since ancient times. The fast-growing plant is commonly found along rivers, streams, and lakes, on roadsides, and in disturbed areas, and for some time, it was planted in home gardens as a culinary and medicinal variety. In 1825, Japanese Knotweed was introduced from Japan to England and was planted as an ornamental and erosion control plant along embankments and roadways. The plants were initially met with favor in England as they resembled bamboo and were fast-growing, thriving in many different soil types. Japanese Knotweed was also brought to North America in the mid-1800s, featured in seed catalogs for landscape planting. Despite their promising introduction, Japanese Knotweed quickly escaped cultivation and began destroying native habitats, leading it to be labeled as an invasive species by the late 1930s. Japanese Knotweed is considered one of the most aggressive and challenging to eradicate invasive species in the modern-day. Even removing it from gardens is a laborious task, as just a tiny piece of the plant left behind in the soil, compost bin, or garage pile will cause it to regrow and spread. Today Japanese Knotweed can be found in 42 states within America and has also expanded into several Canadian Provinces. In Japan, Japanese Knotweed grows in Hokkaido, Honshu, Shikoku, and Kyushu Prefectures. Japanese Knotweed is primarily a foraged green, sold through local markets in Asia. The young shoots are also seasonally sold in the United States, Canada, and Europe through specialty retailers and local markets. In the United States, Japanese Knotweed is no longer promoted as a home garden plant, and some states require a license for growers to sell the plant.
Recipe Ideas
Recipes that include Japanese Knotweed. One

is easiest, three is harder.
the other 3...