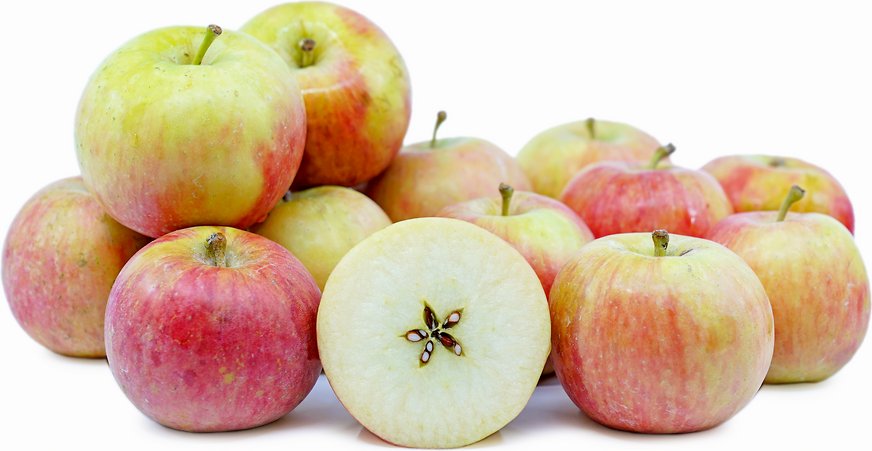 Sommerfeld Apples
Inventory, lb : 0
Description/Taste

Sommerfeld apples are a medium to large varietal, averaging 7.5 to 8.5 centimeters in diameter, and have a uniform, conical, to slightly oblate shape. The apple's stem is green-brown, slender, and fibrous, and the apple's shoulders have a blocky nature with moderate ribbing. The skin is semi-thick, smooth, and taut, showcasing a matte yellow-green base with a bright to muted red blush. The blush is comprised of red-pink striping and washes of faint color patches and is sometimes covered in a light grey bloom, giving the surface a dull appearance and rubbery feel. Underneath the skin, the ivory to cream-colored flesh is firm, aqueous, and coarse-grained with a crisp consistency. The flesh also encases a central fibrous core filled with tiny black-brown seeds. Sommerfeld apples emit a floral, spice-filled, honeyed fragrance and can be consumed raw or cooked. The flesh has a balanced, sweet, and tangy taste with cider-like savory nuances.


Seasons/Availability

Sommerfield apples are available in the early fall through winter.


Current Facts

Sommerfeld apples, botanically classified Malus domestica, are a rare variety belonging to the Rosaceae family. The early to mid-season apples were discovered in the late 20th century in California and were selected as an improved cultivar of its parent varieties, Royal Gala and Fuji apples. Sommerfeld apple trees are regular bearing, and growers appreciate the variety for its coloring and sweet taste. Since their release, Sommerfeld apples have remained mostly localized to California and Oregon and are only produced on a small scale through select growers. The apples are cultivated as a novelty and arrive in markets about three weeks before Royal Gala apples and five weeks before Fuji apples. Sommerfeld apples are a multi-purpose apple consumed as a fresh eating, dessert variety, or as a cooking apple for sweet and savory dishes.


Nutritional Value

Sommerfeld apples are a source of vitamin C to strengthen the immune system, calcium to build strong bones and teeth, fiber to regulate the digestive tract, and potassium to balance fluid levels within the body. The apples also provide vitamin A to maintain healthy organ functioning, vitamin E to reduce inflammation, iron to produce the protein hemoglobin for oxygen transport through the bloodstream, copper to develop connective tissues, and other nutrients, including magnesium, boron, zinc, and vitamin K. The apple's pigmented skin contains anthocyanins, natural compounds with antioxidant-like properties to protect the cells against free radical damage.


Applications

Sommerfeld apples have a balanced, sweet, and tangy flavor suited for fresh and cooked preparations. The variety is primarily consumed straight out of hand and is savored for its juicy flesh. Sommerfeld apples can be used in any preparation calling for apples and are popularly served on charcuterie boards with sharp cheeses, dried fruits, and nuts. Try chopping the apples for crostini, layering them onto sandwiches, including grilled cheeses, or shredding them into slaws. Sommerfeld apples can also be tossed into salads, dipped whole into caramel as a sweet treat, or used as a topping over parfaits, grain bowls, porridge, pancakes, and waffles. In addition to fresh preparations, Sommerfeld apples are baked into tarts, pies, cakes, bread, and muffins and hold their shape when heated. The apples can also be simmered in brown butter and spices and poured over ice cream, cooked into dumplings, or made into fritters and cookies. While less common, Sommerfeld apples are made into apple sauce, roasted with root vegetables as a savory side dish, or minced and mixed into stuffing for a sweet addition. The variety can also be blended into juices, smoothies, and blends for cocktails. Sommerfeld apples pair well with nuts such as almonds, pecans, cashews, and hazelnuts, maple syrup, honey, brown sugar, chocolate, vanilla, and other fruits such as strawberries, bananas, blueberries, and pineapple. Whole, unwashed Sommerfeld apples will keep for a few weeks when stored in a cool, dry, and dark place such as a cellar or refrigerator.


Ethnic/Cultural Info

Sommerfeld apples were named after their discoverer, grower August E. Sommerfeld III. Sommerfeld apples are one of the few apple varieties suited to the challenging growing conditions in the Central Valley, California. The Central Valley is known for its hot and arid climate in the summer, and the region has low chill hours, preventing many apple varieties from flourishing as most apple cultivars require a certain number of chill hours to produce fruit. Sommerfeld apple's parent varieties, Royal Gala and Fuji, are some of the only apple cultivars that can survive in the Central Valley for commercial production. Granny Smith apples are also grown on a small scale in the region. When Sommerfeld apples were discovered and released to growers, they were a welcomed addition to orchards in the Central Valley.


Geography/History

Sommerfeld apples are native to California and were discovered growing as a chance seedling in an orchard in the Central Valley. Grower August E. Sommerfeld III noticed a new seedling growing in his orchard in La Grange, California. Sommerfeld planted the orchard in the early 1980s and allowed new seedlings to replace his previous apple trees when they were damaged by lack of irrigation and insects. The orchard was filled with Fuji and Royal Gala apples, and the new seedling was discovered beneath a Fuji apple tree. Sommerfeld began grafting cuttings of the seedling in 1987 to produce new trees, and the test trees were planted on his property in La Grange. After several years of trials and evaluations, it was determined that the new variety grew consistent fruits and was thought to be a Royal Gala and Fuji cross. Sommerfeld applied for a United States Plant Patent in 1992, and the application was granted in 1993 under USPP 8234P with the name Sommerfeld apples. Since the variety's commercial release in the late 20th century, the patent has expired in 2012, and the apples are a novelty grown by a few orchards in Central and Northern California. Sommerfeld apples are also cultivated in Oregon.