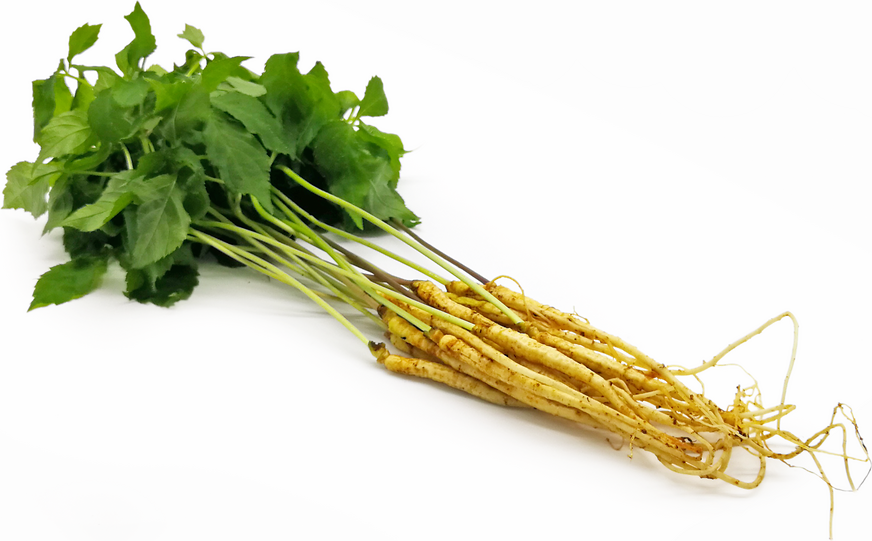 Ginseng Sprouts
Inventory, lb : 0
Description/Taste
Ginseng sprouts are thin and slender roots, averaging 5 to 10 centimeters in length. The roots are elongated, straight, and cylindrical in appearance, tapering to a pointed and pliable, often curled tip. The skin ranges in color from ivory, beige, to golden-brown and is textured, coarse, and covered in knicks and scratches. Underneath the skin, the narrow flesh is firm, tender, and crisp with a subtle, snap-like consistency. Ginseng sprouts are sold with their succulent pale green stems and dark green leaves still attached, purposely left as an additional flavor and textural enhancement. The leaves have an oval to pointed appearance with serrated edges, and each leaf can grow to 1 to 3 centimeters in length. Ginseng sprouts are aromatic and have an earthy, sweet, and bitter flavor with licorice undertones. The entire young plant is meant to be consumed whole, and the leaves will have a more robust flavor while the roots are milder.
Seasons/Availability
Ginseng sprouts are available year-round.
Current Facts
Ginseng sprouts, botanically classified as Panax ginseng, are the young roots and leaves of the Asian Ginseng plant, belonging to the Araliaceae family. Asian Ginseng has been grown medicinally for thousands of years and is harvested for its nutritionally dense leaves and fleshy roots. There are two different types of Ginsengs grown worldwide, Asian Ginseng, Panax ginseng, and American Ginseng, Panax quinquefolius. The most common Ginseng for producing sprouts is the Asian Ginseng, and this plant has been used in natural medicines for thousands of years. The name Ginseng is derived from the Chinese word renshen, "ren" meaning "person," and "shen" meaning "plant root." This descriptor was given to the plant in honor of its resemblance to a human body when the root is fully grown, producing offshoots that look like arms and legs. The roots similarity to a human body also deeply connects it into natural medicines, with many practitioners believing that the root captures the essence of man and earth. In the modern-day, Ginseng is challenging to find in the wild as the plants are slow-growing, taking years to mature, and the wild plants have been overharvested due to the medicinal demand. Scientists have developed a system of growing Ginseng sprouts hydroponically to quickly produce small and tender roots that contain many of the same nutritional properties as full-grown plants. Ginseng sprouts have become a modern solution for creating Ginseng for commercial cultivation, and the roots and leaves can be used in a wide array of culinary preparations.
Nutritional Value
Ginseng sprouts are an excellent source of vitamin C to strengthen the immune system and contain other nutrients, including amino acids, B vitamins, and folic acid. The sprouts also provide a concentrated amount of saponin triterpenoid glycosides, sometimes known as ginsenosides, which are compounds that protect the body against bacteria and viruses and maintain a healthy bloodstream. In traditional eastern medicines, Ginseng is promoted as a natural medicine to boost energy, protect the immune system, and reduce environmental stress on the body.
Applications
Ginseng sprouts have a sweet, earthy, and subtly bitter flavor well suited for fresh and cooked preparations. The sprouts are cultivated to be eaten in their entirety, including the root, stem, and leaves. Ginseng sprouts can be used whole as an edible garnish over sushi, wrapped into fresh spring rolls, sliced into green salads, or chopped into kimchi. The sprouts can also be added to soups, incorporated into stir-fries, stirred into porridge, or mixed into rice and noodle-based dishes. In Korea, Ginseng sprouts can be used as an alternative to mature roots in samgyetang, a chicken soup flavored with Ginseng. In addition to fresh preparations, Ginseng sprouts can be lightly steamed and served with main and side dishes or steeped into a tea. The leaves are also used in salads, placed as a garnish for drinks, or blended into smoothies. Ginseng sprouts pair well with spices such as cloves, cinnamon, five-spice, curry powder, and ginger, hazelnuts, cucumbers, cabbage, aromatics including chile peppers, garlic, and onions, malted barley, Thai basil, rosemary, and fruits such as goji berries, longan, jujubes, stone fruits, strawberries, and pineapples. Whole, unwashed Ginseng sprouts should be immediately consumed for the best quality and flavor and will keep for a couple of days in the refrigerator's crisper drawer.
Ethnic/Cultural Info
Ginseng sprouts are being grown in specially designed greenhouses in Korea for optimum cultivation. Before the creation of hydroponically grown sprouts, mature Ginseng cultivated for commercial use traditionally took 1 to 6 years to grow. This slow-growing nature was not meeting the increasing demand for the roots, leading scientists to develop a method of short-term cultivation to create a Ginseng that is fit as a functional food. Hydroponically grown Ginseng sprouts only take 1 to 2 months to reach a harvestable state, and research has shown that the slender sprouts contain many of the same nutrients found in mature Ginseng. In Korea, several specially designed greenhouses were funded by the Rural Development Administration, or RDA, to provide a sustainable production of Ginseng. The greenhouses contain an extra layer of film on the top of the structure to better understand control temperature and light. This film can be pulled back to allow more light when needed, and on warmer days, it can be used to shade the building, reducing the inside temperature between 3 to 5 degrees Celsius. This optimum growth environment has created plumper Ginseng sprouts, and the plants are grown in a nutrient solution instead of soil, contributing to higher concentrations of ginsenosides in the leaves and roots.
Geography/History
Ginseng is an ancient plant believed to have been growing wild in Manchuria, a region describing a northeast section of China beside Korea and Russia. The wild plants may have also been found in Korea, but the first known records of Ginseng can be traced to medicinal texts from China during the Han Dynasty, spanning 206 BCE to 220 CE. Ginseng cultivation began in China in the early ages and later in Korea around 11 BCE. The roots were highly valued as a medicinal and culinary ingredient, and to harvest the roots, the entire plant must be uprooted. Ginseng is slow-growing, and by the 20th century, the demand for Ginseng outstripped the available wild supply. This caused farmers and scientists to research new commercial cultivation methods, eventually developing Ginseng sprouts. Today Ginseng sprouts are grown commercially throughout Korea, Singapore, and China and are marketed as a health food throughout East Asia and Southeast Asia. The roots and leaves are sold intact through distributors, specialty retailers, and select grocers in Asia.
Recipe Ideas
Recipes that include Ginseng Sprouts. One

is easiest, three is harder.