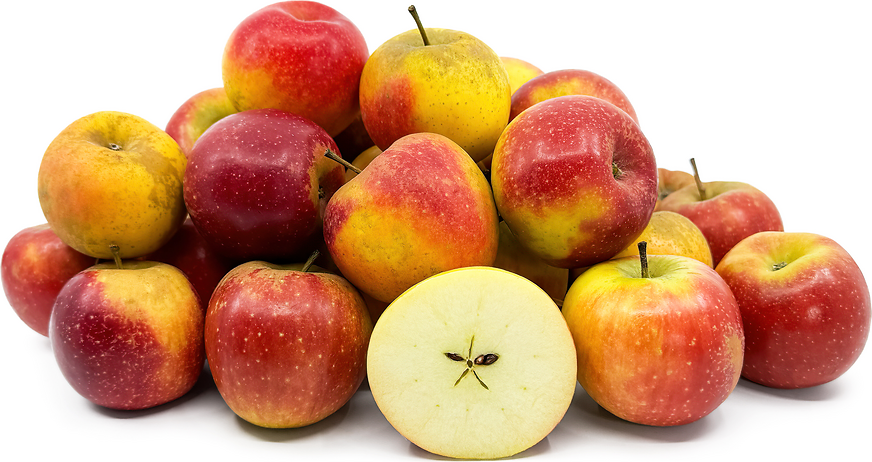 Ariane Apples
Inventory, lb : 0
Description/Taste

Ariane apples are a medium to large varietal and have a round, obolid, to slightly flattened shape with a broad, curved nature and characteristic inverted base. The apple's skin is semi-thin, lightly ribbed, smooth, taut, and glossy, covered in prominent lenticels and patches of russet, sometimes giving portions of the surface a textured feel. The skin also has a gold-green base, enveloped in large, solid patches of bright red to crimson blush. Underneath the surface, the white to ivory flesh is fine-grained, dense, firm, and crisp with a delicate, faintly juicy crunch. Ariane apples are high in sugar, ranging from 13 to 15 Brix, and are balanced with moderate acidity, creating a mild, clean, and sweet taste combined with subtle nuances of pear and lychee. In extended storage, the variety will become sweeter.


Seasons/Availability

Ariane apples are available in the late summer through spring.


Current Facts

Ariane apples, botanically classified as Malus domestica, are a French variety belonging to the Rosaceae family. The modern cultivar was released in the early 21st century and was selected as a commercial variety for its resistance to apple scab and other common diseases. Ariane translates from French to mean "very holy" or "holy one," and it took over 24 years to research, develop, and evaluate the variety through a breeding program in Angers, France. Growers favor Ariane apple trees for their productivity and consistent bearing, and the fruits are valued for their resistance to common strains of apple scab, known as Venturia inaequalis. Apple scab is a severe and problematic disease in apple cultivation, but through breeding programs, it was discovered that Malus floribunda, the Japanese flowering crab apple, has a Vf gene naturally resistant to apple scab. Malus floribunda was used in the parentage of Ariane apples, and the new variety is also known to showcase the Vf gene. Scab-resistant apples allow growers to spray their crops with less fungicide and pesticide, resulting in lower production costs, fewer chemicals, and less impact on the environment. Historically, apple cultivars with scab resistance lacked flavor and were unappealing to commercial consumers, but with the introduction of modern varieties such as Ariane, scientists are blending the benefits of disease resistance with attractive consumer-friendly apples. In the modern day, Ariane apples are occasionally sold under the name Ariane Les Naturianes® and are a versatile cultivar consumed fresh or incorporated into various sweet and savory cooked preparations.


Nutritional Value

Ariane apples are a source of fiber to regulate the digestive tract, potassium to balance fluid levels within the bloodstream, and phosphorus to produce genetic material, including DNA and RNA. The apples also provide vitamin C to strengthen the immune system while reducing inflammation, calcium to build strong bones and teeth, copper to develop connective tissues, vitamin A to maintain healthy organ functioning, and other nutrients, including vitamin E, magnesium, zinc, manganese, and vitamin K. The vibrant red hues within the skin indicate the presence of anthocyanins, pigmented compounds with antioxidant-like properties to protect the cells against the damage and oxidative stress caused by free radicals.


Applications

Ariane apples have a balanced, sweet-tart flavor suited for fresh and cooked preparations. It is recommended to chill the fruits for fresh eating, and the flesh can be dipped into nut butter, chocolate, or other dips as a snack. Ariane apples can also be chopped and added to puddings, parfaits, and mousse, blended into smoothie bowls, sliced and served on charcuterie boards, or shredded into slaws. The apples have high sugar, allowing them to infuse a sweet taste to savory salads, and the flesh can be minced and cooked into quiche, simmered into curries and soups such as an apple purslane soup, or incorporated into a poultry pastilla. Ariane apples can also be baked into bread, muffins, cakes, and cookies, combined with potatoes to make fritters, or baked whole and served with fresh cream, spices, and nuts. One unique recipe involves Ariane apples cooked into a compote and added with pink peppercorn and caramel into a phyllo dough purse. This dessert resembles a small, tied bag and is rich, sweet, and savory. Ariane apples can also be roasted and plated with filet mignon, served with duck breast in a balsamic glaze, layered into sandwiches, or dried and mixed into granola. Beyond culinary preparations, Ariane apples can be pressed into juice, added to sangria, or mixed into fruit punches. Try freezing the juice to make popsicles or sorbet. Ariane apples pair well with fruits such as passion fruit, kiwi, and pineapple, butternut squash, cucumber, cheeses such as parmesan, burrata, and goat cheese, nuts including pepitas, hazelnuts, pecans, and walnuts, herbs such as mint, thyme, and parsley, and seafood such as fish, shrimp, and crab. Whole, unwashed Ariane apples will keep for 1 to 3 months when stored in the refrigerator's crisper drawer. In professional cold storage, it will keep for over seven months.


Ethnic/Cultural Info

Ariane apples were planted in the groves of the Palace of Versailles in October 2007. The Palace of Versailles is the former royal residence of French King Louis XIV and has become a UNESCO World Heritage Site in Versailles, France, a commune about 19 kilometers west of Paris. The gardens at Versailles took over 40 years to complete and were considered just as important aesthetically to King Louis XIV as the inside of the palace. Within the gardens, 15 groves were constructed that featured a variety of plants, fountains, and statues arranged in unique patterns and shapes. The groves are still showcased in the palace gardens in the present day, and Alain Baraton, the head gardener at Versailles, selects the plants that are used to keep the groves in pristine condition. On October 23rd, 2007, Baraton planted an Ariane apple tree in one of the groves in an official celebration, and the former Minister of Culture and President of the Estate of Versailles, Jean Jacques Aillagon, attended the event. After the initial planting, over one hundred Ariane apple trees were planted at Versailles, and Baraton became the apple's official ambassador as a part of a French marketing campaign to promote the apple.


Geography/History

Ariane apples are native to France and were developed in the late 20th century at the National Institute of Agronomic Research, or INRA, in Angers, France. The apple breeding program at INRA Angers began in 1960, and the program's main purpose was to develop new apple cultivars with resistance to scab and other diseases. Ariane apples were developed by an initial cross completed by Y. Lespinasse in 1979, breeding Florina and Prima apples, two varieties known for their Vf gene, a trait making the apple resistant to scab. After this cross, Marion Guillou selected the product of the Florina and Priam cross known as P7R25A27 and bred it with P21R4A30, an open-pollinated Golden Delicious apple bred with an unknown variety, hypothesized to be a Japanese crabapple. Over 366 seeds were sourced from the cross and were planted in a greenhouse in 1980, and once the seeds grew into small seedlings, they were sprayed with a scab mixture to test resistance. Over 75% of the seedlings exhibited resistance to scab, and these seedlings were further tested for resistance to other diseases, such as powdery mildew. In the spring of 1982, only 92 seedlings remained of the initial 366, and these seedlings were planted in the institute's research orchard. The trees began producing fruits in 1985, and by 1988, a specific tree was selected by Y. Lespinasse and A. Fouillet for commercial planting. Ariane apples were planted commercially in the winter of 2001 through 2002, and approximately 45,000 trees were sown. From 2002 through 2003, over 95,000 trees were planted, officially registering the variety in 2003 with the French Government. Today Ariane apples are grown in France, produced mostly in the Loire Valley, in the southwest, Rhone-Mediterranean basin, and in the center. Outside of France, Ariane apples are grown in Europe and are exported to Asia, and are also found in Canada, New Zealand, and Australia. When in season, Ariane apples are sold through select grocers, fresh markets, and distributors.