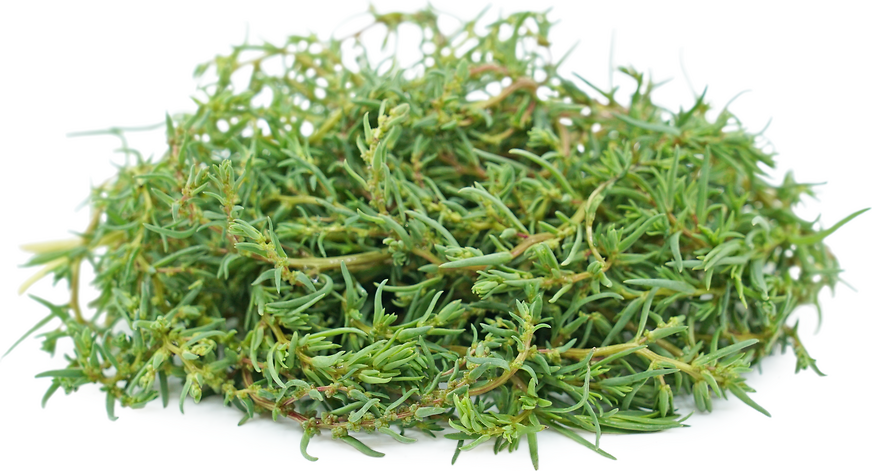 Romerito (Seepweed)
Inventory, lb : 0
Description/Taste
Romerito is a multi-branched, leafy shrub with elongated, woody stems and thin, narrow leaves. The light brown stems are fibrous and tough, considered inedible, but the slender green leaves are tender with a succulent consistency. Romerito leaves have a soft, smooth, and semi-fleshy feel and look similar to the needles of a rosemary plant, extending along the entire stem. Each leaf can range from 1 to 2 centimeters in length and has a blade-like appearance with a small point at one end. Romerito is crisp and bears a naturally salty, vegetal flavor combined with slightly sour, citrus-like undertones.
Seasons/Availability
Romerito is generally planted in the late fall and harvested in the early winter.
Current Facts
Romerito, botanically a part of the Suaeda genus, is an evergreen shrub with soft, elongated leaves belonging to the Amaranthaceae family. There are over 110 species within the Suaeda genus that are grown worldwide, and the leafy plants are also known as Seepweed, Shrubby Seepweed, and Sea Blight. In reference to Romerito, a term used in Mexico to describe the plants, several species are foraged from the wild and generally labeled under the Romerito name. Some of these species include Suaeda Mexicana, Suaeda pulvinate, and Suaeda torreyana. Romeritos have been incorporated into culinary dishes since pre-Hispanic times and are considered quelites, a term used for wild greens found in Mexico that often appear in agricultural fields. The name Romerito translates from Spanish to mean "little rosemary," a descriptor given for the leaf's similarity in appearance to rosemary. Despite their name, Romerito is not botanically related to rosemary and is a succulent evergreen, used for its tender leaves and cooked as a vegetable. Romerito plants are traditionally planted in October and are harvested approximately sixty days after sowing, planned to arrive in markets during the holiday season. The ancient greens are highly favored for their salty flavor and are incorporated into many different traditional holiday dishes as a source of nutrients and flavor.
Nutritional Value
Romerito is a source of vitamin A to maintain healthy organ functioning, vitamin C to strengthen the immune system, potassium to balance fluid levels within the body, and fiber to regulate the digestive tract. The leaves also contain calcium and phosphorus to protect bones and teeth, iron to develop the protein hemoglobin for oxygen transport through the bloodstream, and phytonutrients that provide antioxidants to guard the cells against free radical damage. In ancient times, the Mayans would consume Romerito as a natural source of essential nutrients as the daily diet during this era was primarily vegetarian.
Applications
Romerito has a salty, vegetal flavor and must be cooked before consumption. The leaves should be plucked from the fibrous stem and washed several times to remove any sand, dirt, or debris. Once cleaned, they can be prepared similarly to spinach and are often sauteed, steamed, or boiled. Romerito is popularly cooked into omelets and egg-based dishes, stirred into beans and rice, and prepared as a simple side dish to roasted meats. In Mexico, the leaves are often sauteed with diced tomatoes, onions, peppers, and meats. They are also stirred into mole sauce, mixed into patties, or served with ahuautle, eggs of a freshwater fly, considered a regional delicacy. In addition to utilizing the leaves whole, Romerito can be blended into sauces such as pesto and tossed into pasta, spread over toast and meat, or layered onto sandwiches. Romerito pairs well with aromatics such as onions, garlic, and chile peppers, tomatoes, potatoes, meats including poultry, beef, and pork, shrimp, legumes, raisins, peanuts, and almonds. Unwashed Romerito will keep up to one week when stored in plastic and kept in the refrigerator.
Ethnic/Cultural Info
Romerito has historically been a seasonal quelite in Mexico that is specifically grown for the holiday season. Mexican farmers plant the greens as an additional source of income to supplement their staple crops, and the leaves are traditionally incorporated into revoltijo, a stew-like main dish. Revoltijo loosely translates to mean a mixture or jumble of ingredients and is comprised of Romerito combined with nopalitos, potatoes, and shrimp pancakes in a mole sauce. The rich, savory dish is served with bread or corn tortillas and is a nutritious meal during the season of Lent when meat is removed from diets. Revoltijo is also consumed during Christmas and New Year as a specialty meal in Central Mexico. The origin of this dish is mostly unknown, but experts believe the meal was created by growers using what was available in their natural surroundings to create sustainable and inexpensive but nutritious meals. In the modern-day, revoltijo is widely made across Mexico during the holiday season, but the dish is relatively unknown outside of Mexico.
Geography/History
Romerito is an ancient green that was once a rotational crop used in Mexico within the milpa cycle, a system of agriculture dating back to the Mayan Empire. In the milpa system, crops like chiles, corn, squash, and beans were grown in rotation with grasses, shrubs, or other vegetation to maintain soil quality and nutrients. Romerito also thrives in damp soils near wetlands or marshes, contributing to the plant's unique briny flavor. The evergreen plants have been foraged from the wild for hundreds of years and grown on a small scale among indigenous farmers. Today, Romerito is commercially cultivated near Mexico City and is also produced near Jalisco, Tlaxcala, Morelos, and Puebla. The shrubs are also planted in home gardens as edible landscapes and are still found growing wild throughout Mexico and along the border of Mexico and Texas. When in season, Romerito can be found through local markets, grocers, and specialty distributors in Mexico and select regions of the Southwestern United States. There are also commercial goods that incorporate the greens into canned or pickled products sold worldwide through online retailers.
Recipe Ideas
Recipes that include Romerito (Seepweed). One

is easiest, three is harder.