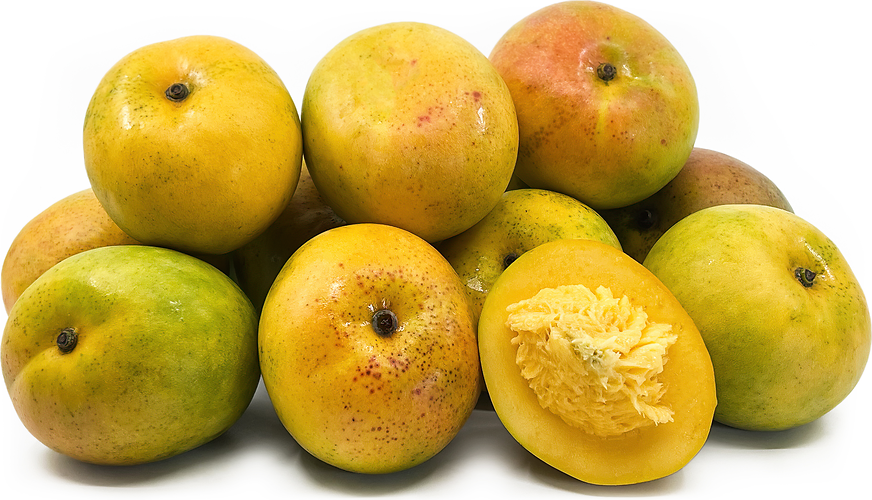 Ice Cream Mangoes
Inventory, lb : 0
Description/Taste

Ice Cream mangoes are small in size, averaging 7 to 8 centimeters in length and 9 to 10 centimeters in diameter, and have a round, oval, bulbous shape with curved shoulders. Some of the fruits may exhibit a slightly flattened appearance and generally weigh 250 to 350 grams, showcasing smooth, thick, and taut skin. Despite the skin's thick nature, Ice Cream mangoes are easy to peel once opened. The skin also ripens from green to yellow-green or an orange-yellow, depending on its growing environment. Underneath the surface, the flesh is solid, fibreless, and dense with a soft, tender, aqueous, and melting consistency. The flesh also encases a round, flat seed. Ice Cream mangoes release a fragrant, sugary-sweet aroma when ripe. The fruits are edible raw and have a sweet, tropical, and floral taste with honeyed nuances of vanilla and peaches.


Seasons/Availability

Ice Cream mangoes are available for a short season in June and July.


Current Facts

Ice Cream mangoes, botanically classified as Mangifera indica, are a sweet, tropical fruit belonging to the Anacardiaceae family. There are several varieties grown worldwide that are generally labeled as Ice Cream mangoes in commercial markets, and there is some discrepancy in research on the similarities and differences between the varieties. In Asia, Rumani and Jill Pasanth mangoes are the two most common varieties labeled as Ice Cream mangoes. The fruits are native to India and are exported to countries throughout Southeast Asia. Ice Cream mangos are favored for their sweet flavoring and tender, succulent texture. The name Ice Cream is a sensory descriptor for mangoes popularly eaten raw. The fruits are often halved, and the flesh is scooped from the skin, a process reminiscent of scooping ice cream from a bowl. Ice Cream mangoes also received their marketing moniker from their ability to be frozen and served as a natural ice cream-like dessert. Ice Cream mangoes are a popular variety sold throughout Asia and are only available for a short season of about six weeks, making the fruits an in-demand seasonal specialty.


Nutritional Value

Ice Cream mangoes, like other commercial cultivars, are a source of vitamin C to strengthen the immune system, vitamin A to maintain healthy organ functioning, and fiber to regulate the digestive tract. The mangoes also provide calcium to build strong bones and teeth, vitamin E to protect the cells against the damage caused by free radicals, potassium to balance fluid levels within the body, and other nutrients, including vitamin K, magnesium, manganese, copper, folate, B vitamins, and niacin.


Applications

Ice Cream mangoes have a sweet, floral, and tropical taste suited for fresh preparations. Varieties labeled as Ice Cream mangoes are favored for eating straight out of hand as they have tender, juicy, and succulent flesh. The best way to enjoy Ice Cream mangoes is to slice around the seed without cutting it in half. Once sliced, twist open the mango into two halves, similar to twisting an avocado. After the two halves are opened, remove the seed kernel. The prepped halves can be enjoyed as a fresh snack, or they can be placed in the freezer for no more than thirty minutes. Once chilled, the halves are eaten with a spoon and have a texture and taste reminiscent of a natural sorbet or ice cream. Ice Cream mangoes can also be sliced and served as a topping over breakfast dishes or blended into smoothies and juices. In Southeast Asia, mangoes are popularly added to fresh herbs as a salad or side dish. They are also incorporated into famous desserts, including mango sago, a type of pudding, and sticky rice. In Tamil Nadu in southern India, Ice Cream mangoes are incorporated into mango pachadi, a sticky-sweet condiment made from raw mango and jaggery, and thokku, a pickled dish of mango, grated vegetables, spices, oil, and salt. Ice Cream mangoes pair well with spices such as turmeric, methi seeds, red chili powder, asafoetida, and mustard seeds, herbs including lemongrass, mint, and cilantro, and fruits such as bananas, citrus, coconut, pineapple, and stone fruits. Whole, unwashed Ice Cream mangos should be kept at room temperature to ripen. Once mature, the fruits should be immediately consumed for the best quality and flavor and will keep for up to five days if stored in a bag in the refrigerator. Sliced fruits can be frozen for up to six months in a sealed container.


Ethnic/Cultural Info

According to ancient Hindu scriptures, mango trees were created from the ashes of the daughter of the Sun God, Surya Bai. Legend has it Princess Surya Bai caught the eye of the King of the Land, and he immediately fell in love with her. Outraged by this budding relationship, a jealous sorceress found Surya Bai and threw her into a water tank, where she drowned. After the princess's sudden death, a single lotus flower bloomed from where she perished. The lotus caught the eye of the King, and he became obsessed with the blossom. The sorceress was once again enraged and pulled the flower out when the King wasn't looking and lit it on fire, leaving nothing but ashes. These ashes eventually grew into a large evergreen tree and bore radiant, golden fruits that the land had never seen. People traveled from all over India to see the mysterious golden fruits, including the King. One day, a single ripe fruit from the tree fell from the branches, and when it touched the Earth, it morphed into Princess Surya Bai. The King was elated at the reappearance of his lost love, and they immediately married. The mango remained a symbol of their love.


Geography/History

Mango varieties sold under the Ice Cream name in Asia are native to India. Much of the various variety's histories are unknown, but mangoes have been growing wild in India for thousands of years. Mangoes first appeared in northeastern India, and over time, the fruits were spread to the south through traveling merchants and trade. Ancient kings would also plant mango trees along roadways as a symbol of prosperity. In the modern day, mangoes are India's national fruit, and over 1,500 varieties of mangoes are found throughout the country. The two Indian mango cultivars labeled as Ice Cream mangoes in Asian markets are Rumani and Jill Pasanth mangoes. These varieties are primarily grown in southern India, mainly Tamil Nadu and Andra Pradesh. In Tamil Nadu, Ice Cream mangoes are featured in an annual mango festival in June. Mangani Thiruvizha is a 23-day celebration of the mango in the city of Krishnagiri, and mango varieties from across the region are carried and displayed during the festival. During the celebration, mangos are also judged in contests, sculptures are made from fruits, and vendors create mango-inspired food and goods. Ice Cream mangoes from India are exported to Southeast Asia and East Asia. They are also sent on a smaller scale to Europe. Outside of Asia, a rumored Ice Cream mango was found in Trinidad and Tobago by Maurice Kong, a member of the Rare Fruit Council International in the United States. Kong introduced the variety to Florida, and since its introduction, the cultivar has become successful as a home garden plant in southern Florida, specifically in Miami and Homestead.