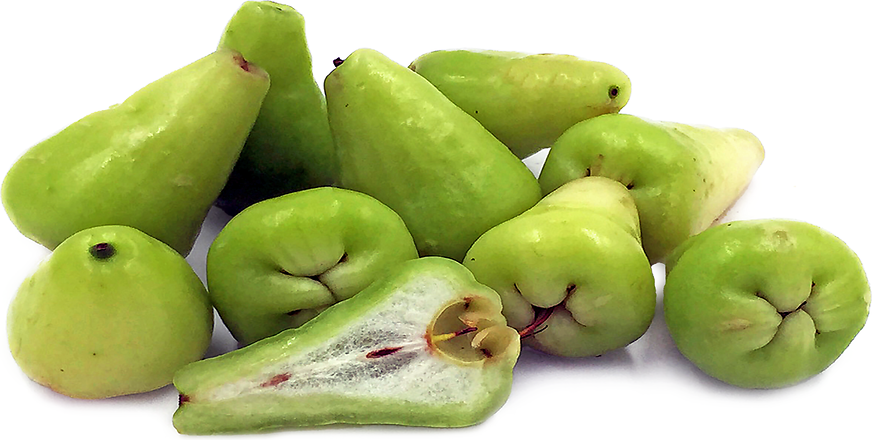 Green Water Apples
Inventory, lb : 0
Description/Taste

The 10 to 30 foot tall tree produces fruits twice a year. The bell- or pear-shaped fruit itself is quite small, about ¾ of an inch long and a little more than an inch wide. The immature fruit's skin is green and glossy, ripening to red. No matter the ripeness, the glossy skin is very thin and prone to bruising if handled roughly. The fragrant flesh is white or pink, and extremely juicy, somewhat like watermelon or an Asian pear. The flavor is on the sweet side, with notes of rose, though very mild. Usually there are no seeds, although some fruits may have a few.


Seasons/Availability

Green water apples are available in the summer.


Current Facts

Water apples are not actually apples—they are a species of tropical fruit with the botanical name Syzygium aqueum. There are several other varieties in the genus Syzygium, and many localized names that are applied to all, so it is easy to confuse one species for another. They are sometimes called rose apples as well.


Nutritional Value

Water apples are very low in calories because of their high water content—91.6%! They have some fiber, calcium, magnesium, potassium, and Vitamin C, but little protein or fat.


Applications

Water apples are considered to be good for quenching thirst, because of their high water content. The unripe green fruits are often used to make pickles, jelly, or syrup. Unripe green water apples can be added to sauces, or even eaten raw with some salt sprinkled on. Riper fruits are also sliced into salads or simply eaten raw. They pair well with other tropical fruits, chili flakes, cucumber, cilantro, peanuts, and feta cheese. Water apples don't need to be peeled to be eaten raw. Unlike true apples, they have no core, although the portion near the widest part of the fruit is inedible. Cut in half vertically and scoop out the softest portion on the inside. Slice the rest for salads or cooking. Store in the refrigerator until ready to be eaten.


Ethnic/Cultural Info

Since water apples are very delicate and can't be easily shipped, they are mainly consumed locally to where they are grown or planted in home gardens. In India and other south/southeast Asian countries, water apples are sold at markets. Other parts of the tree are used for medicine or other uses: the wood is often harvested and the leaves are eaten raw or dried. Medicinal uses of the fruit and tree are many, including treating fever, headaches, digestive issues, and skin conditions.


Geography/History

Water apples grow in tropical climates at low altitudes. This particular species of water apple is native to southern India. In India today, they grow in low-elevation, tropical Andra Pradesh, Kerala, and the Western Ghats. However, water apples are grown in various southeastern and south Asian countries, including India, Indonesia, and Malaysia. Outside of that immediate region, they are also grown in Hawaii and Trinidad, and are able to grow in southern Florida and California.