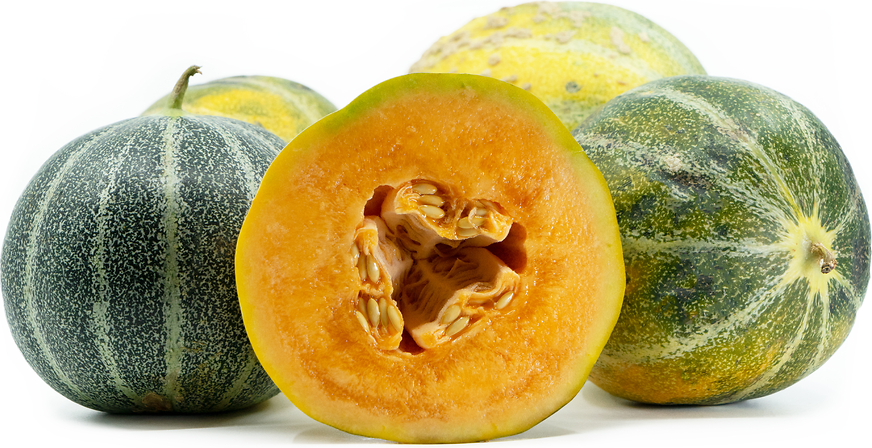 Petit Gris de Rennes Melon
Inventory, lb : 0
Description/Taste

Petit Gris de Rennes melons are a small varietal, averaging .9 to 1.3 kilograms in weight, and have an ovate, round, to oval appearance with nine faint, lightly accentuated ribs. The rind is thin, semi-smooth, and textured, covered in indented striping, rough patches, and a pebbled surface. The rind also has a dark green-grey base that transitions into a golden yellow-green hue when mature with light green longitudinal striping. Underneath the surface, the orange flesh is thick, dense, aqueous, and soft with a tender, succulent consistency. The flesh is also fine-grained and smooth, encasing a small central seed cavity filled with oval, cream-colored seeds enveloped in a gelatinous coating suspended by pale orange fibers. Petit Gris de Rennes melons will release an aromatic, honeyed, perfumed scent when ripe, and the stem end will have a slight give when pressed. The melons contain a high sugar content, creating a sweet and sugary flavor mixed with rich caramel and brown sugar nuances.


Seasons/Availability

Petit Gris de Rennes melons are available in the summer.


Current Facts

Petit Gris de Rennes melons, botanically classified as Cucumis melo, are a French heirloom variety belonging to the Cucurbitaceae family. The early season melons are a type of cantaloupe discovered in France in the 17th century, valued for their sweet and tender flesh. Petit Gris de Rennes melons mature in approximately 80 to 85 days, and each plant produces 3 to 4 fruits. The name Petit Gris translates from French to mean "little grey" and is derived from the small melon's grey-green exterior when young and unripe. Petit Gris de Rennes melons are also known as Petit Rennais and were once one of the most popular varieties in France. The aromatic melons were sold as a luxury variety as they were extremely challenging to grow, limiting the number of farmers willing to cultivate them. Despite their demanding nature, the melons were a seasonal delicacy for many years, but over time, they were replaced by easier-to-grow, modern commercial varieties. In the present day, Petit Gris de Rennes melons are still sought after by melon enthusiasts but are rare, only grown by a few farms for fresh eating.


Nutritional Value

Petit Gris de Rennes melons are a source of potassium to balance fluid levels within the body, fiber to regulate the digestive tract, and beta-carotene, a compound converted into vitamin A in the body to maintain healthy organ functioning. The melons also provide vitamin C to strengthen the immune system while reducing inflammation, magnesium to control optimal nerve functioning, copper to produce red blood cells, and other nutrients, including zinc, phosphorus, calcium, iron, and manganese.


Applications

Petit Gris de Rennes melons have a sweet, sugary flavor suited for fresh preparations. The melons have a rich, complex flavor and are traditionally savored straight out of hand. While many melon varieties are said to taste sweet, Petit Gris de Rennes melons have a slightly caramelized, brown sugar taste, a flavor complementing soft cheeses and other fruits on cheese boards and appetizer platters. The melons are favored at room temperature and can also be tossed into green salads, chopped into fruit bowls, used as a topping over ice cream, yogurt, or granola, or halved and filled with cottage cheese. In addition to slicing the melons, Petit Gris de Rennes melon flesh can be blended into smoothies, frozen into sorbet, popsicles, or ice cream, or used to flavor fillings for tarts, jellies, and custards. Petit Gris de Rennes melons can be used in recipes calling for cantaloupe. In France, Petit Gris de Rennes melons are often scooped into small balls and dropped into sweet wines, cocktails, or sparkling beverages as a refreshing, seasonal drink. They are also halved, deseeded, and filled with port as an afternoon treat or wrapped in prosciutto and consumed as a light appetizer. Petit Gris de Rennes melons pair well with herbs such as mint, basil, and cilantro, citrus, grapes, berries, cheeses including goat, feta, and parmesan, and nuts such as pine, almonds, and pistachios. Whole, unwashed Petite Gris de Rennes melons are highly perishable and should be immediately consumed once ripe for the best quality and flavor. When the melon is sliced, it can be stored for 2 to 3 days in a sealed container in the fridge.


Ethnic/Cultural Info

In Cesson-Sévigné, France, the Rescan family has been growing Petit Gris de Rennes melons for over 75 years. The Rescan family were prominent market gardeners in Rennes, and Marie-Thérèse Rescan joined the family by marrying Jean-Claude Rescan. Throughout her life, Marie-Thérèse Rescan sought to preserve and protect the gastronomic heritage of Rennes, and she eventually founded the Syndicate of Producers of Petit Gris de Rennes. This syndicate was established to ensure that Petit Gris de Rennes melons cultivated in Rennes maintained a certain quality level. The group was made up of growers, preservationists, and melon advocates. The Syndicate of Producers of Petit Gris de Rennes developed a system of cultivation for the notoriously challenging melon, where the melons are grafted onto squash rootstock to protect against Fusarium wilt. The melons are also grown vertically in greenhouses to protect them from insects, splitting, and developing cracks and blemishes.


Geography/History

Petit Gris de Rennes melons are native to France and are an heirloom variety that has been cultivated since the 17th century. The melons were discovered growing in the garden of the Bishop of Rennes around 1636 and were selected for cultivation for their small size, sweet taste, and tender flesh. Petit Gris de Rennes melons are believed to be a descendant of the Noir de Carmes variety, and by the 18th century, the cultivar was being grown throughout France, especially along the Finisterre coast. For a short period, Petit Gris de Rennes melons became one of France's most famous varieties of fresh eating. The variety thrives in warm, sunny climates with cool nights, and one of the traditional cultivation techniques was to cover the soil in manure to keep the surface temperature warm. Eventually, the manure technique was dropped in favor of greenhouses and polytunnels, causing other easier-to-grow melons to replace Petit Gris de Rennes melons. The variety disappeared for a while and became a specialty cultivar, reappearing in local French markets in the early 20th century. In the late 20th century, Petit Gris de Rennes melons almost disappeared entirely, but efforts through a few growers kept the variety alive, cultivated on a small scale. Today Petit Gris de Rennes melons are only grown on a few farms in France and are sold as a seasonal delicacy. The melons are rare and are challenging to find outside of France as the melons are delicate and cannot survive long shipping distances. The variety is also offered through online seed catalogs for home garden cultivation and is sometimes sold through specialty melon growers in the United States.