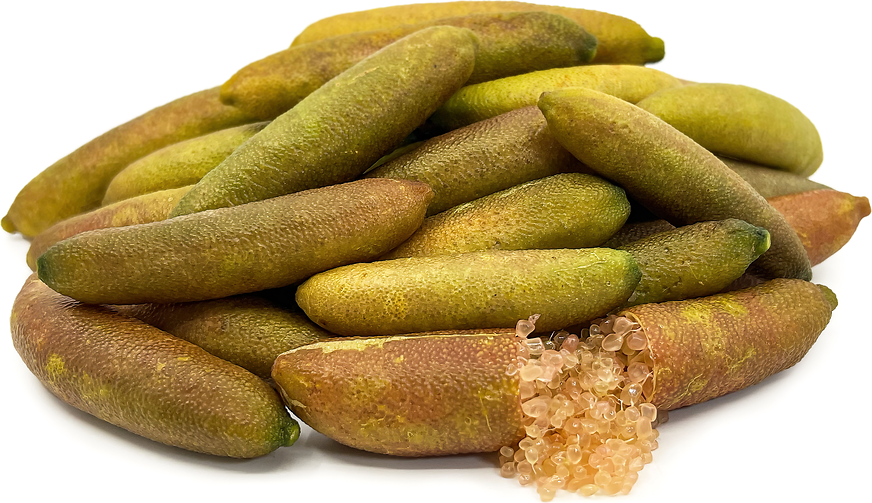 Mia Rose Finger Limes
Inventory, lb : 0
Description/Taste

Mia Rose finger limes are a larger varietal than other commercial finger limes, averaging 5 to 12 centimeters in length and 10 to 20 grams in weight, and have a cylindrical, elongated, uniform, and slender shape with tapered, blunt to slightly pointed ends. The variety's skin is thin, taut, and semi-rough with a leathery, pebbled texture, covered in numerous oil glands. The skin also showcases variegated brown, green, red, and pink hues, changing in saturation and color based on the climate and growing environment. Underneath the skin, the pulp consists of many small vesicles, also known as pearls, divided between 5 to 7 locules. The plump vesicles are firm, slightly sticky, aqueous, and crisp, varying in pink and red translucent shades. When consumed, the pearls have a popping, snap-like sensation bursting with acidic juice, creating a refreshing and bright flavor experience. Mia Rose finger limes bear a floral, fruity, citrus-forward aroma and are only harvested when ripe, as the fruits do not ripen off the plant. Ripe Mia Rose finger limes can be consumed raw and have a tangy, sweet, and floral flavor with a slightly bitter, grapefruit-like aftertaste.


Seasons/Availability

Mia Rose finger limes are available in the winter through early summer.


Current Facts

Mia Rose finger limes, botanically classified as Citrus australasica, are an Australian variety belonging to the Rutaceae family. The elongated fruits are a type of microcitrus that grows on thorny, evergreen shrubs reaching 1 to 3 meters in height. The fruits hang in bunches from the branches of the slow-growing shrub, and it takes approximately five months from flowering for the fruit to reach maturity. The name Mia Rose roughly translates to "my rose," a moniker given for the fruit's red-pink interior, and the variety is said to be a selection taken from the late 20th-century cultivar Pink Ice. Mia Rose finger limes are larger and more uniform than Pink Ice finger limes and show improved coloring, giving the fruits more commercial appeal. In the modern day, Mia Rose finger limes are a rare variety only grown and sold in limited quantities. The variety is found throughout Australia and sold in Japan for culinary use as an edible garnish.


Nutritional Value

Mia Rose finger limes are a source of potassium to balance fluid levels within the body, vitamin C to boost the immune system, and vitamin E to reduce inflammation. The varietal also provides vitamin A to maintain healthy organ functions, magnesium to control nerves, calcium to build strong bones and teeth, and other nutrients, including iron, folate, and vitamin B6. Throughout history, finger limes have been used as a medicinal aid to fight against diseases. They were also used topically as an antiseptic.


Applications

Mia Rose finger limes must be harvested ripe as they will not mature once picked from the tree. The ripe fruits have a citrus-like, fruity, and floral flavor suited for fresh preparations. Finger limes, in general, are nicknamed "fruit caviar" and are revered for their distinct and unusual popping sensation. The vesicles can be removed from the fruit and placed as an edible garnish over various dishes. In Japan, finger limes were made popular by placing them on fresh oysters. Mia Rose finger limes can also be sprinkled over ceviche, avocado toast, and mixed into fruit salads, or the vesicles can be gently folded into guacamole. Try incorporating finger limes into salad dressings for a burst of flavor, or add them to sauces as a source of acidity. Finger limes can be sliced in half and squeezed out or cut lengthwise and scooped out with a teaspoon. Mia Rose finger limes complement seafood such as shrimp, scallops, fish, and lobster, and they can be topped over chilled soups as a condiment. Beyond savory preparations, Mia Rose finger limes can be placed in sweet dishes, including pies, cheesecake, ice cream, pudding, and chilled desserts. Mia Rose finger limes are notably used as a textural and flavor component to clear spirit-based cocktails. The variety is popular with gin and can also be added to mineral water, lemonade, or fruit juices. Mia Rose finger limes pair well with fruits such as watermelon, persimmon, mangoes, and strawberries, herbs including mint, basil, and cilantro, avocado, tomatoes, and aromatics such as garlic, onions, and chile peppers. Finger limes will keep for 2 to 4 weeks when wrapped in plastic and stored in the refrigerator. They can also be frozen whole and stored in the freezer for 6 to 12 months.


Ethnic/Cultural Info

Finger limes were traditionally and still are utilized by Indigenous Australians as a topical treatment to heal cuts or open wounds. Citrus is known for its citric acid content, an organic compound that gives the fruits their signature sour, zingy taste. Citric acid is naturally found in finger limes and has the ability to assist in healing wounds, sores, burns, and other topical issues. Indigenous communities, including Wakka Wakka, Gumbainggir, Bundjalung, and Barunggam, rub finger limes on wounds, skin infections, or sores to boost circulation and tissue development. Beyond being used in medicinal healing practices, it has been recently discovered that finger limes may be resistant to Citrus Greening, a disease that has been devastating citrus growing regions worldwide. More research needs to be completed before it can be determined useful in the fight against Citrus Greening, but scientists are hopeful that this discovery will eventually help contain or manage the infamous disease.


Geography/History

Mia Rose finger limes are descendants of ancient varieties native to eastern Australia, specifically to Southeast Queensland and Northern New South Wales rainforests. The small fruits grow naturally in subtropical forests and are notably present on Tamborine Mountain, the Canungra area, and Binna Burra in Queensland and alongside the Richmond River in New South Wales. Finger limes have been utilized in medicinal and culinary applications for thousands of years by Australian Aboriginal communities, but when the Europeans arrived and began colonizing, many of the wild shrubs were removed or destroyed due to their thorny nature. Finger limes almost disappeared and are now a rare species, slowly being reintroduced through home gardens, breeding programs, and commercial growers. It is unknown when Mia Rose finger limes were developed in Australia, but the variety is thought to be a selection of Pink Ice finger limes. Commercial finger lime production began in the 1980s, and Pink Ice finger limes were released in 1989 from Alstonville in New South Wales. Mia Rose finger limes were created sometime in the late 20th and early 21st centuries and are a specialty variety seldom found in markets. Today, Mia Rose finger limes are primarily grown in Australia, but they are also found in limited quantities in Japan. When in season, the variety is sold through select grocers and retailers.