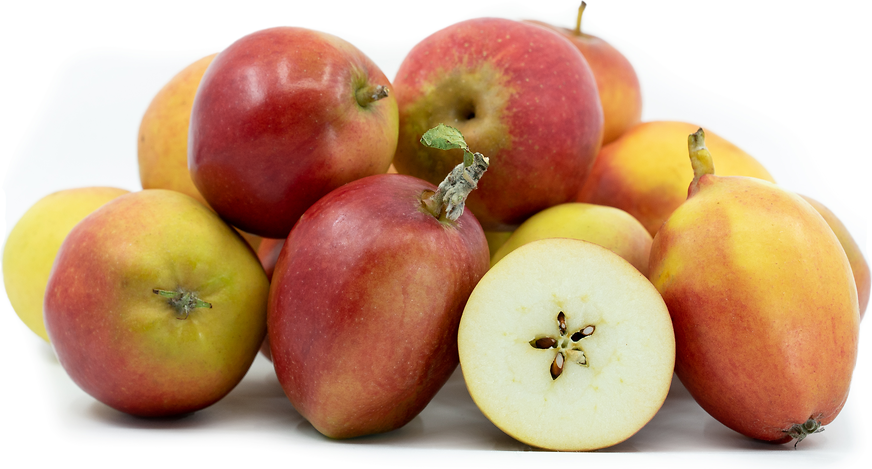 Oaken Pin (of Taylor) Apples
Inventory, lb : 0
Description/Taste
Oaken Pin apples are a small to medium-sized varietal, averaging 5.5 to 6 centimeters in diameter, and have a conical to elongated, oval appearance. The tall and narrow apples have a golden yellow base, covered in large patches of dark red-orange blush and striping. The blush can be translucent to solid, and the red striping is often contrasted over the yellow base, creating an overall vibrant coloring. The skin is also smooth with the occasionally raised lenticel and russet spot, developing a lightly textured feel. Underneath the thin skin, the ivory to pale yellow flesh is stained red just below the surface and has a firm, aqueous, and crisp consistency. The flesh also encases a moderately-sized core filled with tiny black-brown tapered seeds. Oaken Pin apples release a faintly sweet aroma and generally have a sweet, tangy, apple cider-like flavor. It is important to note that the taste of the variety changes depending on growing conditions. If the apples are cultivated in an ideal setting, they will develop a strong and aromatic flavor. If the variety is grown in less than desirable conditions, the apples will contain high acidity, creating an unpleasant, tart, and tangy taste.
Seasons/Availability
Oaken Pin apples are harvested in the mid-fall and can be stored through the early winter.
Current Facts
Oaken Pin apples, botanically classified as Malus domestica, are an English variety belonging to the Rosaceae family. The apples were first recorded by pomologists in the 19th century and are an heirloom, also known as a heritage variety, favored as a fresh eating and dessert apple. Oaken Pin apples are harvested in late September through early October and grow on vigorous trees that produce a sizeable annual crop. The apples received their curious name after a wooden pin once used as a door fastener in England. The wooden moniker was given in reference to the fruit's long and egg-like shape, similar to the appearance of the tool known as the oaken pin. Historically, apples were given names after everyday items used throughout England during the time of the fruit's discovery. Oaken pins are no longer used as a door part, but the name had been so well established with the apple variety that it was kept as the primary descriptor.
Nutritional Value
Oaken Pin apples have not been studied for their nutritional properties. Like other apples, the variety is a source of vitamin C to strengthen the immune system and fiber to regulate the digestive tract. The apples also provide potassium to balance fluid levels within the body, iron to develop the protein hemoglobin for oxygen transport through the bloodstream, vitamin E to reduce inflammation, and contain other nutrients, including vitamin K, calcium, zinc, copper, manganese, and B vitamins.
Applications
Oaken Pin apples have a sweet-tart flavor suited for fresh and cooked preparations. The apples were traditionally consumed straight out of hand as a dessert or snack, and their taste would vary from season to season, depending on climate and cultivation conditions. In the modern day, Oaken Pin apples are typically eaten fresh as a novelty. Still, they can also be used in contemporary apple preparations, served on cheese boards, sliced and dipped into nut butter, caramel, or chocolate, or chopped and tossed into salads and fruit bowls. In addition to fresh preparations, Oaken Pin apples are also utilized in sweet and savory cooked dishes. The apples can be sauteed and served with roasted vegetables such as onions, cabbage, or beets, roasted and used as a side dish for meats, or pureed and simmered into sauces, butter, and jams. Oaken Pin apples can also be baked into pies, crisps, tarts, fritters, cakes, and dumplings or cooked in sugar and brown butter and placed as a topping over ice cream. Beyond culinary preparations, Oaken Pin apples are occasionally pressed into cider blends or blended into smoothies. Oaken Pin apples pair well with nuts such as pecans, walnuts, and almonds, spices including cinnamon, cloves, and nutmeg, vanilla, chocolate, maple syrup, and herbs including parsley, rosemary, mint, and sage. Whole, unwashed Oaken Pin apples will keep for 1 to 2 months when stored in a cool and dark location, such as the refrigerator.
Ethnic/Cultural Info
Apple growers in southeast Devon watch their orchards feverishly on the 17th, 18th, and 19th of May due to the ancient legend of St. Dunstan and the devil. Legend has it that St. Dunstan was growing barley to make a batch of beer when the devil confronted him. At the time, beer was in stiff competition with cider, and St. Dunstan was worried that his homemade beer would be overshadowed by the local Devonshire ciders. The devil offered to blight the apple trees to lessen the cider production in exchange for St. Dunstan's soul. St. Dunstan arranged with the devil that the apple trees could only be blighted on the 17th, 18th, and 19th of May. Each year, Devon apple growers watch for horrible frosts and disease on these days, a predictor for the upcoming harvest season. If the apple blossoms are destroyed on these days, they refer back to this legend and blame St. Dunstan. May 19th is also known as St. Dunstan's day.
Geography/History
Oaken Pin apples are thought to have arisen from Devon, a county in southwestern England, sometime in the mid to late 1800s. The variety's parentage is unknown, and there is debate among pomologists in accurately tracing the apple's history. Several Oaken Pin apples have been described in various written works throughout history, but pomologists believe some of these apples are genetically different. Each Oaken Pin apple recorded has been given a descriptor using the author's name to avoid confusion. In the 17th century, there was an Oaken Pin of Evelyn, and in the early 19th century, an Oaken Pin of Forsyth and an Oaken Pin of Taylor. The apples discussed in this article are the Oaken Pin of Taylor, and this variety is sometimes described as Oaken Pin of Hogg, named after horticulturist Robert Hogg. The apples were recorded in the "Herefordshire Pomona" in 1876 and in "The Fruit Manual: Containing the Descriptions and Synonyms of the Fruits and Fruit Trees of Great Britain" in 1884. Both works were compiled by Hogg in conjunction with other authors. By the 1920s, Oaken Pin apples were cultivated in private estates and small commercial gardens in Exmoor, especially in the Exe Valley along the River Exe in Devon, England. The variety was common in Devonshire markets in the early to mid-19th century, but over time, it faded from cultivation in favor of modern varieties. Today Oaken Pin apples are rare, scarcely grown in orchards in southwestern England. The variety is also planted in a few preservation orchards in Kent. The Oaken Pin apples featured in the photograph above were sourced from Brogdale Farm in Faversham, England.
Recipe Ideas
Recipes that include Oaken Pin (of Taylor) Apples. One

is easiest, three is harder.