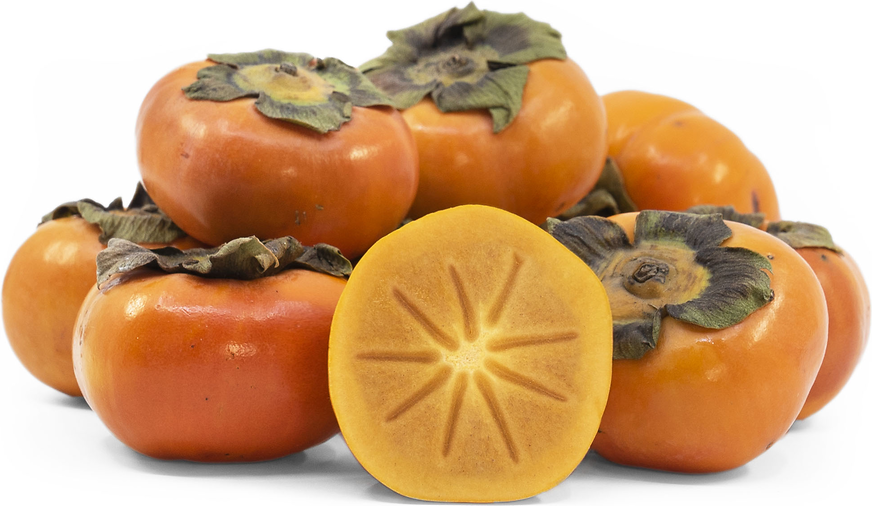 Sharon Fruit
Inventory, 14 ct : 0
This item was last sold on : 11/19/23
Description/Taste
Sharon fruits are small in size, averaging 5 to 8 centimeters in diameter, and have a plump, oblate appearance with a flat top and bottom and a curved, rounded center. The skin is smooth, waxy, thin, shiny, and taut, capped with a green to dark brown, brittle, papery calyx. The skin also showcases vibrant orange to dark orange hues with hints of red undertones. Underneath the skin, the pale orange flesh is initially firm, dense, and aqueous with a crisp consistency. If the fruits are left for a few days at room temperature, they will soften, developing a squishy, succulent, and delicate feel with a tender, jelly-like pulp. It is important to note that Sharon fruits can be eaten firm or soft and can be consumed immediately after purchase. A distinct feature of Sharon fruits is their seedless and coreless nature. Occasionally, tiny brown specs may appear within the flesh, but this is a natural indicator of sugar and is not a sign of decay. Sharon fruits contain high sugar levels, averaging above 20 Brix, contributing a mild, sweet, and saccharine taste with brown sugar nuances.
Seasons/Availability
Sharon fruits are harvested in Israel from October through February and are exported to markets worldwide. The fruits are also grown in regions of the Southern Hemisphere, providing year-round availability in some markets.
Current Facts
Sharon fruit, botanically classified as Diospyros kaki, is a marketing name for a persimmon variety belonging to the Ebenaceae family. The persimmons are a type of Triumph persimmon, a Japanese cultivar introduced to Israel from Asia, and the fruits were given a rebranded image due to their specialized processing. Sharon fruits are persimmons that have been placed in a modified atmosphere to remove the astringency typically found in the variety's flesh. Removing astringency allows for the persimmons to be consumed when firm or soft, a trait distinguishing the fruits from Triumph persimmons. Triumph persimmons are an astringent cultivar that cannot be consumed when firm and young. They can only be eaten when the flesh becomes soft and jelly-like, forcing consumers to wait for several days before enjoying the fruit. Sharon fruits, also known as Sharon persimmons, were created to meet market demand for persimmons that could be immediately enjoyed, and the variety offers consumers the flexibility to eat the fruits firm or soft, depending on preference. The branded persimmons were first developed in Israel. They were named after the Sharon Plain, also known as the Ha-Sharon, an 89-kilometer stretch of land situated between the Mediterranean Sea and the Samarian Hills and bordered by Nahal Taninim in the north and Tel Aviv in the south. Within this region, Sharon fruits are cultivated in the river valley and are sold domestically and exported worldwide as a premium persimmon.
Nutritional Value
Sharon fruits are a source of fiber to regulate the digestive tract, vitamin C to strengthen the immune system while boosting collagen production, and magnesium to support optimal nerve functioning. The fruits also provide nutrients such as copper, iron, calcium, phosphorus, folate, manganese, and beta-carotene, a pigmented compound that is converted into vitamin A in the body. Vitamin A promotes healthy organs, immunity, and prevention against vision deterioration.
Applications
Sharon fruits have a sweet, sugary flavor suited for fresh or cooked preparations. The fruits can be consumed straight out of hand and are versatile as they are edible when firm and dense or soft and squishy. The skin and flesh are consumed whole, discarding the green cap, and the persimmons can be sliced and served on cheese boards, tossed into salads, or chopped into salsas and other dips. Sharon fruits can also be thinly sliced and used as topping on gourmet toasts, layered into paninis, blended into smoothies, or stirred into grain bowls. In addition to raw dishes, Sharon fruits can be simmered into jams, compotes, and chutneys or pureed into a sauce and served with roasted meats. The fruits can also be infused into marinades and dressings, stuffed with vegetables and grains, or roasted and served with cheeses such as mascarpone. Try incorporating Sharon fruits into various baked goods like pies, tarts, or galettes. They can also be added to puddings, used as a topping for ice cream, or dried for extended use as a chewy snack. The variety has a mild nature, capable of being used in any recipe calling for persimmons. Sharon fruits pair well with spices such as allspice, ginger, nutmeg, cinnamon, and cloves, fruits including pears, figs, and apples, cheeses such as goat, parmesan, cottage, and manchego, and herbs including basil, mint, and thyme. Firm Sharon fruits will continue to soften at room temperature and will take about one week to transition from firm to jelly-like. Once soft, Sharon fruits can also be stored in the refrigerator for 1 to 3 days.
Ethnic/Cultural Info
Sharon fruits are persimmons that have been stripped of their astringency using an innovative process known as modified atmosphere packaging, or MAP. When the persimmons are harvested, they are placed in an environment with low oxygen and high carbon dioxide levels for around twenty-four hours. This process preserves the fruits, removes astringency, and promotes natural ripening. This controlled atmospheric storage is not a new preservation method, but the process does extend the fruit's storage capabilities, sometimes lasting for 3 to 4 months in the modified atmosphere. MAP allows growers to extend their Sharon fruit season in hopes of exporting the persimmons to other countries during gaps in the seasonal market. Sharon fruits are sold as a luxury variety, and once the fruits are ready to be shipped, they are taken from the modified atmosphere and placed in a new package for consumer appeal. The MAP process also reduces the chance of persimmon plant disease, a brown spot fungal disease that typically affects almost half of the persimmons grown worldwide.
Geography/History
Sharon fruit is the marketing name of Triumph persimmons that have been specially treated to remove astringency. Triumph persimmons are traditionally an astringent cultivar native to Asia and are a type of Japanese persimmon. While the exact date of when Triumph persimmons were planted in Israel is unknown, experts believe the variety has been present in the Sharon Plains for several centuries. Triumph persimmons grown in the Sharon Plains are treated using a modified atmosphere to remove astringency. The persimmons were also selectively bred not to have seeds or a core, creating more edible flesh within each fruit. These coreless, seedless, and non-astringent persimmons were branded as Sharon fruit, and the fruits were highly favored for their ability to be eaten firm or soft. Sharon fruits are primarily grown in Israel and are a popular export, shipping the fruits to Europe, the United States, and Asia. The first documented photo of a Sharon fruit in the United States was taken in 1913, and the variety became a luxury persimmon sold seasonally throughout the 20th century. Today Sharon fruit is commercially cultivated in Israel through many companies, including Arava Export Growers, Galilee Export, Agrexco, Mehadrin, and Mor International, the largest grower, packer, and exporter of Sharon fruits. Mor International also established a packing house in South Africa to provide shipments of Sharon fruits year-round. Outside of Israel and South Africa, Sharon fruits are being test grown in Spain and China. The Sharon fruits featured in the photograph above were sourced from Borough Market in London, England.
Recipe Ideas
Recipes that include Sharon Fruit. One

is easiest, three is harder.