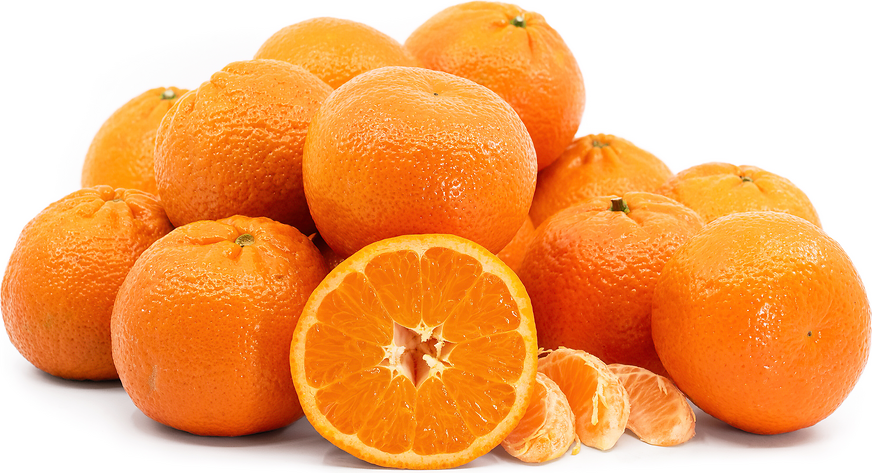 Sunburst Tangerines
Inventory, lb : 0
Description/Taste

Sunburst tangerines are a small to medium-sized varietal, averaging 6 to 7 centimeters in diameter, and have an oblate shape with a flattened top and bottom and broad, curved center. Prominent rind furrows and creases surround the stem, and the tangerine's rind is smooth, thin, and easy to peel. The dark orange-red rind is also covered in tiny oil glands, giving the variety a pebbled, pocked, and glossy appearance. Underneath the surface, there is little to no white pith, and the saturated orange flesh is divided into 11 to 14 segments by thin white membranes. Sunburst tangerines have a tender, aqueous, and succulent consistency, and the pulpy flesh is comprised of tiny vesicles filled with juice. Depending on the tree's pollination during cultivation, there can also be anywhere from 1 to 20 ivory oval seeds embedded within the flesh. Sunburst tangerines are aromatic and should have a taut, brightly colored rind and feel heavy for their size when ripe. The tangerines contain high sugar and acidity levels, creating a balanced, sweet, and tart flavor with bright, tangy nuances.


Seasons/Availability

Sunburst tangerines are available in the winter.


Current Facts

Sunburst tangerines, botanically classified as Citrus reticulata, are an American variety belonging to the Rutaceae family. The early to mid-season tangerines grow on evergreen trees reaching 3 to 4 meters in height and were developed from a controlled cross at a research station in Florida in the late 20th century. Sunburst tangerines were created as an improved commercial cultivar and were selected for their balanced, refreshing flavor, vibrant coloring, and easy-to-peel nature. Growers also favor the variety as it is thornless, disease resistant, somewhat cold-hardy, and prolific, producing a dependable, heavy crop. Sunburst tangerines ripen after Robinson and before Dancy, a market period generally falling over the holiday season, allowing the fruits to be marketed as fresh-eating winter citrus. The tangerines are also a popular home garden cultivar as they can be planted in the ground or in containers for small spaces. In the modern day, Sunburst tangerines are a widely grown variety throughout the United States and are sold under their specific varietal name or generally labeled as tangerines in some markets.


Nutritional Value

Sunburst tangerines are a source of vitamin C to strengthen the immune system, vitamin A to maintain healthy organ functioning, and fiber to regulate the digestive tract. The tangerines also provide potassium to balance fluid levels within the body, calcium to protect bones and teeth, copper to produce connective tissues, antioxidants in the form of flavonoids and phytochemicals to guard the cells against free radical damage, and other nutrients, including magnesium, iron, and folate.


Applications

Sunburst tangerines have a sweet-tart flavor suited for fresh and cooked preparations. The tangerines are primarily consumed straight out of hand, favored for their juicy nature. Sunburst tangerines can be tossed into salads, mixed into fruit bowls, served in wedges on charcuterie platters, or dipped into chocolate as a sweet treat. The variety can also be sliced and mixed into salsa, folded into creamy side dishes, or served as a pop of flavor in homemade dressings. Try using the juice of Sunburst tangerines to complement various seafood dishes such as grilled shrimp, fish, or scallops. The juice can also be blended into smoothies, added to cocktails, or mixed into fruit punch and other sparkling beverages. In dessert preparations, the juice and zest can add a bright taste to cookies, scones, bread, muffins, puddings, custards, crème brulee, and panna cotta. Beyond sweet dishes, Sunburst tangerines can be added to stir-fries and noodle dishes, used as an edible garnish over fish and poultry, or cooked into glazes for roasted pork or grilled beef. Sunburst tangerines pair well with nuts such as almonds, pine, walnuts, and cashews, herbs such as cilantro, rosemary, sage, and coriander, fruits including kiwi, grapes, strawberries, and blueberries, vanilla, chocolate, cinnamon, and ginger. Whole, unopened Sunburst tangerines will keep for 2 to 3 days at room temperature but are recommended to be stored in the refrigerator for up to one week.


Ethnic/Cultural Info

Sunburst tangerines were named for the star-like shape on their stem-end, similar in appearance to the fiery center of the galaxy. The flesh also mirrors this aureole-like shape when sliced into a cross-section, revealing the segmented pieces gathering to a central point. In addition to its celestial symbolism, Sunburst's marketing name evokes a sense of brightness, highlighting the variety's punchy nature, bursting with a balanced combination of bright, sweet, and tangy flavors. Sunburst tangerines were also created in Florida, and the name is a nod to the state's nickname of "The Sunshine State." During the holiday season in Florida, citrus is a traditional gift to add to the bottom of Christmas stockings. This tradition dates back to the legend of St. Nicholas in Europe. One Christmas Eve, St. Nicholas was completing his travels of delivering gifts and tossed a ball of gold into a young girl's stalking to prevent her from suffering. The story has been enhanced and altered over time, eventually replacing the gold ball for citrus, which was considered a rare fruit at one time in Europe. This tradition was brought to Florida and became especially popular during the Great Depression. Families would venture out into the plentiful citrus orchards in the state and pick an orange or tangerine for their loved ones. The fruits were seen as an affordable and thoughtful gift, and since they were free, they became an annual custom. Placing tangerines in Christmas stockings is still a tradition practiced by many families who survived the Great Depression in the present day to remember and honor the past.


Geography/History

Sunburst tangerines were developed at a United States Department of Agriculture research station in Orlando, Florida. The variety was a selected seedling that arose from an intentional cross between Osceola and Robinson, two hybrid citrus varieties created by breeders in Florida in 1942. The purpose of the cross was to examine the effectiveness of Osceola pollen on the fruit set of Robinson. The cross was made in 1961 by breeder P.C. Reece, and less than one percent of the hand-pollinated flowers set fruit. Fifteen seedlings were selected and planted for evaluations, and in 1967, breeder C.J. Hearn chose a seedling known as 1-16-8 from the A.H. Whitemore Foundation Farm for potential production. The seedling was planted in areas of Indian River and Central Ridge in Florida and was studied for three seasons before it was chosen for commercial production. 1-16-8 was renamed to Sunburst tangerine in 1979 and was released to the public, eventually becoming one of the most popular commercially grown tangerines in Florida. Today Sunburst tangerines are produced throughout the United States, especially in Florida, and are also planted in home gardens as a fresh-eating cultivar. When in season, Sunburst tangerines can be found through farmer's markets, distributors, online retailers, and select grocers.