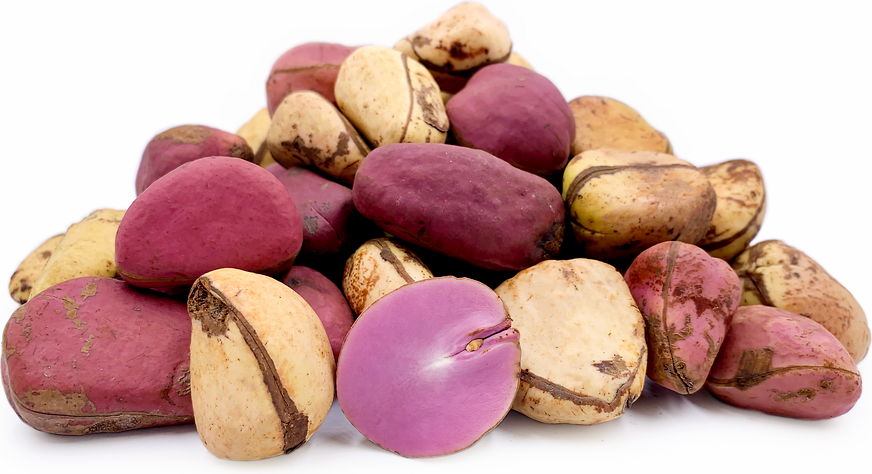 Kola Nuts
Inventory, lb : 0
Description/Taste
Kola nuts develop inside oblong pods averaging 18 to 20 centimeters in length that are broad in the middle and taper towards pointed ends, similar in shape to a football. There are generally five pods, also known as follicles, that grow in a star-like shape on the tree, and the pods can be broken off individually when harvested. The pods vary in color, depending on the species, and are generally light green, dark green, brown, or red with brown mottling. They also have a hard, bumpy, wood-like feel, with a prominent seam extending the length of the fruit. The pods are opened along their seam, splitting the fruit into two halves. Each half is filled with a row of round, bulbous, angular seeds ranging 4 to 5 centimeters in diameter, and the seeds are covered in a thin, fleshy white membrane. This membrane is edible and, depending on the species, may be flavorless, bitter, vegetal, or subtly sweet. The membrane can be peeled away by hand, and the seeds vary in color within each pod, appearing in shades of violet, pink-red, dark red, to white. Fresh Kola nuts are firm, dense, fibrous, and chewy. The seeds release a subtly sweet, rose-like scent and should feel heavy for their size when ripe. When consumed raw, Kola nuts have an initially bitter, astringent, nutty, and vegetal taste. The taste will become slightly sweeter with continued chewing, and after consuming the seeds, other foods and beverages will have an imparted sweeter flavor. Kola nuts can also be eaten dried or ground into a powder and have a milder taste with a light nutmeg aroma.
Seasons/Availability
Fresh Kola nuts are generally harvested between September and December. Availability will vary depending on the region the species is grown in. Dried Kola nuts are available year-round.
Current Facts
Kola nuts, botanically a part of the Cola genus, are the seeds of a tropical fruit belonging to the Malvaceae family. The fruits develop on evergreen trees reaching 13 to 20 meters in height and are native to West Africa, where the seeds have been gathered for medicinal and culinary uses since ancient times. There are over 140 species of Kola, and the two most common species found in fresh markets are Cola nitida, also known as Big Kola, and Cola acuminata, known as Small Kola or Bitter Kola. Kola nuts are found in varying colors, depending on the species, and each fruit may contain a series of different-colored seeds in red, pink, violet, brown, to white hues. Historically, Kola nuts are a sacred symbol throughout West Africa, representing hospitality, respect, and opening the spirit. The nuts are consumed fresh or dried and are valued for their stimulant properties. Each Kola fruit pod is said to contain the caffeine equivalent of about two cups of coffee, and this stimulant is used to awaken the senses during ceremonies and rituals. Kola nuts were eventually planted in regions outside of Africa, and the dried nuts were ground into a powder for use in medicines, supplements, and culinary preparations. In the modern day, Kola nuts are a common food in Africa, but the fresh nuts are rare outside their growing regions.
Nutritional Value
Kola nuts are a source of potassium to balance fluid levels within the body, vitamin C to strengthen the immune system, calcium to build strong bones and teeth, and iron to develop the protein hemoglobin for oxygen transport through the bloodstream. The seeds also contain caffeine and theobromine, a naturally occurring compound that acts as a stimulant. Theobromine is also found in other plants, such as cacao and some tea plants. In West Africa, Kola nuts are chewed to reduce hunger, combat fatigue, and aid digestion. Chewing the seeds also causes food and liquid consumed to have a sweeter flavor, allowing stale water to taste better, a tactic used for troops on battlefields and laborers in fields. Outside of Africa, Kola nuts are consumed as a remedy for hangovers in the West Indies and Brazil.
Applications
Kola nuts have a bitter, subtly vegetal taste suited for fresh, roasted, and dried preparations. The seeds are traditionally gathered by hand, and when fresh, each seed is covered in an ivory membrane. This layer is edible and can be eaten, but it depends on preferences. Fresh Kola nuts can be bitten and chewed as a stimulant. It is important to note that the seeds are hard, and most consumers must use their back teeth to crack the nut open. Care should be taken to not damage teeth in this process. Small pieces of Kola nuts are customarily chewed before or after meals as a digestion aid. Kola nuts can also be roasted or dried and ground into a powder for use in beverages. The seeds are commonly added to energy drinks, tea, milk, cocktails, carbonated drinks, and shakes. Powdered Kola nuts can also be used in supplements, mixed into yogurt, or porridge. In Victorian England, the seeds were incorporated into chocolate and infused into specialty champagne. The seeds can also be added to extracts for candies, ice cream, syrups, and baked goods. In Africa, during Ramadan, a carbonated drink is popularly made with Kola nuts, water, chile peppers, sugar, and ginger. Beyond beverages and sweet dishes, Kola nuts can be ground into a spice and used similarly to coffee grounds in recipes as it has a bitter flavor. As a spice, Kola nuts can be mixed with paprika or fennel and added to dressings, stirred into sauces, sprinkled over vegetables and meats, or folded into creamy spreads for sandwiches. Kola nuts pair well with herbs such as chives, basil, tarragon, and cilantro, meats including beef, poultry, and pork, seafood, and spices such as cinnamon, nutmeg, and ginger. Fresh Kola nuts should be immediately consumed for the best quality and flavor. Dried Kola nuts will last up to six months when stored in a cool, dry, and dark place or for one year when wrapped in a paper towel in the refrigerator.
Ethnic/Cultural Info
Kola nuts were famously used as an ingredient in the original recipes for Coca-Cola and Pepsi. In the 19th century, American pharmacists took notice of the seed's importance in natural medicines throughout West Africa and began incorporating extracts into their tonics for sale to the public. In 1886, Pharmacist John Sith Pemberton mixed Kola nuts with extracts from the coca plant to create a syrup used as the primary ingredient in Coca-Cola. Pemberton operated a drug store in Knoxville, Georgia, where he would sell patented tonics and medicines. One of his most notable concoctions was "Pemberton's French Wine Coca," a drink made from wine and coca to reduce headaches and other nervous system ailments. This drink was sold until Prohibition, but after wine was ruled illegal, Pemberton switched his recipes to include sugar, wine, coca, and Kola nuts. Pemberton's bookkeeper, Frank Robinson, suggested the name Coca-Cola, and the syrup was given to a soda fountain down the street and sold as a carbonated beverage or "brain tonic." Coca-Cola saw some initial success, but it was when Pemberton sold the rights to the syrup to pharmacist Asa Griggs Candler that the syrup was turned into a national, bottled soft drink. Kola nuts were also used in the original recipe for Pepsi-Cola, initially known as "Brad's Drink." Pharmacist Caleb Bradham developed the recipe in 1893 and mixed pepsin with Kola nuts to create a drink for ulcers. In the present day, Pepsi-Cola and Coca-Cola no longer contain Kola nuts, but the African seeds are still deeply embedded into the carbonated beverage's history and foundation.
Geography/History
Kola nuts are native to West Africa and have been growing wild since ancient times. Many species of Kola nuts are found in regions of West Africa, and throughout history, the seeds have been utilized in cultural, medicinal, and spiritual practices. The Igbo people in southern Nigeria believe the Kola nut to be the first fruit and tree grown on Earth. The species is revered and worshipped, and the seeds are consumed in social settings as a communal act to bond the tribe. Kola trees thrive in hot and humid tropical forests, and the seeds are widely sold through street vendors, fresh markets, bus depots, and neighborhoods. Over time, the species was introduced to Europe through Portuguese traders in the mid-16th century. These traders first encountered the species in a port in Sierra Leone, and by the late 19th century, the seeds were being shipped in large quantities to Europe and the United States as a stimulant and medicinal ingredient. Kola nuts also spread into North Africa in the 17th century, South America, and the West Indies. Today Kola nuts are a staple item found in fresh markets throughout West Africa and are also grown in regions of North and Central Africa, Brazil, Colombia, Venezuela, Australia, Jamaica, Haiti, Indonesia, and India. In European and American markets, Kola nuts are most likely sold dried or in powder form.
Recipe Ideas
Recipes that include Kola Nuts. One

is easiest, three is harder.