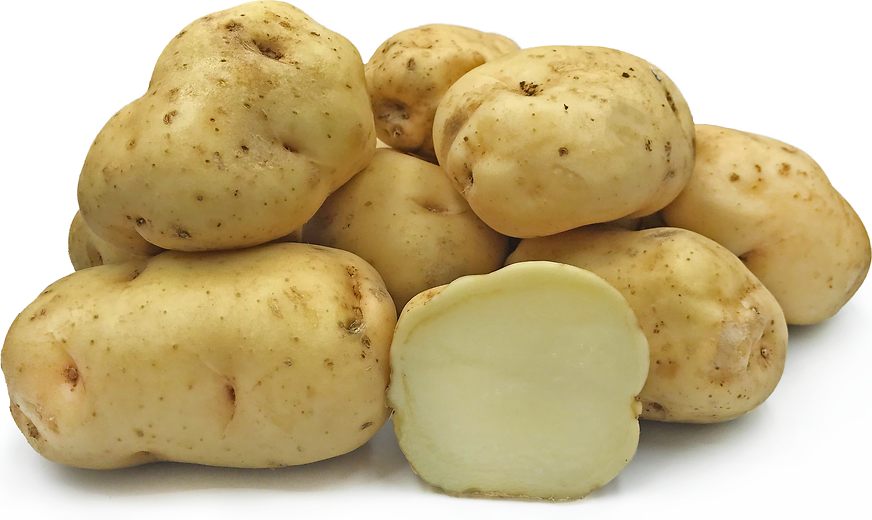 Institut de Beauvais Potatoes
Inventory, 1 Lb : 0
Description/Taste

Institut de Beauvais potatoes are a large varietal that varies in appearance, depending on growing conditions, and can be round to oval with a slightly lumpy shape. The potato's skin is semi-thin, smooth, and light brown to beige, covered in medium to deep-set eyes and speckled with darker brown spots. The prominent eyes bear a faint red hue and are often sunken into the surface, developing divots in the tuber. Underneath the surface, the pale-yellow flesh is firm and dense. Institut de Beauvais potatoes contain low water content within the flesh, leading the tuber to be mostly comprised of starches when harvested. This drier, floury consistency creates a fluffy and light texture when the potatoes are cooked. Institut de Beauvais potatoes have a rich, nutty, and earthy flavor.


Seasons/Availability

Institut de Beauvais potatoes are available in the late summer through fall.


Current Facts

Institut de Beauvais potatoes, botanically classified as Solanum tuberosum, are an heirloom French variety belonging to the Solanaceae or nightshade family. The late-season potatoes were developed in the 19th century and are a multi-purpose cultivar favored among French chefs for their starchy texture. Institut de Beauvais potatoes were named after their site of origination, the Beauvais Institut Supérieur Agricole, and were selected as a new variety for the tuber's large size, fluffy nature, and mild flavor. Institut de Beauvais potatoes were a popular variety in France during the 1950s, but over time, growers replaced the cultivar with newer modern types. In the present day, Institut de Beauvais potatoes are mainly produced through specialty growers to preserve the variety, and potato enthusiasts plant the cultivar in home gardens as a novel cultivar.


Nutritional Value

Institut de Beauvais potatoes are a source of fiber to regulate the digestive tract and vitamin C to strengthen the immune system while reducing inflammation. The potatoes also contain potassium to balance fluid levels within the body, iron to develop the protein hemoglobin for oxygen transport through the bloodstream, magnesium to regulate nerve functioning and provide other amounts of phosphorus, B vitamins, and folate.


Applications

Institut de Beauvais potatoes have a starchy consistency and mild, earthy flavor well suited for cooked preparations. The potatoes are known for containing a high dry matter content, allowing the tubers to be used in mashed, pureed, fried, and baked dishes. In France, Institut de Beauvais potatoes are popularly boiled and combined with butter, cream, milk, or salt as a creamy puree or mash. The tubers are also quartered and tossed into soups and stews. Institut de Beauvais potatoes have a mild flavor, often served with roasted vegetables, incorporated into main dishes, or paired with savory meats, and as the tubers are cooked, their flesh expands, breaking from their skin. The potatoes can also be sliced into wedges and fried to develop a crisp exterior, or the tubers can be baked and served as a filling side dish. Institut de Beauvais potatoes pair well with cheeses such as parmesan, cheddar, mozzarella, or provolone, herbs including parsley, thyme, or rosemary, meats such as beef, pork, poultry, or turkey, and vegetables such as carrots, celery, green beans, and zucchini. Whole, unwashed Institut de Beauvais potatoes will keep for a couple of weeks to several months when stored in a cool, dry, and dark place away from direct sunlight.


Ethnic/Cultural Info

Institut de Beauvais potatoes were widely used in France during the 1950s for mashed potato recipes. The tuber's floury nature creates a light and fluffy mash, and the earthy, nutty flavor of the tubers was traditionally mixed with butter and cream to create a dish known as pomme puree. Historically, France was one of the first countries to incorporate mashed potatoes into their culinary repertoire. In 1748, France had banned the newly introduced potato, viewing the starchy spuds as unappetizing, disease-filled, and reserved as an animal feed. This law mirrored the French public's opinion of potatoes for many years and was carried into the Seven Years' War when France was fighting Britain. During the war, French pharmacist Antoine-Augustin Parmentier was captured and was forced to eat potatoes while imprisoned. Parmentier realized that potatoes were not as toxic as the French government had deemed them to be and learned how to cook the tubers in different preparations. When Parmentier was released from prison, he returned to France and began promoting potatoes through several publicized dinner parties, eventually convincing the French government to lift the ban against the tubers in 1772. Since Parmentier's push for the consumption of potatoes, mashed potatoes, soups, and purees have remained a staple element in French cuisine. Institut de Beauvais potatoes are currently being used throughout Paris in similar preparations. At La Halle Aux Grains, a high-end restaurant run by the Bras brother, the potatoes were included in a pre-fixed New Year's Eve dinner menu in 2021, promoted as a locally sourced variety. Institut de Beauvais potatoes were also served at the restaurant in aligot, a dish made from mashed potatoes blended with cheese. At Caius, another restaurant in Paris, Chef Jean Marc Notelet transforms Institut de Beauvais potatoes into a cream-like soup infused with arleux garlic.


Geography/History

Institut de Beauvais potatoes are native to France and were bred in 1856 at the Beauvais Institut Supérieur Agricole in the department of Oise. The variety's parentage is unknown, but the tubers were created through breeder and professor Eugene Chanoine and were officially released as a commercial cultivar in 1884. Institut de Beauvais potatoes were first marketed through the Vilmorin seed catalog, a famous French seed producer, and the potatoes have remained one of the oldest varieties to be listed in the catalog. The potato variety saw commercial success throughout the mid-20th century and was used to create other potato cultivars, including hermine, turia, goya, and blanca de cernegula. In the late 1990s, Institut de Beauvais potatoes began to be replaced by modern cultivars and were localized to small-scale production. Today Institut de Beauvais potatoes are grown through select growers and planted in home gardens as a specialty variety throughout Europe. Maison Bayard, a farm in the Santerre region of France, is known as one of France's most famous Institut de Beauvais potato producers, sending their potatoes to restaurants across France.