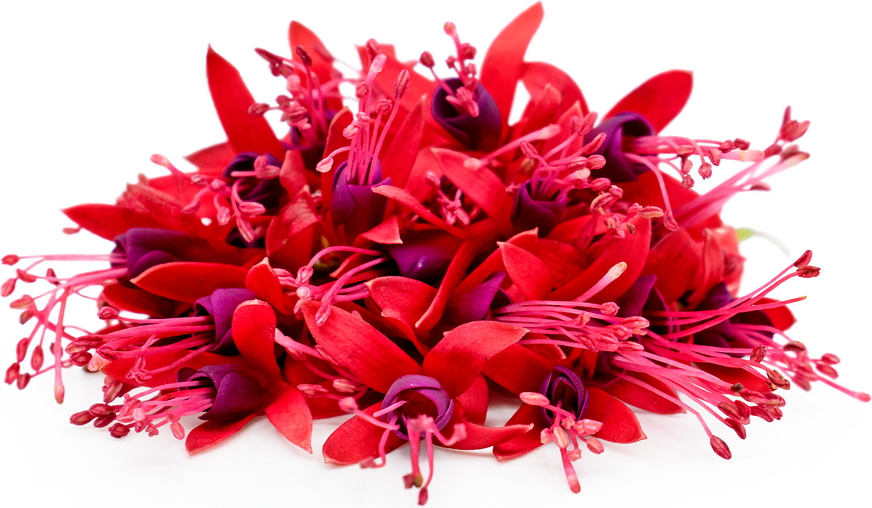 Fuchsia™ MicroFlowers
Inventory, 200 ct : 0
This item was last sold on : 12/06/23
Description/Taste
Micro Fuchsia™ flowers are small, delicate blossoms measuring two centimeters at their widest point. The flowers are pendulous with a teardrop shape and are comprised of dark purple, tightly arranged short and broad petals surrounded by four elongated and deeply red, slender sepals. The center of the flower features 6 to 8 long bright fuchsia stamens, reaching far beyond the petals, each with an oval tip. Micro Fuchsia™ flowers have a sweet and floral aroma and a mildly sweet flavor with tart undertones and a slightly bitter finish.
Seasons/Availability
Micro Fuchsia™ flowers are available year-round, with a peak season from late summer to late autumn.
Current Facts
Micro Fuchsia™ flowers are small, edible flowers that are part of a trademarked line of specialty MicroFlowers™ grown exclusively by Fresh Origins farm in San Diego County, California. Microflowers™ are one of Fresh Origin Farm's most popular innovations and were designed to complement the organization's extensive line of micro and petite greens. Generally, the miniature flowers are smaller than a quarter and are hand selected to offer a variety of flavors, brilliant colors, shapes, and textures to elevate culinary and mixology experiences. Fuchsia is a genus of flowering plants consisting primarily of shrubs and small trees belonging to the Willowherb or Evening Primrose family. There are over 100 varieties, some of which are grown as ornamental plants and some that are grown for their edible flowers and berries. The blossoms hang and droop from the vine-like branches of the plant, pointing down toward the ground instead of reaching toward the sun. The plant does best in cool weather and limited sunlight, making its peak blossoming season autumn. In warmer climates, the plant may also blossom through the winter. Micro Fuchsia™ was designed by Fresh Origins as an edible garnish that can add dimension to entrees, desserts, and drinks.
Nutritional Value
The nutritional value of Micro Fuchsia™ flowers has not been extensively studied; however, it is known that the blooms contain high levels of vitamin C. This powerful antioxidant helps protect the body from the damage caused by free radicals as well as supports the immune system. It aids in wound healing, collagen formation, and the maintenance of cartilage, bones, and teeth. Many foods with deep purple, red, and pink hues are also known to contain anthocyanin, an antioxidant that can aid the body in a variety of ways.
Applications
Micro Fuchsia™ is suited as an edible accent, added at the end of preparation to maintain the flower's delicate shape and texture. The entire flower is edible and can be used whole, or the petals can be separated and spread throughout the dish. The beautiful blossoms can be used to decorate tiered cakes and banquet tables. Micro Fuchsia™ can be sprinkled over salads, floated over soups and curries, placed into fruit bowls, or used as a garnish for sushi and sashimi. The flowers can also be used to decorate seafood dishes such as calamari, ceviche, and shrimp cocktail or strategically placed on pasta, seafood, sandwiches, appetizers, and other main plates for added aesthetic. In addition to using the flowers in their natural form, the blooms can be frozen into ice cubes to add color and flavor to a beverage, wrapped into fresh spring rolls, or pressed into cookies and soft cheeses for an elevated appearance. Micro Fuchsia™ can also accent desserts such as cakes, scones, sorbets, crème brulee, cookies, puddings, and tarts, or they can be used as a garnish in craft cocktails. Micro Fuchsia™ pairs well with chocolate, fruits such as coconut, strawberries, lemons, passionfruit, mango, and cherries, herbs including lavender, parsley, and mint, cheeses such as goat, brie, and blue, leafy greens, and springtime vegetables, including asparagus, peas, green garlic, and fava beans. Whole MicroFlowers™ should be used immediately for the best quality and will keep for 2 to 4 days when stored in a sealed container in the refrigerator.
Ethnic/Cultural Info
In the 19th century, illustrated horticultural journals created in Europe set the trends for the season's most coveted ornamental flowers and plants. Fuchsia plants, which entered European society in the 18th century, gained favor and popularity throughout France in the 1850s. The showy pendulous blooms were given the nickname Lady's Eardrops because they resembled dangling earrings and were made to resemble ballerinas dancing on their tiptoes by removing all but two of the stamens. The ornate flowers permeated high society during this time, showing up in art, fashion, and gardens. From 1853 to 1870, a massive urban renewal project curated by French horticulturist Jean-Pierre Barillet-Deschamps and landscape engineer Jean-Charles Adolphe Alphand brought newly manicured gardens and park spaces to Paris. Fuchsia flowers were front and center in these green spaces, their bright colors, hanging arrangements, and sweet aroma lining walkways and filling flower beds. However, just as quickly as fuchsias rose to fame, their popularity plummeted as overbreeding and excessive publicity made what was once new and rare too common to remain in favor. Fuchsias fell a bit to the wayside, becoming more of a commonplace home garden shrub than a high society show-stopping arrangement. However, the short-lived favor and intrigue given to the flowers in the 19th century led to the creation of over 100 varieties of the plant that can now be found naturalized around the world. Fuchsia flowers continue to make a stunning addition to flowerbeds and arrangements and, with the introduction of Micro Fuchsia™ in the early 21st century, in the culinary and mixology industries as well.
Geography/History
Fuchsia is an ancient flowering plant native to parts of South America, Mexico, the Caribbean, Central America, New Zealand, and Tahiti. The oldest recorded fossil of the plant was found in limestone in New Zealand and is believed to be about 23 million years old. Ancient civilizations used the plants as food and medicinal ingredients. The first European exposure to the flowering plants happened in 1697 when French monk Charles Plumier was introduced to the plant on the Caribbean Island of Hispaniola. He cataloged the plant and gave it the scientific name Fuchsia coccinea after a celebrated 16th-century German botanist Leonhart Fuchs. The first fuchsia plants arrived in England in the late 18th century and were planted as ornamentals in royal and home gardens. Depending on the variety, Fuchsias can thrive in tropical, sub-tropical, and cool and wet environments. They can be found growing wild in the Andes mountains and other parts of South America, as well as Mexico, Central America, Costa Rica, Haiti and other Caribbean Islands, and New Zealand. Cultivated Fuchsias are grown in many areas on farmland as well as in greenhouses to extend their season. Micro Fuchsia™ flowers were developed at Fresh Origins Farm in San Marcos, California, the leading American producer of naturally grown microgreens and edible flowers since the mid-1990s. Fresh Origins grows over 60 varieties of edible flowers and uses the mild and sunny Southern California climate year-round to produce flavorful, attractive, safe, and quality blooms. Fresh Origins also has the highest level third-party-audited food safety program and is a certified member of the California Leafy Greens Marketing Agreement, which follows science-based food safety practices to promote transparency and honesty in production. Micro Fuchsia™ flowers can be found through select distribution partners of Fresh Origins across the United States and Canada.
Featured Restaurants
Restaurants currently purchasing this product as an ingredient for their menu.