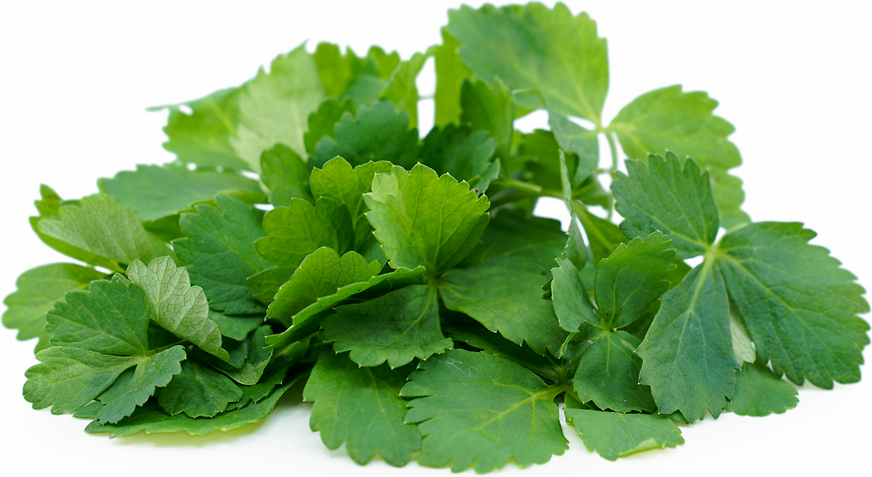 Petite® Angelica
Inventory, 4 oz : 0
Description/Taste

Petite® Angelica is comprised of three broad, oval leaves attached to slender, straight stems. The leaves are flat, dark green, and smooth, bearing deeply serrated, toothed edges. The leaves also showcase faint, pale green veining, softly seen branching through the center. The stems are thin, pliable, and slightly fibrous, contributing a soft, crunchy consistency. Petite® Angelica has a crisp, succulent, and tender mouthfeel. The greens emit a faint, musky odor and have an herbal, earthy, bitter, and subtly sweet flavor with licorice and juniper berry nuances.


Seasons/Availability

Petite® Angelica is available year-round.


Current Facts

Petite® Angelica is a part of a specialty line of boutique edible greens grown by Fresh Origins Farm in San Diego, California. Petite® Greens are more mature versions of microgreens, harvested approximately 4 to 6 weeks after sowing, and Fresh Origins currently grows over 125 varieties in-house. Petite® Angelica is an innovative creation developed for chefs to reimagine the way the herb Angelica is used in culinary dishes. Angelica is an ancient European plant traditionally incorporated into natural medicines, and while the herb was once prevalent in gardens throughout Europe in Medieval Times and the Middle Ages, it has largely been forgotten in modern herb gardens. Fresh Origins has developed a modern take on the classic Angelica, allowing chefs to utilize the Petite® Green as an unusual garnish contributing color, flavor, and texture to culinary preparations.


Nutritional Value

Petite® Angelica has not been studied for its nutritional properties. Garden Angelica, one of the most common species of Angelica, is a source of potassium to balance fluid levels and vitamin C to strengthen the immune system, boost collagen production, reduce inflammation. The plants also contain coumarins, natural compounds with antioxidant-like properties to protect the cells against free radical damage, and antifungal and antibacterial properties.


Applications

Petite® Angelica has an earthy, herbal, and subtle licorice flavor well suited as an unexpected fresh element in culinary dishes and mixology. In culinary preparations, the greens are commonly incorporated raw as an elegant garnish to prevent the leaves from wilting. Petite® Angelica can be added to green salads and fruit bowls, floated over stews, curries, and soups, or delicately placed as a garnish over roasted meat main dishes. The greens can also be used to decorate cakes and other desserts, lightly chopped and scattered across stir-fries, infused into oils and salad dressings, or minced and folded with lemon zest into butter to create an aromatic spread. In addition to culinary preparations, Petite® Angelica is used as a non-traditional, modern garnish for cocktails. Portions of the Angelica plant have historically been used to flavor liquors such as vermouth and gin. The Petite® Greens can be lightly muddled and incorporated into drinks that utilize these liquors. They can also be steeped into tea or stirred into other sparkling beverages. Petite® Angelica pairs well with rhubarb, fruits such as raspberries, apples, and figs, meats such as beef, poultry, and turkey, fish, ginger, mint, cinnamon, and cloves. Petite® Greens will generally keep up to seven days when stored unwashed, dry, and in a container in the refrigerator. It is recommended to use Petite® Angelica immediately for the best quality and flavor.


Ethnic/Cultural Info

Historically, Angelica has been utilized throughout Europe as natural medicine, and the leaves, seeds, stems, and roots are edible. There are many myths, folklore, and legends surrounding the plant, especially regarding its mystical and protective properties against disease and supernatural powers. Legend has it that Angelica was named after the plant's medicinal qualities, with many herbalists believing the plant had "angelic" healing powers. In Medieval Times, the plant was mixed into tonics and remedies to fight against sickness and infections. The leaves were also woven into necklaces for children to wear around their necks as protection against evil spirits and witches. Angelica was held in such high regard that laws were enacted in the 12th century to protect the plants in home gardens. Another legend pointed to the Middle Ages when a monk claimed the Archangel Michael visited him in his dreams during a plague outbreak. The monk said the angel told him Angelica had healing properties against the plague. This remedy was quickly spread among herbalists in London during the Great Plague in 1665 through 1666. The most notable mention of Angelica during the plague was in the College of Physicians remedy, published as "The King's Majesty's Excellent Recipe for the Plague." In this remedy, Angelica, treacle, and nutmeg were combined into water, and civilians infected with the plague would drink this mixture twice a day.


Geography/History

Petite® Angelica was developed at Fresh Origins Farm in San Diego, California, the leading American producer of naturally grown microgreens and Petite® Greens since the mid-1990s. Fresh Origins has been using the mild Southern California climate year-round to produce robust, healthy, and flavorful Petite® Greens, and the farm closely partners with chefs to create innovative varieties with unique flavorings. Fresh Origins also has the highest level third-party-audited food safety program and is a certified member of the California Leafy Greens Marketing Agreement, which follows science-based food safety practices to promote transparency and honesty in production. Today Petite® Angelica can be found through select distribution partners of Fresh Origins across the United States, including Specialty Produce, and are also found through partners in Canada.