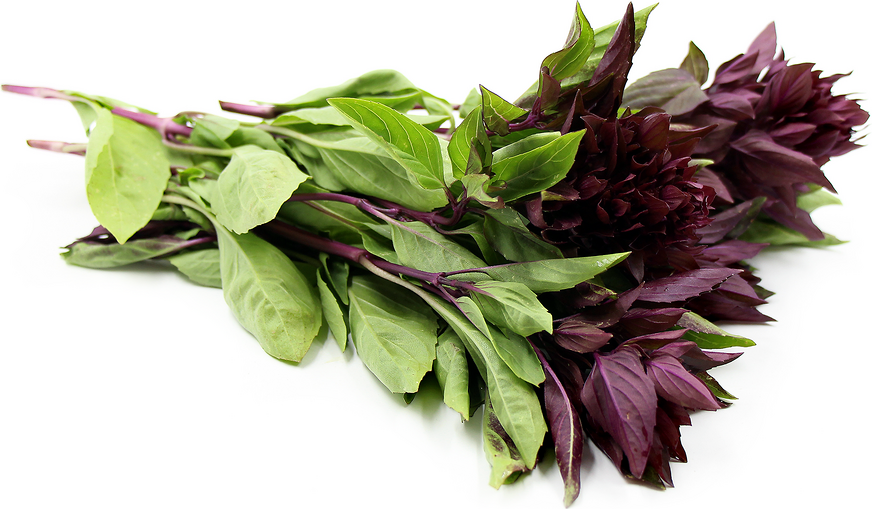 Cardinal Basil
Inventory, bunch : 0
Description/Taste

Cardinal basil is a tall variety with an upright, bushy growth pattern that can reach up to 75 centimeters in height and spread up to 45 centimeters wide. The plant has deep burgundy-colored stems and thick, oval, bright-green leaves. When the plant is mature, it produces tightly-packed, pagoda-shaped flower clusters at the crown of its stems that range in color from magenta to dark red. Cardinal basil leaves are spicier than common basil, with an anise or licorice-like flavor and a spicy aroma. Both the leaves and the reddish-purple leaflike flower bracts are edible and have the best flavor just before the plant flowers, though a bitter taste can develop as soon as the plant blooms.


Seasons/Availability

Cardinal basil is available in late spring through early fall.


Current Facts

Cardinal basil is botanically classified as Ocimum basilicum 'cardinal' in the mint family and is named after the bird with similarly rich red shades. Not only is Cardinal basil grown for its edible leaves, but also for its decorative, vibrant flowers, which are commonly used in bouquets and flower arrangements. It is often used as an ornamental edge plant in gardens, imparting a peppery fragrance and acting as a natural pest repellent.


Nutritional Value

Cardinal basil is rich in vitamin K, vitamin A, iron, magnesium, and antioxidants in the form of omega-3 fatty acids. It's also a good source of vitamin C and other vitamins, minerals, and fiber. Basil seeds are comparable to chia seeds with their high amounts of fiber and omega-3 fatty acids, and oil from basil is used for both its aroma and its anti-inflammatory or antimicrobial effects. Thanks to its nutritional makeup, basil has been used throughout history in plant-based compresses, decoctions, and ointments for treating minor skin, respiratory, digestive, and metabolic issues, as well as enhancing overall immune function.


Applications

Cardinal basil is most often used fresh for its rich, spicy-sweet aroma and flavor, though its thick leaves are ideal for drying to preserve. Tear fresh basil as opposed to chopping with a knife, which can bruise the leaves, and add toward the end of cooking to preserve the full spicy licorice-like scent and flavor, or cook slightly to bring out more minty undertones. Cardinal basil can be substituted in recipes that call for common sweet basil, though the flavor will be bolder with a clove-like spiciness. Fresh leaves can be added to egg dishes, sandwiches, salads, dressings, sauces, soups, or curries, while the spicy aroma and flavor work exceptionally well for infusing oils and vinegar. The edible red flower bracts can also be used to bring a pop of color to any dish. Cardinal basil works equally well across Mediterranean, Italian, Mexican, and Asian cuisines and pairs nicely with fish, poultry, tomatoes, eggplant, garlic, olives, onions, potatoes, and other vegetables. Fresh Cardinal basil can be stored in a glass of water at room temperature or wrapped in a paper cloth and stored in a bag in the refrigerator for a week or two. For extended use, freeze torn pieces of leaves in an ice tray with olive oil, where it will last for a couple of months.


Ethnic/Cultural Info

Basil's botanical name, Ocimum basilicum, comes from the ancient Greek "okimon," meaning smell, a nod to the plant's impressive fragrance, and "basilikon," meaning royal. The plant has played many opposing roles in folklore and symbolism throughout history. Some cultures used it as a symbol of protection or love, often gifting it as a token of affection, while others associated it with danger or fear, which may stem from the similarity of its Latin name, basilicum, with that of the deadly mythical serpent, the basilisk.


Geography/History

Cardinal basil was developed in Israel by the Genesis Seed Company and was designated an Agricultural Research Organization, or ARO, Selected Cultivar. It thrives in heat and is said to improve the vitality and flavor of tomatoes when planted side-by-side. It is also a good plant companion for asparagus, oregano, and peppers. As the flavor is best before the plant blooms, flowering can be delayed by pinching off new flower buds to prolong the harvest of the leaves. Cardinal Basil can be found at specialty stores or markets worldwide.