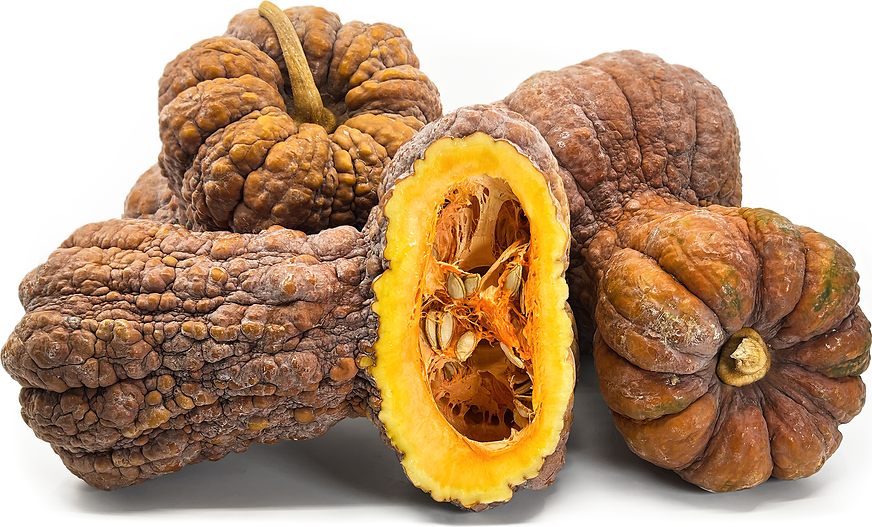 Shishigatani Squash
Inventory, lb : 0
Description/Taste
Shishigatani squashes are a large varietal, averaging over 20 centimeters in length and 2 to 4 kilograms in weight, and have a distinct, gourd-like shape with a curved top and bottom tapering through a narrow central neck, also known as a waist. The variety is not typically uniform and may showcase squashes with long or short necks, depending on growing conditions. The fibrous, woody stems are also meticulously cut between 1 and 1.5 centimeters in length for enhanced visual appeal in markets. The squash's rind is semi-thick, heavily ribbed, and covered in large bumps and warts. The rough rind also bears longitudinal grooves and ripens from dark green to shades of orange, brown-orange, tan, to dark orange, covered in a powdery coating at maturity. Underneath the textured exterior, the pale orange to bright orange flesh is fine-grained, dense, aqueous, and firm. When cooked, the flesh develops a characteristic, sticky consistency. The top of the squash typically features solid flesh, while the bottom half encases a central, hollow cavity filled with cream-colored seeds suspended between dark orange, stringy fibers. Shishigatani squashes are traditionally cooked and have a mild, neutral, and subtly nutty taste.
Seasons/Availability
Shishigatani squash is harvested in the mid-summer through fall. The variety can also be properly stored throughout the winter and into the early spring.
Current Facts
Shishigatani squash, botanically classified as Cucurbita moschata, is a rare Japanese variety belonging to the Cucurbitaceae family. The heirloom squash was developed in the 19th century and was selected as a treasured variety for its unusual shape and bumpy rind. Shishigatani squashes are a Kyo-Yasai vegetable with specialized branding within the Kyoto Prefecture that highlights and promotes local vegetables of historical importance. Shishigatani squash earned this title from its presence in Shishigatani, a village incorporated into Kyoto in 1888. The squash was named after this village as the variety was said to have developed its distinct and auspicious gourd-like shape when first grown in the region. Shishigatani squashes grow on vining plants, and each plant typically bears 2 to 4 squashes. The squashes mature in approximately 110 to 120 days, and growers often place a cushion of Styrofoam underneath the squash to ensure the base stays clean and damage-free. In the modern day, Shishigatani squashes are not a widespread commercial cultivar and are grown as a rare specialty squash in Japan. The variety is primarily used as an ornamental, decorating window displays in high-end department stores, candy shops, tea ceremonies, and restaurants. The squashes are favored for their curved appearance and are said to have a festive fall allure, leading them to be used as decorations, vases, and art subjects. Shishigatani squashes are also used in select religious ceremonies and are incorporated into culinary preparations as added texture and coloring. The variety holds its shape well when cooked and is often described as light, bland, and mild, mostly absorbing accompanying flavors.
Nutritional Value
Shishigatani squash is a source of fiber to regulate the digestive tract, potassium to balance fluid levels within the body, calcium to build strong bones and teeth, and vitamin E to reduce inflammation. The variety also provides magnesium to control nerves, vitamin A to maintain healthy organs, vitamin C to boost the immune system, and other nutrients, including iron, vitamin B6, and vitamin B1. Beyond vitamins and minerals, Shishigatani squash is said to contain linolenic acid, a type of omega-3 fatty acid that helps to lower blood pressure and fight against disease.
Applications
Shishigatani squash has a light, mild, and subtly nutty taste suited for cooked preparations. The variety is often labeled bland and needs to be cooked with flavorful ingredients to enhance the overall dish. In Japan, Shishigatani squash is traditionally cut in half, separating the top half from the bottom. It is said the bottom half has the best flavor, while the top half is watery. The squash is also sometimes cut into three pieces to showcase the unusual shape of the center waist. The skin and seeds are edible and incorporated into some dishes, but most consumers choose to discard the seeds or use them in a separate recipe. The upper half of the squash is recommended to be shredded into noodle-like strands and served as an accompaniment to sashimi. The center and lower half of the squash hold their shape well when heated and are typically boiled. The flesh can be cooked into curries, stews, and soups, simmered in dashi, braised in soy or a mixture of miso and mirin, or stewed and served over rice. The squashes can also be stuffed with minced meat to create a dish with an interesting shape and overall appearance. In Japan, Shishigatani squash is notably fried into tempura, used as a filling in doughnuts, or cooked in pots filled with bamboo leaves and a mixture of sugar, soy sauce, mirin, dashi, and water. The variety is also commonly used in shojin ryori, a style of vegetarian cooking implemented by Buddhist monks. Beyond savory preparations, Shishigatani squash is cooked into yokan, a type of Japanese sweet, or it is processed into hard candies. Shishigatani squash pairs well with aromatics such as garlic, shallots, ginger, and onions, herbs including parsley, shiso, and rosemary, potatoes, eggplant, kale, red bean, coconut, and dates. Whole, unopened Shishigatani squash will keep for several months when stored unwashed, wrapped in newspaper, and stored in a cool, dry, and dark place. Once opened, the squashes should be stored in plastic wrap or a sealed container in the refrigerator. Shishigatani squash can also be frozen in pieces for 1 to 2 weeks.
Ethnic/Cultural Info
Shishigatani squash is annually celebrated for its medicinal properties at a mass dedicated to the variety at the Anrakuji Temple in Kyoto, Japan. The Anrakuji Temple was constructed at the beginning of the Kamakura period and was built by Anraku and Juren, known disciples of the Holy Priest Honen. Legend has it that a chief priest named Shinkuu Ekizui received a message from the Amida Buddha at Anrakuji Temple. The vision revealed that consuming Shishigatani squash during mid-summer would protect and prevent people from getting "chu fu," a term for diseases such as paralysis, strokes, and brain hemorrhages. After this vision, July 25th was declared the day of Shishigatani, and on this day, the Anrakuji Temple prepares portions of the squash for visitors to consume after a ceremonial service. The Shishigatani squash ceremony has been occurring for over 300 years, and after the gathering, Kyo-Yasai vegetables are sold in fresh markets at the front gate of the temple, including Shishigatani squashes. Since its creation, the event has become a known culinary event in Kyoto. The ceremony also received worldwide notoriety in the early 1990s, attracting international visitors.
Geography/History
Shishigatani squash is native to Japan and dates back to the Bunka Era, from 1804 to 1818. Squash varieties belonging to Cucurbita moschata are descendants of squashes originally from regions of Central and South America and were thought to have been introduced to Japan sometime in the 17th or 18th centuries through the Portuguese. During the Bunka Era of the Edo Period, Toshiro Tamaya of the Awata Village carried squash seeds back from Tsugaru in the Aomori Prefecture and gave the seeds to farmers in Shikagaya Village, now known as Shishigatani. The farmers planted the squash seeds and noticed they transformed from a typical round or oblate shape to their signature gourd-like shape. The squash thrived in Shishigatani's rocky soil, and the variety was named after the region. Over time, Shishigatani squashes became favored across Japan for their unusual shape and were eventually associated with Kyoto as a traditional vegetable. Today, Shishigatani squashes are a rare variety affectionally known as Okabo in Kyoto, Japan. Despite their origins in Shishigatani, the squashes are said to no longer be grown in that region. The squashes are only produced in limited quantities and are primarily purchased as a decorative, symbolic, or cultural ornamental rather than a culinary cultivar. The variety is localized to Kyotango City, Kameoka City, and Ayabe City in Japan. Shishigatani squashes are also offered through online seed catalogs in the United States as a novelty in home gardens.
Recipe Ideas
Recipes that include Shishigatani Squash. One

is easiest, three is harder.