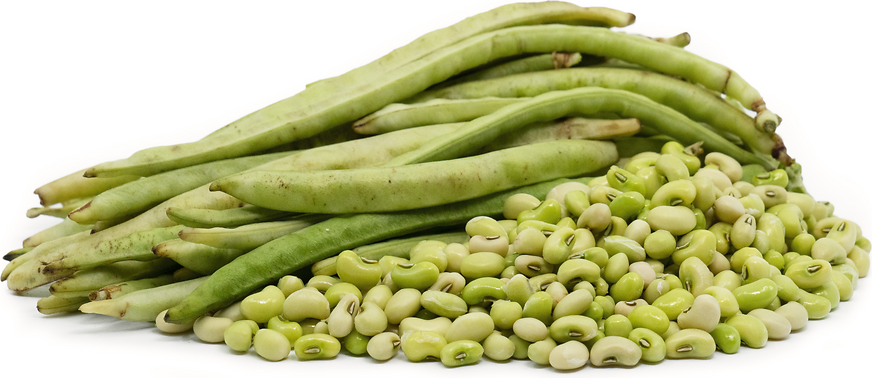 Cream Peas
Inventory, lb : 0
Description/Taste

Cream peas grow on the tops of bushy plants that grow up two to 3 feet tall. The pods develop at the top of the plant and are harvested when they are 6 to 8 inches in length. Within the thin green pods, are 12 to 14 medium, creamy-white "peas." Cream peas are slightly flattened and oval, and look more like beans than they do peas, without a visible 'eye'. Cream peas have a mild, sweet and nutty flavor and a soft, creamy texture. When the pods are harvested young, they can be eaten just like green beans. When the pod begins to turn beige, the pods are left on the vine to dry, and are sold as dried beans.


Seasons/Availability

Fresh Cream peas are available at the end of the summer and through the fall months.


Current Facts

Cream peas are a variety of Vigna unguiculata. They are legumes that belong to a group of beans called "Southern peas." Botanically, Cream peas are not in the same family as beans or peas, so the name is a bit of a misnomer. Cream peas are commonly known as Cowpeas, Conch peas, or Field peas, depending on where in the United States you live. Several varieties are referred to as "eyed" Many of the Cream pea varieties available today are hybrid crosses of heirloom varieties and have cultivar names such as 'Zipper' and 'Lady'.


Nutritional Value

Cream peas are high in both protein and fiber. The southern peas contain amino acids like tryptophan and lysine, which are essential to the human diet. Lysine helps the body absorb calcium and produce collagen, while tryptophan is converted to serotonin, which helps mood-regulating and sleep. Cream peas are also rich in vitamins B1, B2 and B3 (thiamine, riboflavin, and niacin).


Applications

In the Southern United States, Cream peas are a popular side dish cooked simply with salt, pepper and a few slices of salted pork and served with cornbread. The cooked peas release a clear broth (versus the darker broth of starchier beans), that is considered flavorful on its own. Fresh Cream peas can be used in place of any green beans or shelled peas. Sautee with onions and garlic and serve alongside any protein. Cream peas Blanched peas can be frozen to preserve, they will store up for up to 8 months in the freezer. Fresh Cream peas will keep up to two weeks in the refrigerator, when still in the pod. Dried, shelled peas can be stored for up to a year in a cool, dry place.


Ethnic/Cultural Info

The term "Cowpea" comes from the English during Colonial times, when Cream peas and other varieties of Southern peas were used primarily for animal feed. Protein and fiber-rich Cream peas were mainly fed to livestock until times of war and few resources forced people to look to Cream peas for their own subsistence.


Geography/History

Cream peas are one of three types of Southern pea, the other two being black-eyed and crowder peas. Purple-hull peas are also included in that group. Though the warm-weather Cream peas certainly grow best in the temperate southern United States, a variety like the 'Fast Lady Northern' was selected for its ability to grow in the cooler climate of the United States' Pacific Northwest. Cream peas were originally brought to America by way of the Caribbean islands via trade ships bringing slaves and wares from Africa in the 17th century. It's first recorded use in Jamaica is in 1675. The pale legumes originated in Western Africa, almost 6 thousand years ago. Today, as the name implies, Southern peas are most common in the southern United States from North Carolina to Texas, and are popular in Southern cuisine.