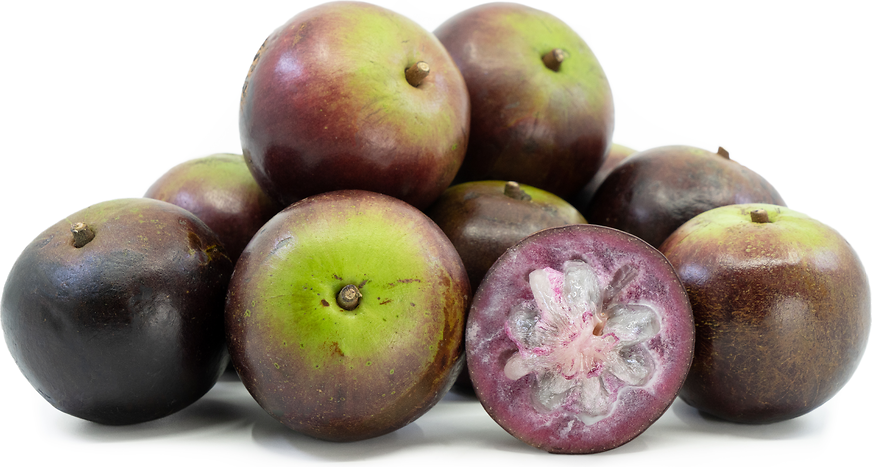 Star Apples
Inventory, lb : 0
Description/Taste
Star apples are small to medium-sized fruits, averaging 5 to 10 centimeters in diameter, and have a round to oblate shape. The fruit's skin is thin, glossy, and leathery when young, ripening to red-purple, green, and dark purple shades. The skin also clings tightly to the rind, which varies in color, depending on the variety, and contains a sticky, inedible latex. In purple Star apples, the rind is dark purple, ranging 6 to 12.5 millimeters in thickness, and in green Star apples, the rind is white, ranging 3 to 5 millimeters. The rind surrounds a soft, aqueous, and jelly-like light purple to white pulp that encases 6 to 11 small cavities filled with black seeds in a gelatinous coating. Not every cavity will contain a seed, and it is said that some of the best-tasting fruits will have as little as three seeds. The oval pointed seeds are very hard and inedible, and the translucent coating covering the seeds is slippery, moist, and rubbery. Star apples are aromatic and will develop a matte appearance with some wrinkles when ripe. It is important to note that the skin and rind, which make up about 33% of the fruit, are inedible and should be discarded. The flesh around the seeds is the only portion of the fruit consumed and has a mild, sweet, and delicate flavor reminiscent of lychee, persimmons, and rambutan.
Seasons/Availability
Star apples are available in the late winter through early summer.
Current Facts
Star apples, botanically classified as Chrysophyllum cainito, are rare fruits belonging to the Sapotaceae family. The fruits develop on large and fast-growing, evergreen trees that can reach 6 to 18 meters in height, and are found in tropical to subtropical regions worldwide, often planted along roadsides or in home gardens. There are two main types of Star apples, one with purple skin and one with green skin. Both types have similar cultivation requirements and share a comparable flavor, but fruit enthusiasts claim the purple is slightly sweeter and denser, while the green fruits are softer and more neutral in taste. Star apples cling tightly to the branches, even when ripe, and must be harvested by hand. Despite their apple moniker, Star apples are not true apples and were given their name for the star-like pattern in the center of the fruit, a pattern resembling the center of an apple. Star apples are known by many regional names around the world, including Caimito, Tar apple, Pomme de Lait, Cainito, and Gold Leaf tree, and are primarily viewed as novelty fruit. The soft, juicy fruits are consumed mostly fresh, out of hand, but they can also be incorporated into desserts, salads, and beverages.
Nutritional Value
Star apples are a good source of phosphorus and calcium to build strong bones and teeth and vitamin C to strengthen the immune system while reducing inflammation. The fruits also provide low amounts of niacin, iron, and thiamine and contain antioxidants to guard the cells against the damage caused by external environmental aggressors. In the Caribbean, Star apples are often consumed to soothe sore throats, as the mucilaginous flesh is believed to coat and reduce inflammation in the airways.
Applications
Star apples have a delicate, sweet, and earthy flavor well suited for fresh and cooked preparations. The fruits are mostly prized for their visually attractive nature and soft, jelly-like texture and are consumed fresh, out of hand, sliced in half, and scooped with a spoon. Star apple skin has a gummy, latex quality considered unpleasant and inedible. It is recommended to chill the fruits before serving, and when cutting the fruits open, slice around the fruit, only going partially in, and then twist and pull the halves apart to help prevent the latex from getting onto the flesh. Star apples can be served as fresh fruit on cheese plates, sliced and tossed into salads, mixed into fruit bowls, or chopped and incorporated into ceviche. The fruits can also be used as a topping over yogurt, mixed with granola, or blended into a smoothie. In addition to fresh preparations, Star apples can be used as a flavoring in parfaits or pureed and frozen into sorbet or ice cream. They can also be stewed into fruit compotes, mixed into pie fillings, or added to fillings for pastries. Try adding Star apples to milk tea or blend as a subtle flavoring in tropical cocktails. The fruits can also be simmered into a light syrup combined into beverages and desserts. Star apples pair well with other fruits such as mango, pineapple, oranges, bananas, and papaya, condensed milk, coconut milk, whipping cream, vanilla, chocolate, mint, and spices such as nutmeg, cinnamon, and cloves. Whole, unopened Star apples will keep for a couple of days at room temperature to ripen. Once ready to eat, the fruits can be stored for 1 to 2 weeks in the refrigerator. Star apple flesh can also be separated from the rind and seeds and placed in a sealed container, frozen for three months.
Ethnic/Cultural Info
In Jamaica, Star apples are used to describe stingy people. Phrases such as "You mean like a Star apple?" and "Yu kumoochin like a Star apple" are used in everyday conversations to label people acting stingy, and "kumoochin" is a Jamaican term used to further highlight the stinginess. Star apples have a reputation of holding tightly onto the tree, even when ripe, and rarely fall from the tree. The large trees can also showcase many ripe fruits at one time, tempting hungry locals. Jamaicans view Star apple trees as stingy, as they refuse to drop ripe fruits to share with starved people. The trees also make it difficult to harvest the fruits, as each fruit needs to be plucked by hand. Star apples are traditionally consumed fresh in Jamaica, but they are also famously used in a fruit salad known as "matrimony." The fruit salad gets its marital moniker from the marriage or blending of sticky condensed milk with flavorful tart fruits. Matrimony fruit salad is typically made with grapefruit, Star apple, and oranges. The dish is also sometimes sprinkled with freshly grated nutmeg for enhanced flavor.
Geography/History
Star apples are believed by experts to be native to the West Indies, where the trees have been naturally growing for thousands of years. The fruit seeds were spread via animals and humans in ancient times, and trees were naturalized in the Caribbean, tropical regions of southern Mexico, and Central America. Star apples were also brought to Argentina and Peru, where Spanish explorer Ciezo de Leon first recorded the fruits in written documents sometime between 1532 and 1550. Over time, Star apples were introduced to Southeast Asia, India, Zanzibar, Samoa, and Western Africa and were widely cultivated in Sri Lanka and the Philippines by the early 19th century. In the late 19th century, the United States Department of Agriculture acquired seeds from Jamaica and began growing Star apples first in Florida and later in Hawaii. Today Star apples thrive in warm, tropical to subtropical climates worldwide and are planted in regions without danger of cold fronts or frosts. The trees are cultivated on a small-scale, primarily grown through specialty orchards, planted in home gardens, or established along major roadways. The trees are also found in the wild, where foragers gather fruits from the branches to sell to fresh local markets. Star apples, when in season, are seen through farmer's markets, distributors, growers, and online retailers in tropical climates worldwide. In the United States, the fruit trees are mainly grown in Florida, followed by Hawaii, and in the gardens of exotic fruit enthusiasts in Southern California, Texas, and Arizona.
Recipe Ideas
Recipes that include Star Apples. One

is easiest, three is harder.