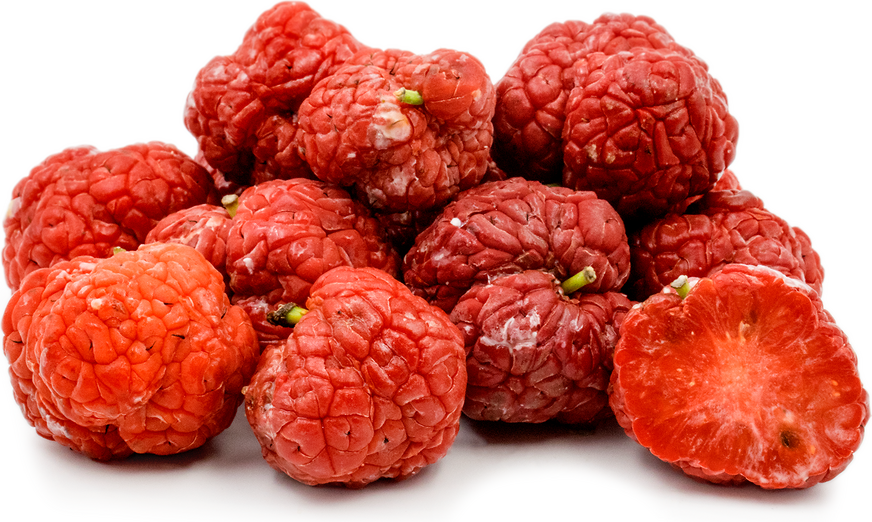 Che Fruit
Inventory, bskt : 0
Description/Taste

Che fruits are small, averaging 2 to 5 centimeters in diameter, and have a lopsided, round to ovate shape. The aggregate fruits are comprised of tiny, fleshy drupes clustered around a single stem, creating a textured, bumpy, and creased appearance. The skin is also semi-firm, tough, and red to dark red, developing a dull maroon blush with black specs when mature. Underneath the surface, the bright red flesh ripens from firm to soft and has an aqueous, dense, and semi-chewy consistency. The flesh may also contain 3 to 6 edible seeds or be completely seedless, depending on the variety. Che fruits have a subtle, sweet taste, sometimes exhibiting flavors reminiscent of melon, mulberry, and fig. It is important to note that each fruit will significantly vary in flavor, depending on the degree of ripeness and specific variety.


Seasons/Availability

Che fruits are available in the fall through winter.


Current Facts

Che fruits, botanically classified as Cudrania tricuspidata, are rare, clustered fruits found on a large shrub or small tree belonging to the Moraceae or mulberry family. The Che tree is native to Eastern Asia, where it is primarily cultivated as an ornamental. The trees can be kept small as a bonsai, grown as a shrub in a container, or they can be left to grow large, expanding into wide-spreading branches with a trunk marked with furrowed, deeply ridged bark. Che fruits are also known as the Chinese Mulberry, Red Chinese Mulberry, Cudrang, Mandarin Melon Berry, Silkworm Thorn, and Chinese Che. There are multiple cultivars of fruiting trees that are generally labeled in markets under the name Che, and Che translates to mean "stony ground," a descriptor used to highlight the variety's drought tolerance and ability to be grown in poor soil. Che fruits are not commercially cultivated and are relatively unknown in consumer markets. The trees often produce large thorns, which are problematic in cultivation, as the sweet fruits must be picked by hand when ripe. Despite the tree's prickly nature, the bumpy, bright red fruits are considered to be visually attractive and have a sweet flavor, which has encouraged specialty growers to begin cultivating the fruits for local consumption. Mature Che fruit trees are also highly favored for their productive nature, producing over 400 pounds of fruit in one season.


Nutritional Value

Che fruits provide vitamin C, an antioxidant to strengthen the immune system and reduce inflammation and contain lower amounts of thiamine, carotene, and riboflavin. The fruits also contribute some oligomeric proanthocyanidins, or OPCs, which are micronutrients found in the pigmented flesh with antioxidant-like properties to fight free radicals in the body.


Applications

Che fruit is best suited for eating straight, out-of-hand, as the soft, juicy flesh and subtle flavor is showcased when consumed raw. It is recommended to wait until the fruits are very soft, almost appearing overly ripe, before consuming. In addition to fresh eating, the fruits can be blended into smoothies, sliced and stirred into lemonade, tossed into green salads, or used as a topping over ice cream. The fruits can also be juiced and strained to create a sweet liquid consumed by itself, mixed with tart citrus, or used in cocktails and fruit punches. Che fruits can be used similarly to figs and mulberries, and are sometimes dried for extended use or cooked into jams and jellies. In China, the fruits are also fermented into wine. Che fruits pair well with fruits such as blueberries, peaches, lemons, and tangerines, nuts such as almonds, macadamia, and cashews, honey, and vanilla. Whole, unwashed Che fruits will keep for a couple of days when stored in a covered container in the refrigerator.


Ethnic/Cultural Info

Che tree leaves are a secondary source of food for China's famed silkworms. The story of silk dates back over 8,500 years, and the soft but strong material produced from the small caterpillars was initially reserved for the emperors of China. Over time, the method of producing silk was revealed, and the process has remained somewhat the same into the modern-day. Silk is created from thin threads that are spun by silkworms to make the caterpillar's cocoon. It takes over 2,500 caterpillars to produce one pound of silk, and during the silkworm's life cycle, it will consume leaves almost non-stop to prepare for metamorphosis. The main diet of silkworms in China is mulberry leaves, but Che leaves are the second, favored option when mulberry leaves are not available. It is believed by some farmers that silkworms who consume Che leaves produce superior silk.


Geography/History

Che fruits are native to Eastern Asia, specifically the Shantung and Kiangson Provinces of China, and are found in the Nepalese sub-Himalayas. The ancient fruits were also naturalized in Japan early on, and across Asia, the fruiting trees have been grown as an ornamental for thousands of years. In 1862, Che fruits were introduced into France and later into England in 1872. Cuttings of the trees were also sourced from Asia and imported into the United States through E.H. Wilson in 1909, where the trees were planted in warm regions along the East Coast and the Southern United States. In 1910, fruit explorer Frank N. Meyer brought additional Che plants from China into the United States for further research and planted them in different regions, including the West Coast. Today Che fruits are still challenging to find and are localized to their growing areas, sold in fresh markets and farmer's markets throughout Asia and the United States. The Che fruits featured in the photograph above were grown at Murray Family Farms in Bakersfield, California.