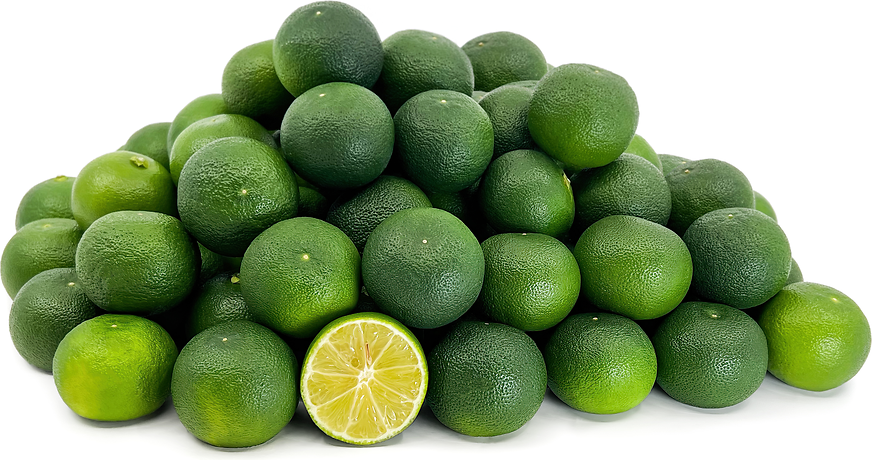 Sudachi Citrus
Inventory, lb : 0
Description/Taste
Sudachi citrus is a small varietal, averaging 3 to 4 centimeters in diameter and weighing 20 to 25 grams, and has a round to oblate, slightly flattened shape with curved, even edges. The fruit's rind is thin, taut, rough, and leathery, ripening from dark green to bright yellow-orange when ripe. The rind is also covered in prominent oil glands, creating a pocked and pebbled texture. Underneath the surface, Sudachi citrus has a layer of white bitter pith surrounding pale yellow flesh divided into 10 to 11 segments by thin membranes. The flesh is tender, soft, and aqueous, well-known for its high juice content. The flesh also encases many seeds, sometimes up to nine ivory seeds per fruit. Sudachi citrus is aromatic with a bright, refreshing, and zesty scent and should feel heavy for its size, indicating ample juice. The fruits are primarily used in their dark green stage and have a robustly acidic, tart, and sour taste with faint herbal, peppery undertones.
Seasons/Availability
Orchard-grown Sudachi citrus is available in the fall through winter. In Japan, the variety is also cultivated in greenhouses, providing year-round availability.
Current Facts
Sudachi, botanically classified as Citrus sudachi, is a Japanese citrus belonging to the Rutaceae family. The small fruits grow in clusters on trees reaching up to seven meters in height and are a specialty citrus valued for their acidic, sour, and tart juice and zest. Sudachi citrus is commonly labeled as Sudachi limes and is a citrus utilized as a flavoring agent rather than being eaten as a fruit. The name Sudachi loosely translates to "vinegar citrus," and the fruit is primarily used in its immature, green state as it is believed to contain the most refreshing and vibrant flavor. In the present day, Sudachi citrus is widely found in Japan, and commercial production has expanded to select regions worldwide to meet increasing demand. Sudachi citrus is utilized by both chefs and home cooks and is a versatile ingredient for enhanced flavoring in sweet and savory preparations.
Nutritional Value
Sudachi citrus is a source of vitamin C to strengthen the immune system, fiber to regulate the digestive tract, vitamin A to maintain healthy organ functioning, and calcium to build strong bones and teeth. The citrus also provides vitamin E to reduce inflammation, antioxidants to protect the cells against the damage caused by free radicals, potassium to balance fluid levels, and other nutrients, including iron, magnesium, and phosphorus. In Japan, Sudachi citrus is used in natural medicines to improve blood circulation, reduce inflammation, and lessen fatigue.
Applications
Sudachi citrus has a bright, zesty, and acidic nature suited for fresh and cooked preparations. The citrus is mainly used as a flavor enhancement rather than eaten like a fruit, and the juice and the zest are the used portions. Sudachi juice is often used similarly to vinegar in culinary dishes, and a little goes a long way. The juice can be added to salad dressings, dips, marinades, and sauces, or it is used to mask fishy odors in seafood dishes. Sudachi juice and zest can also be mixed into soups, curries, and stews, stirred into ceviche, used as an aromatic garnish over fish and shrimp, or served with sushi. In Japan, Sudachi citrus is popularly incorporated into soba and udon noodle dishes, paired with matsutake mushrooms, added to stir-fries, or mixed into rice-based dishes. It has also been used as a flavor enhancement in ponzu sauce. Beyond savory preparations, Sudachi citrus can be used to flavor ice cream, popsicles, cakes, muffins, cookies, frostings, and pastry fillings. The zest is also a natural source of pectin, used for marmalades, jams, and jellies or candied as a sweet-tart garnish. Try Sudachi citrus in beverages such as cocktails, seltzers, wines, or juices for a refreshing, tangy twist. Sudachi citrus pairs well with meats such as chicken, turkey, and pork, seafood, mushrooms, tropical fruits, aromatics including ginger, garlic, shallots, and chives, miso, mirin, and green tea. Whole, unwashed Sudachi citrus will keep for 1 to 2 weeks when stored in the refrigerator's crisper drawer. The zest can also be frozen for extended use.
Ethnic/Cultural Info
Sudachi citrus was rumored to have been the precious citrus that Tajima Mori searched for on his quest to "Tokoyo no Kuni" or "utopia." Tajima Mori was a prominent figure in Japanese folktale who eventually became the god of sweets called Tajimamori-n-Mikoto. The legend of Tajima Mori is written in Kojiki and Nihon Shoki, old Japanese records dating back to 712 and 720 CE. The story recounts the famous Emperor Suinin sending Tajima Mori to a mythical land beyond Japan to search for an immortal citrus. The citrus was called tokijiku no kagu no konomi, meaning a citrus with a lasting fragrance throughout the year, and the emperor desired to eat the fruits to gain eternal life. Tajima Mori spent nine years searching for the citrus and eventually returned with eight branches with leaves and fruits and eight branches without leaves. Upon his arrival, Tajima Mori was devastated to learn that Emperor Sunin had passed away during his mission. Tajima Mori wept bitterly at the emperor's grave and eventually perished from his anguish and guilt for failing the emperor. Japanese citrus experts initially thought the immortal citrus was a type of Tachibana, but since Tachibanas are one of the parent varieties of Sudachi citrus, historians now believe the citrus may have been the original Sudachi citrus. Experts also hypothesize that Tajima Mori's mythical land was actually Awa in the Tokushima prefecture, the birthplace of Sudachi citrus. In the modern-day, Tajima Mori is celebrated for his dedication and was turned into the god of sweets, Tajimamori-no-Mikoto. The god is worshipped at the Nakajima Shrine, and dessert professionals from across Japan travel to visit the shrine to pay their respects to the god.
Geography/History
Sudachi citrus is native to Shikoku Island in the Tokushima Prefecture in Japan. The variety was discovered growing as a chance seedling on a citrus tree and is thought to be a hybrid of Yuzu and another citrus, possibly Tachibana or Koji. The exact date of discovery is unknown, but Sudachi citrus is very old, used in culinary preparations as early as the 8th century. Historically, Sudachi citrus was a rare variety localized to the Tokushima prefecture, and the citrus was mainly used in wealthy households and upscale restaurants. Over time, the citrus was spread throughout other prefectures and became available to the masses, becoming a favored flavoring agent among chefs. Today Sudachi citrus is mainly produced in the Tokushima Prefecture, where the region cultivates around 98% of the citrus sold in markets. The citrus tree's flowers are also the official bloom of the prefecture, and the three main Sudachi growing areas include Anan, Kamiyama, and Sanagochi village. Outside of Tokushima, Sudachi citrus is offered as a luxury citrus, often sold at high prices as a specialty variety throughout Japan. In 1963, a botanist with the Citrus Variety Collection in Riverside, California, traveled to Japan to learn more about Japanese citrus varieties, returning with several new fruits, including Sudachi citrus. The variety was introduced to American growers soon after, and budwood has been available for sale since the 2000s. Despite its late 20th-century introduction, Sudachi citrus was not widely grown as a unique variety in California until around 2008. In California, Sudachi citrus can be found through select specialty growers and distributors.
Recipe Ideas
Recipes that include Sudachi Citrus. One

is easiest, three is harder.