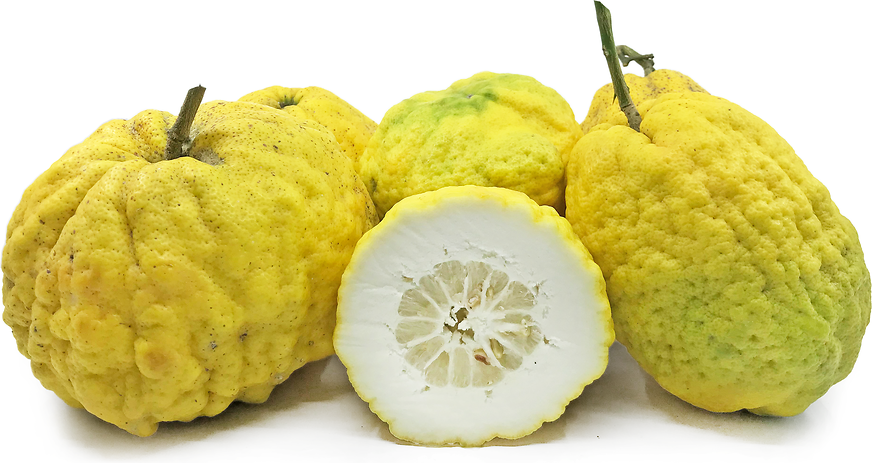 Ponzino Lemons
Inventory, 1 Lb : 0
Description/Taste

Ponzino lemons are a large varietal, ranging in appearance from round and squat to oval with tapered, somewhat pointed ends. The non-stem end often displays a small protuberance, also known as a mammilla, and the lemon's surface is matte, ripening from shades of green to bright yellow. The fruit's rind is also tough, dense, and rough, covered in deep ridges, oil glands, and furrows, giving the lemon a wrinkled appearance. Underneath the surface, there is a thick and edible, white pith, tightly clinging to the pale-yellow flesh. The flesh is divided into 11 to 14 segments by thin white membranes and is moderately juicy, soft, and tender, either found seedless or containing several small, cream-colored seeds. Ponzino lemons are aromatic and have moderate acidity levels, creating a bright and refreshing, sweet, tart, and tangy flavor.


Seasons/Availability

Ponzino lemons are available in the late spring through fall.


Current Facts

Ponzino lemons, botanically classified as Citrus limon, are a rare citrus variety belonging to the Rutaceae family. The large, wrinkled lemons are native to the Sorrento Peninsula in Southern Italy and are favored for their size, unusual appearance, and thick pith. Ponzino lemons are also known as Poncine lemons in English, Limonier Poncine in French, Limone Ponzino, and Limone Ponzinco Amalfitano in Italian. The hardy citrus trees are vigorous growers, but the lemons are not commercially cultivated and are grown in limited quantities through small family farms and specialty growers. Historically, the lemon variety was viewed as a novel citrus and was planted in home gardens as a conversation piece. Ponzino lemons have a bright and refreshing flavor with some acidity, utilized in an array of fresh and cooked preparations.


Nutritional Value

Ponzino lemons are an excellent source of fiber to regulate the digestive tract and vitamin C to strengthen the immune system while reducing inflammation. The lemons also provide potassium to balance fluid levels within the body, phosphorus and calcium to build strong bones and teeth, and other nutrients, including copper, zinc, and magnesium. Beyond vitamins and minerals, Ponzino lemons contain essential oils and phytochemical compounds that have antioxidant-like properties to protect the cells against the damage caused by free radicals.


Applications

Ponzino lemons have a sweet-tart, acidic flavoring suited for fresh and cooked preparations. The lemons have a sweet, thick pith and juicy flesh that can be thinly sliced and eaten raw as a snack, appetizer, or dessert. In Italy, the most popular method of serving Ponzino lemons is to slice the flesh and pith into small wedges and sprinkle them with sugar or salt. Ponzino lemons can also be tossed into leafy green salads, chopped as a topping over ice cream, used to flavor granita, or served with limoncello. In addition to fresh preparations, Ponzino lemons are sometimes candied as a sweet treat or simmered into preserves and syrups. They can also be incorporated into tarts, cakes, meringue pies, bars, or muffins. Ponzino lemons pair well with nuts such as almonds, pistachios, and walnuts, seafood including shrimp, octopus, fish, and crab, fennel, and herbs such as mint, lavender, oregano, and basil. Whole, unwashed Ponzino lemons will keep up to one week at room temperature and for 2 to 4 weeks when stored in the refrigerator.


Ethnic/Cultural Info

Ponzino lemons are one of the rare citrus varieties featured on a lemon tour in Amalfi, hosted by the Amalfi Lemon Experience. This guided tour was established by Salvatore Aceto, a well-known citrus grower located in Ravello, a small town along the Amalfi Coast. Aceto's family has been in the citrus business since 1825, and by the end of World War II, the family became the largest producer of lemons on the Amalfi Coast. In the present day, the business is still family-owned and operated, and the Acetos have expanded their efforts to educate the public on the importance of citrus. The Amalfi Lemon Experience allows visitors to walk through the citrus groves along the mountainside terraces, learn about rare citrus varieties localized to the region such as Ponzino lemons, sample local fruits, and visit the main offices of the farm. Visitors also have the opportunity to purchase homemade goods, preserves, honey, and limoncello, and beyond the tour, the Aceto family offers cooking classes using signature lemon varieties.


Geography/History

Ponzino lemons are native to the Sorrento Peninsula, a region in Southern Italy situated between the Gulf of Salerno and the Gulf of Naples. While the history of this variety is mostly unknown, lemons were believed by experts to have been introduced to Italy from India in ancient times. The Sorrento Peninsula is comprised of rocky coastline and mountainous regions that receive ample amounts of sunshine, developing a unique microclimate suitable for citrus cultivation. There is also a lack of available land for citrus production, leading many farms to use the natural contours of the mountains to build terraces suitable for small agricultural plots. Many lemon varieties have been developed in this region throughout history, and lemon cultivation became a central part of the economy around the 18th century as demand for the fruits increased across Northern Europe. One of the unusual features of citrus cultivation in the Sorrento Peninsula is the use of pagliarelle, a structural system built from chestnut wood that provides controlled temperature, shade, and protection from harmful elements and animals. This system became popular in the 19th century and can still be seen in the region. Today Ponzino lemons are a rare variety cultivated as a novelty rather than a staple crop. The large lemons are almost exclusively grown by small family farms in the Sorrento Peninsula and sold through local markets and a few select distributors. The lemons are also cultivated in home gardens across Southern Europe in Italy and France and are exported in limited quantities throughout Europe.