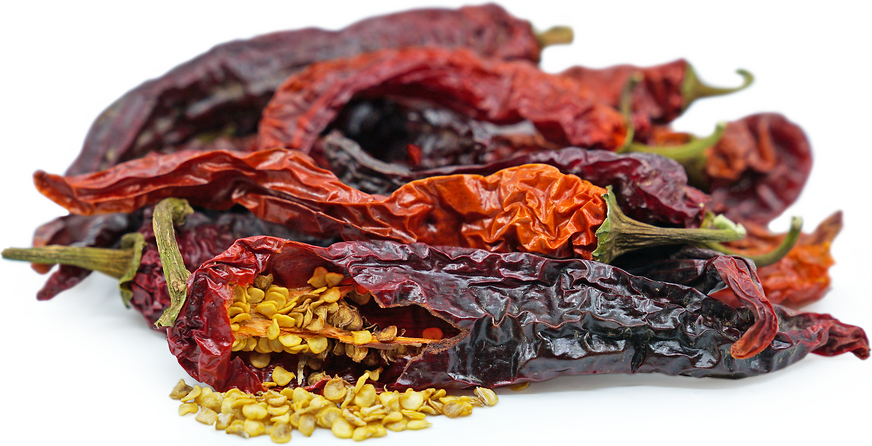 Dried Cayenne Chile Peppers
Inventory, lb : 0
Description/Taste
Dried Cayenne chile peppers are small and slender, bearing a wrinkled, shriveled, and textured appearance. The pods are often curved or slightly contorted, and the dark to bright red skin is thin, glossy, delicate, and creased. Underneath the surface, a hollow cavity encases many tiny and bright yellow, round seeds. These seeds can sometimes be heard rattling throughout the cavity if the dried pepper is shaken. Dried Cayenne chile peppers feel lightweight and have a brittle consistency, easily shattering and breaking apart. The peppers have a faint aroma and a smokey, earthy, and acidic flavor with an intense heat.
Seasons/Availability
Dried Cayenne chile peppers are available year-round.
Current Facts
Cayenne chile peppers, botanically classified as Capsicum annuum, are elongated pods belonging to the Solanaceae or nightshade family. The bright red peppers are considered a moderately hot variety, ranging from 30,000 to 50,000 SHU on the Scoville scale, and were historically used as a medicinal plant in ancient Aztec and Incan empires to help treat toothaches. Over time, Cayenne chile peppers were eventually spread worldwide, and in the present day, they have become one of the most recognizable peppers utilized in culinary and medicinal practices. The peppers are also most commonly sold in their dried state and are highly favored for their heat and vibrant red hue. When fresh, Cayenne chile peppers are harvested, dried, and crushed as red pepper flakes, baked into cakes, or ground and sifted into a chile powder.
Nutritional Value
Dried Cayenne chile peppers are a good source of potassium to balance fluid levels within the body, calcium and phosphorus to protect bones and teeth, and contain iron, magnesium, vitamins E and B. The peppers also provide vitamin A to maintain healthy organ functioning and vitamin C to strengthen the immune system. In addition to vitamins and minerals, the peppers contain capsaicin, a chemical compound that triggers the brain to feel the sensation of heat or spice and has been shown to help stimulate the circulatory system and contain anti-inflammatory properties.
Applications
Dried Cayenne chile peppers are traditionally ground into a powder and used to add flavor and heat to fresh and cooked preparations. The dried peppers can be sliced open, removing the seeds, and freshly ground into a powder that can be sprinkled into dips such as hummus and guacamole, shaken over salads, mixed into roasted vegetables, or stirred into soups, chilis, and stews. The fiery powder can also be added into hot sauces and salsas, rubs for meats, baked into pasta and casseroles, sprinkled over egg-based dishes such as omelets, egg, salad, or souffle, or incorporated into lemonade, hot chocolate, and ginger tea. Dried Cayenne chile peppers pair well with aromatics such as garlic, onions, and ginger, seafood including fish, shrimp, squid, lobsters, and oysters, mustard greens, collard greens, cabbage, tomatoes, bell peppers, corn, and citrus. Whole Dried Cayenne chile peppers can be stored in a sealed container for 1 to 3 years. It is recommended to grind the dried peppers in small quantities for the freshest flavor. Cayenne pepper can also be store-bought and will generally keep 1 to 2 years.
Ethnic/Cultural Info
Cayenne chile peppers are a foundational spice in Cajun cuisine, an eclectic cuisine that has been influenced by French, Spanish, African, and Native American cooking styles. Cajun cuisine was first created in Louisiana when a group of French colonists known as the Acadians fled from Canada and settled into Louisiana's bayous and coastal regions. Eventually, the Acadians shortened their name to Cajuns and relied on locally sourced vegetables, animals, and spices. Cajun cuisine was based on French countryside cooking, but different cultures began intermixing over time, adding exotic flavorings and spices such as Cayenne chile pepper to hearty, comforting dishes. Within Cajun cuisine, Cayenne chile peppers are traditionally dried and ground into a bright red-orange powder, which gives the cuisine its signature fiery hue and flavor. Cayenne chile peppers are also combined with other spices such as black pepper, paprika, garlic powder, oregano, salt, and onion in Cajun seasoning spice blends to flavor signature dishes such as gumbos, jambalaya, soups, and stews.
Geography/History
Cayenne chile peppers are native to South America, specifically French Guiana located on the northeast coast, and have been cultivated since ancient times. Indigenous Americans utilized the pepper in medicinal and culinary practices, and throughout the Early Ages, Cayenne chile peppers were spread throughout South and Central America and into the Caribbean through migrating peoples. In the 15th and 16th centuries, Cayenne chile peppers were brought to Europe and Asia via Spanish and Portuguese explorers, where the pepper quickly spread in cultivation. Cayenne chile peppers have historically been favored as a dried spice, and the peppers have been dehydrated for centuries to add flavor and heat to dishes year-round. Today Dried Cayenne chile peppers are commercially produced worldwide, especially in Mexico, Japan, Africa, India, and New Mexico and Louisiana of the United States. The dried peppers can be found whole or in powdered form through grocers, online retailers, distributors, and health food stores.
Recipe Ideas
Recipes that include Dried Cayenne Chile Peppers. One

is easiest, three is harder.