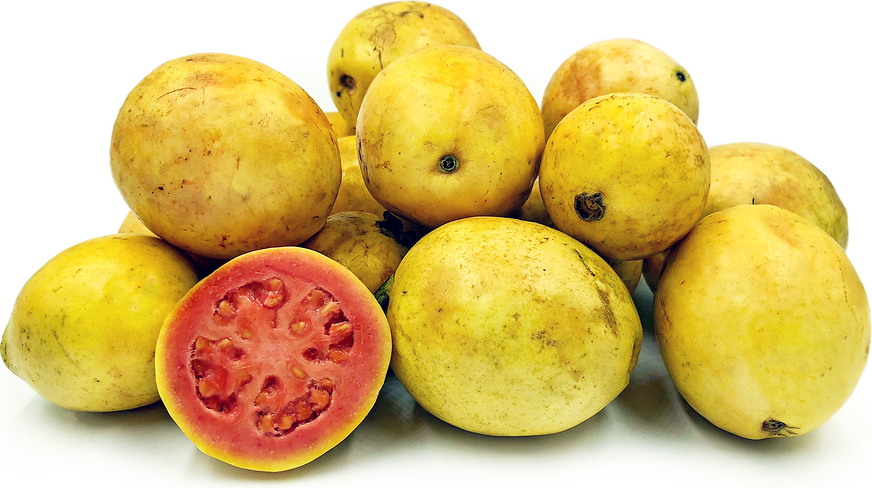 Tahitian Guavas
Inventory, lb : 0
Description/Taste

Tahitian guavas are small fruits, averaging 4 to 12 centimeters in length, and have a round to oval shape with curved ends. The skin is smooth to semi-rough, thin, and firm, ripening from green to golden yellow when mature with the occasional brown spots. Underneath the surface, the flesh is aqueous, granular, soft, and aromatic, ranging in color from red to dark pink with many small yellow seeds. Tahitian guavas have a sweet, musky, and tropical flavor with moderate acidity.


Seasons/Availability

Tahitian guavas are available year-round.


Current Facts

Tahitian guavas, botanically classified as Psidium guajava, are tropical fruits that belong to the Myrtaceae family. The sweet-tart fruits are also known as Tuava, Goyave, and Apple guava, and though not native to French Polynesia, guavas have become widely naturalized throughout the islands. Tahitian guavas were initially planted as dense shrubs to create property lines in home gardens, but the aggressive nature of the plant led it to expand into valleys, fields, and along roadways on the islands. Today guavas are often regarded as one of the most invasive plant species in Polynesia, but despite their disruption of natural landscapes, many Tahitians value the fruits for their medicinal nature and frequently use the tangy, sweet flesh in desserts, jams, and sauces for seafood.


Nutritional Value

Tahitian guavas are an excellent source of vitamins A and C, which are antioxidants that can boost the immune system and increase collagen production within the body. The fruits also contain potassium, iron, phosphorus, magnesium, calcium, and pectin. In Tahiti, guavas are used in raau Tahiti, which is a traditional medicinal practice that uses guavas to help stimulate digestion, reduce fevers, and flavor syrups for sore throats.


Applications

Tahitian guavas are best suited for both raw and cooked applications such as baking and boiling. The fresh fruits can be eaten straight, out-of-hand, sometimes sprinkled with salt or chile powder for added flavor, or they can be sliced and tossed into green and fruit salads. Tahitian guavas can also be pressed into juice, blended into smoothies, or cooked down into sauces, pastes, and purees. These purees can be incorporated into desserts such as cakes, pudding, pies, and muffins, or they can be used to flavor candies, jams, marmalades, and jellies, commonly served on pancakes and toast. In Tahiti, Tahitian guavas are popularly blended into glace de goyave, or guava ice cream, and they are also cooked into thin glazes to pour over grilled seafood. Tahitian guavas pair well with fruits such as strawberries, pineapples, coconuts, citrus, bananas, and papaya, ginger, honey, vanilla, seafood, poultry, pork, and nuts such as macadamia, cashews, and hazelnuts. The fresh fruits will ripen at room temperature, and once mature, they can be stored for an additional 2-3 days in the refrigerator. Tahitian guavas can also be pureed and kept in the freezer, dehydrated and blended into a powder, or canned in syrup for extended storage.


Ethnic/Cultural Info

In Papeete, the capital city of Tahiti and French Polynesia, a food truck market known as Place Vaiete serves a wide variety of unique, local fusion dishes. The market consists of different food trucks, also known as roulottes, which is French for "caravan," with cuisines ranging from French, Chinese, Polynesian, to Thai. Place Vaiete is a favorite dining spot for both locals and tourists, and the market promotes the use of fresh ingredients, including seafood, fruits, noodles, and vegetables. One of the most popular Tahitian side dishes featured at the market, known as po'e, is a dense, fruit pudding that is traditionally served with fresh coconut cream. Po'e is commonly consumed as a filling accompaniment with seafood dishes, and there are many different variations of the pudding using tropical fruits such as Tahitian guavas, papaya, bananas, and pumpkin.


Geography/History

Guavas are native to regions of Central America and Mexico and were spread through migrating peoples to South America in ancient times. Spanish and Portuguese explorers then gathered the fruits from tropical America and introduced the varieties to Africa, Europe, Asia, and the Caribbean in the 16th and 17th centuries. It is believed by experts that guavas arrived in French Polynesia in the 18th century through sailors arriving from Africa and also in the 19th century through missionaries from Brazil. Once introduced, the fruits rapidly naturalized and spread across the islands where they are still found growing wild in the modern-day. Tahitian guavas are found through fresh local markets, supermarkets, and specialty grocers in French Polynesia. They are also found growing in home gardens and wild in valleys, fields, and along roadsides.