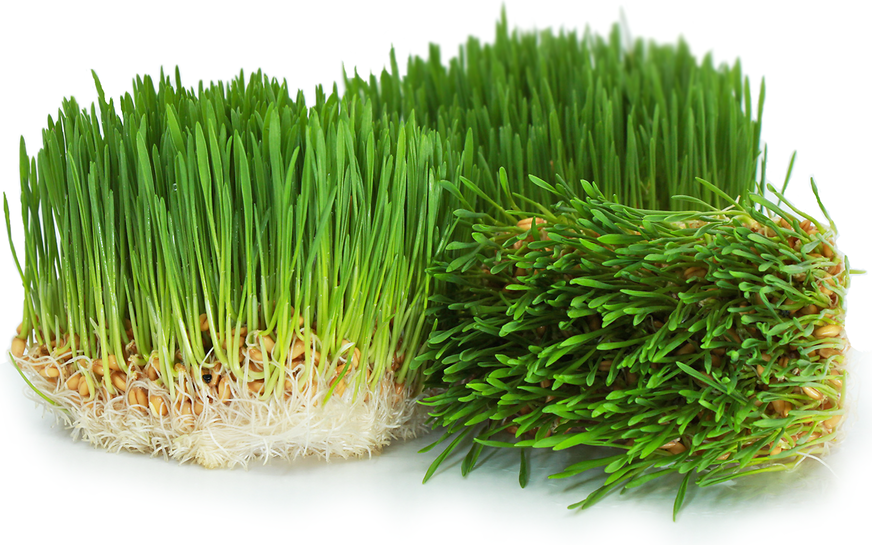 Organic Wheat Grass
This product is organically grown.
Specialty Produce is certified to handle organics.
Our California registration number is: 37-1293
Organically grown.

Inventory, ea : 0
This item was last sold on : 10/23/23
Description/Taste

Wheatgrass is comprised of elongated, slender blades, averaging 17 to 27 centimeters in length, and grows in a compact, dense grouping. Each blade is thin, pliable, upright, and straight, tapering slightly to a curved, pointed tip. The blades are also bright green and have a crisp, succulent, and tender consistency, attached to a base of fine white roots and remnants of tan seed casings. Wheatgrass has a strong grassy, earthy, and bitter flavor with subtly sweet and herbal undertones. The greens are not commonly consumed by themselves and are paired with a sweeter or more robust taste to help reduce the grass's pungency.


Seasons/Availability

Wheatgrass is available year-round.


Current Facts

Wheatgrass, botanically classified as Triticum aestivum, is the first leaves sprouted from the common wheat plant belonging to the Poaceae family. The slender, robustly flavored leaves are harvested approximately 6 to 10 days after sprouting and are considered a living food that contains a concentrated amount of nutrients. Wheatgrass is not a modern ingredient and has been utilized in natural medicines since ancient times. The greens are known by several names, including Quack grass, Witch grass, Dog grass, and Couch grass, and can be grown on shallow trays of soil both indoors or outdoors. Wheatgrass is most commonly consumed fresh as a morning supplement. The greens are fast-growing and can be carefully harvested multiple times, providing a source of natural nutrients in a compact form. In the modern-day, Wheatgrass is also dried and sold as a liquid or in capsules and powder form.


Nutritional Value

Wheatgrass is one of the most concentrated sources of living chlorophyll, a pigment found within the blades that helps the plant convert sunlight into energy. The greens are comprised of approximately 70% chlorophyll, and this nutrient assists in cleansing the body and detoxing the liver for increased energy production. Wheatgrass also provides vitamin C to boost the immune system, vitamin E to protect the cells against free radical damage, vitamin A to maintain healthy organ functioning, vitamin K to promote faster wound healing, and other amounts of B vitamins, iron, magnesium, and calcium. While Wheatgrass is essentially considered gluten-free as it is harvested before the wheat berry forms, it is recommended to consult with a medical professional before consuming the greens if you have a gluten sensitivity or have celiac disease.


Applications

Wheatgrass has a bitter, grassy, and earthy flavor profile that is often considered unpalatable when served by itself. It is important to note that Wheatgrass should be consumed fresh to absorb the most nutrients and should not be cooked, as the vitamins and minerals will be lost in the heating process. The greens are also somewhat tough to digest when left whole, so the leaves are commonly pressed, blended, chopped, or crushed. The fresh greens are traditionally juiced and consumed as a shot first thing in the morning, often served with a wedge of citrus, or they are blended into smoothies. Wheatgrass can also be incorporated into mocktails as a healthy addition and complements beverages with fruity or tart flavors. Beyond mixing the greens into drinks, Wheatgrass can be used in very small amounts and mixed into dips such as hummus or guacamole, chopped finely into salads, stirred into chilled soups such as gazpacho, or combined into salad dressings and sauces. When mixing into sauces, honey, sugar, and cream will help mask the grassy flavor. Wheatgrass can also be added to chia pudding and yogurt or blended well into custards, ice cream, and chocolate. Wheatgrass pairs well with fruits such as pineapple, banana, apples, oranges, grapes, and coconut, spinach, cucumber, celery, carrots, tomatoes, avocado, ginger, and herbs such as mint, cilantro, and parsley. Fresh Wheatgrass should be harvested and immediately consumed for the best quality and flavor. It can also be stored in a tightly sealed container in the refrigerator for up to seven days or frozen for 6 to 12 months.


Ethnic/Cultural Info

In India, Wheatgrass is utilized in several annual festivals and medicinal practices. The grass's most notable use is during Sharad Navaratri, a Hindu fall festival that honors the goddess Devi, also known as Durga, and the victory of good over evil. During the nine-day festival, Wheatgrass is grown as an offering to the goddess in small decorative baskets. The greens are sprouted from wheat grains and are left to grow for the full nine days. The Wheatgrass baskets are carried on heads as a mark of blessings and are grown in sanitary conditions, as many believe the way the grass is kept clean is a symbol for the cleanliness of life. Once developed, Wheatgrass is offered as a gift at the goddess's feet in the temple, and the greens symbolize devotion and respect to the goddess. After the ritual offering, some of the Wheatgrass is cut and left at the shrine, while the rest of the grass is consumed as prasad or a religious offering. Wheatgrass is also used in Ayurveda as a natural diuretic, immune booster, and source of energy. The greens can be consumed fresh or in powdered form and help balance Kapha, the ayurvedic dosha that combines water and earth elements.


Geography/History

Wheatgrass is an ancient plant that has been cultivated for medicinal use for thousands of years. The first record of Wheatgrass dates back over 5000 years ago to Ancient Egypt, where the young greens were consumed as a beauty aid to retain a youthful appearance. Wheatgrass was also a staple ingredient in Ayurveda, the natural medicine of India, for centuries and was consumed to fight off disease and fatigue. In the 1930s, agricultural chemist Charles Schnabel experimented with Wheatgrass's healing power and fed the grass to dying chickens. Schnabel noticed that the hens eventually recovered and produced eggs at a higher rate than normal chickens, sparking a new theory for Schnabel between Wheatgrass and disease. Schnabel began growing and incorporating Wheatgrass into his family's diet, and soon after, he made a deal with American Diaries Inc and Quaker Oats to market his findings. The two American corporations sponsored further research and began selling Wheatgrass in powdered form through major retailers throughout Canada and the United States. In the 1940s, Wheatgrass was also heavily marketed by Ann Wigmore, a holistic health practitioner. Wigmore touted the grass's nutritional content and promoted the cleansing nature of the greens as a daily supplement. She also began to claim that Wheatgrass could help cure diseases and ailments but was later sued by the Massachusetts Attorney General for making blanket claims regarding serious diseases. Throughout the 20th century, Wheatgrass continued to rise in popularity as a health food supplement, and the grass's nutritional benefits have been well recognized into the 21st century. Today Wheatgrass grows in temperate regions worldwide, especially in the United States and Europe, and can be cultivated outdoors or indoors. Fresh Wheatgrass is traditionally sold through smoothie and juice shops, farmer's markets, and health food stores. Powdered Wheatgrass is sold through online retailers, select supermarkets, natural wellness stores, and vitamin shops.