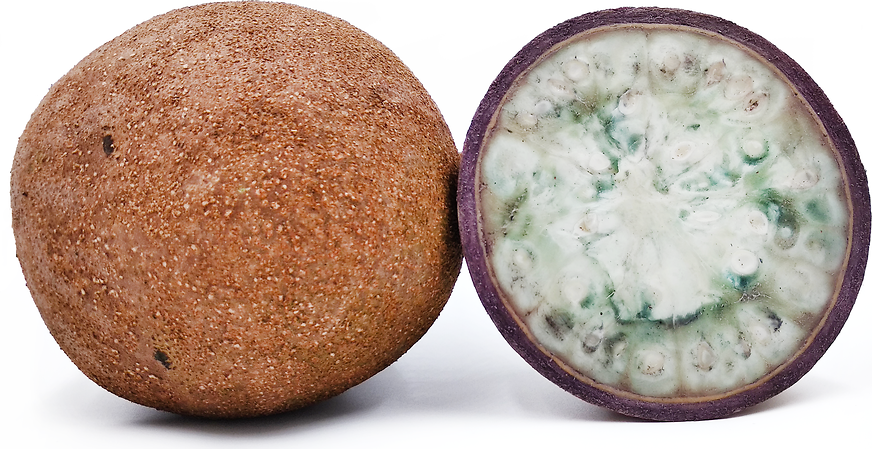 Cannonball Fruit
Inventory, lb : 0
Description/Taste

Cannonball fruits are medium to large in size, averaging 12 to 25 centimeters in diameter, and have a spherical shape with a curved, uniform nature. The exterior shell is thick, hard, and dense, with a rough, textured brown-grey surface. Once the shell is cracked open, a pungent, acrid aroma is released, and the flesh is spongy, aqueous, and soft, encasing hundreds of small seeds. One fruit can contain 65 to 550 seeds, and once the white flesh is exposed to the air, it will oxidize into a light blue to blue-green hue. Cannonball fruits should feel heavy for their size, sometimes weighing up to 16 kilograms, and are only consumed when ripe. The fruits will crash to the ground when mature and will not continue to ripen once it is separated from the tree. Cannonball fruits are edible, but they are typically avoided due to their notorious aroma. Cracked open fruits are said to smell acrid, vinous, and pungent with rubbery, sulfuric compounds giving them a stinky, disagreeable reputation. The ripe flesh has a distinctly earthy, bitter, astringent, and tart flavor with musky, acidic, sour apple and rubber notes.


Seasons/Availability

Cannonball fruits are available year-round in tropical regions worldwide.


Current Facts

Cannonball fruits, botanically classified as Couroupita guianensis, are unusual, globular fruits belonging to the Lecythydaceae family. The Cannonball tree thrives in tropical to subtropical climates worldwide and is a deciduous species extending up to 35 meters in height. The trees can produce over 150 fruits at one time, and when in bloom, the trees can be covered in over 1,000 brightly colored, aromatic flowers. The flowers and the fruits grow directly from the tree's trunk rather than the branches, giving the tree a visually distinct appearance. Cannonball trees earned their name from their rough, brown, and round fruits, which are similar in appearance to a cannonball. Legend also has it that when the fruits drop to the ground and crack open, they create a loud thud and clap that allegedly sounds like a cannonball firing. Cannonball trees are known by many regional names, including Kanon trees, Ayahuma, Nagalingam, Granadillo de las Huacas, and Sala trees. The fruits are slow maturing, taking anywhere from 12 to 18 months to ripen, and once mature, they crash to the ground and split open, expelling the seeds. In the modern day, Cannonball trees are primarily found as a wild species or as ornamental trees planted in botanical gardens. The fruits are edible when ripe, but they are not commonly consumed due to their permeating, often unpleasant odor.


Nutritional Value

Cannonball fruits have not been studied for their nutritional properties as they are not commonly consumed. The flesh is only known to contain small amounts of sugar and acids, such as citric, malic, and tartaric. In South America, Cannonball fruits are considered a maestro plant, meaning the plant has various medicinal properties. Shamans believe the tree's spirit teaches and reveals its medical powers to them, and the fruits, flowers, and leaves are used in infusions to reduce pain and inflammation. Cannonball trees are thought to provide immune-boosting elements, and the fruit's flesh is used to disinfect wounds and act as a cough suppressant. In India, Cannonball fruits are topically used for skin irritations and are thought to have antifungal, antimicrobial, and antiseptic capabilities.


Applications

Cannonball fruits are only edible when ripe. Underripe fruits may cause an allergic reaction in some individuals and lead to a burning, tingling sensation in the mouth and on the lips. Test a small portion of the fruit and wait a few minutes before consuming it. If any tingling sensation occurs, do not continue eating the fruit. Cannonball fruits fall from the tree when they mature, and some fruits crack open on impact. If the fruit is still whole, it can be opened with a machete or hammering a screwdriver into the shell. Once opened, the flesh of Cannonball fruit is considered edible when raw, but it is often avoided due to its rancid, sulfuric odor. The flesh is primarily used in medicinal applications and is consumed in times of famine. In a few remote villages in India, the flesh is blended into drinks, while in Jamaica, the fruits are sometimes used to make wine. Worldwide, Cannonball fruits are mainly used as animal feed for livestock such as chickens or pigs. The fruit's tough exterior is also used as a bowl or serving vessel. Cannonball fruits should be consumed immediately once ripe, as the fruit's stench will strengthen with time.


Ethnic/Cultural Info

Cannonball flowers are a sacred symbol of Shiva, one of the main deities in Hinduism. Shiva is worshiped as a part of the trinity with the gods Vishnu and Brahma, also known as the triumvirate or trumurti, and is a complex celestial being acting as a creator and destroyer. In Hinduism, Shiva is often worshipped in the form of a lingam or linga. This pillar-to-phallus-like form is a distinguishing shape representative of Shiva, and there are several theories to its creation. The linga embodies life energy and is a symbol often representing the connection between the heavens and earth. Lingas are also commonly found in nature, such as the pistil of Cannonball flowers. The flower's curved petals covering the pistil resemble a cobra's hood, another symbol associated with Shiva. Snakes are a manifestation of ego and humanity's passion and desires. Shiva is depicted wearing a snake around his neck as a proclamation that he has control over emotions and ego and that these do not reside within his spirit. He is also lord of all creatures, and snakes are a symbol of the endless cycle of life and death. Throughout India, Cannonball flowers are used in Hindu worship and are planted in temples in honor of Shiva. The flowers are known by many names, including Nagalinga, Shiv Kamal, Kailaspati, and Tope Gola in Hindi, Kaman Gola in Bengali, Naagalingam in Tamil, Shivalingam in Marathi, Mallikarjuna in Telugu, and Lingada Mara in Kannada. When the Cannonball trees are in bloom, the flowers are offered to Shiva and are used as decoration around shrines.


Geography/History

Cannonball trees are native to South America and have been growing wild since ancient times. Experts point to the species' possible center of origin in the dense rainforests of the Amazon Basin near Guyana and Suriname. In fact, the Latin botanical name Guianensis means "of Guyana," further alluding to this region's significance. Cannonball trees are also thought to have origins in Central America, mainly Panama and Costa Rica. In prehistoric times, now-extinct giant sloths favored the fruits. This megafauna consumed the fruit in its entirety and expelled the seeds in their excrement, naturally spreading the Cannonball tree's presence in forests. Animals such as wild pigs, known as peccaries, still consume the fruits in the present day and naturally spread the fruit's seeds, similar to the megafauna. Over time, Cannonball fruits were transported by early migrating peoples to tropical regions worldwide. The trees were recorded and named by French botanist Jean Baptiste Christophore Fusee Aublet in 1775, and the species became prevalent throughout Southeast Asia as a naturalized tree. Today Cannonball trees thrive in tropical to subtropical forests worldwide and are primarily found as a wild species. The trees are not cultivated commercially and are rarely planted in planned landscapes as their heavy, dense fruits can pose threats to visitors standing beneath the tree. When the fruits are available, they are foraged and sold through select fresh markets in Southern Asia, Southeast Asia, and Central and South America for medicinal use. Cannonball trees can also be found in some botanical gardens worldwide, including the Fairchild Tropical Botanical Garden in Coral Gables, Florida.