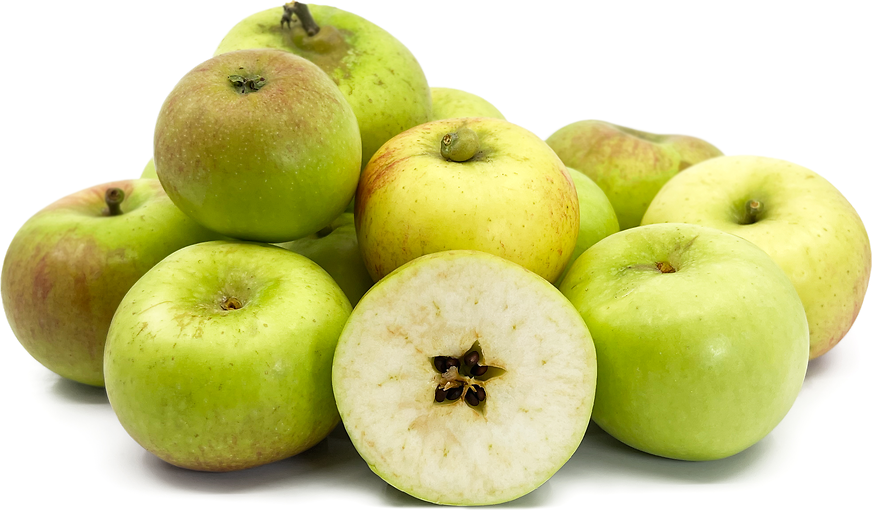 Sir John Thornycroft Apples
Inventory, lb : 0
Description/Taste
Sir John Thornycroft apples are a medium to large varietal, averaging 7 to 10 centimeters in diameter, and have a round to ovate shape with a flattened, squat appearance. The apple's skin is semi-thick, tough, smooth, and taut, showcasing matte gold-green hues with bright red to crimson blush. The amount of blush and its saturation will vary, depending on sun exposure, and the blush can be solid, streaked, or speckled. The skin also features prominent pale lenticels and spots of brown-green russet, often found in the stem cavity. Underneath the surface, the ivory to cream-colored flesh is dense, hard, and coarse-grained with an aqueous, crisp, and crunchy consistency. The flesh also encases a small central fibrous core filled with tiny, black-brown tear-drop-shaped seeds. Sir John Thornycroft apples can be consumed raw or cooked and have a mild, delicate, subtly sweet, and aromatic taste with fruity, honeyed flavor notes similar to Cox's Orange Pippin apples.
Seasons/Availability
Sir John Thornycroft apples are harvested in the mid-fall through early winter and can be stored through the late winter.
Current Facts
Sir John Thornycroft apples, botanically classified as Malus domestica, are a rare variety belonging to the Rosaceae family. The English apples were discovered growing in a private garden on the Isle of Wight in England in the early 20th century and were selected as a new commercial variety for their mild, sweet taste. Sir John Thornycroft apples grow on moderately vigorous trees, and the fruits were favored for their versatile nature, able to be consumed as a fresh eating variety or incorporated into cooked culinary preparations. The cultivar never achieved widespread commercial success, but in the early 20th century, it was acknowledged and valued by the Royal Horticultural Society as a good home garden apple. Sir John Thornycroft apples have faded from production in the modern day, but the uncommon variety is still grown by apple enthusiasts throughout England, especially on the Isle of Wight and neighboring regions in southern England. In some markets, it is worth noting that Sir John Thornycroft apples are spelled as Sir John Thorneycroft.
Nutritional Value
Sir John Thornycroft apples have not been studied for their nutritional properties. Like other apples, the variety is a source of fiber to regulate the digestive tract, manganese to develop connective tissues, and potassium to balance fluid levels within the body. The apples also provide vitamin C to boost the immune system, calcium to build strong bones and teeth, vitamin B6 to maintain amino acid levels within the bloodstream, quercetin to contribute anti-inflammatory and antioxidant-like properties to protect the cells against free radical damage, and other amounts of vitamin K, copper, boron, magnesium, zinc, phosphorus, and iron.
Applications
Sir John Thornycroft apples have a mild, sweet taste suited for fresh and cooked preparations. The apples can be washed and consumed straight out of hand, and the tough skin can be peeled or left intact, depending on personal preferences. Sir John Thornycroft apples can also be sliced and served with dips, layered into sandwiches, chopped into salads, or shredded into slaws. The apple's firm, coarse nature allows it to contribute texture and flavor to cheese plates and fruit medleys, and the flesh can be blended into smoothies and juices. On the Isle of Wight, Grazed Knee, a craft cider company, incorporates Sir John Thornycroft apples into their cider blends. The apples are stored in a cave before juicing, and the cider blends are left as natural as possible to highlight the drink's distinct taste. Beyond ciders, Sir John Thornycroft apples are used in baked preparations such as cakes, crisps, muffins, bread, crumbles, pies, galettes, and tarts. The apple's mild flavor also complements savory dishes of roasted meats, and the flesh can be sliced and sauteed, baked, roasted, or pureed into a sauce. Sir John Thornycroft apples pair well with other fruits such as grapes, strawberries, blueberries, and citrus, spices including cinnamon, ginger, nutmeg, and allspice, nuts such as almonds, pine, pistachios, and pecans, vanilla, maple syrup, and herbs including parsley, thyme, and rosemary. Whole, unwashed Sir John Thornycroft apples will keep for 2 to 3 months when stored in a cool, dark location, such as a cellar or refrigerator.
Ethnic/Cultural Info
Sir John Thornycroft apples were named after Sir John Isaac Thornycroft, a famous English naval architect and owner of the property where the apples were first discovered. Sir John Thornycroft was born in Rome and was part of a well-known family lineage. Both his parents studied art and sculpture at the Vatican and constructed statues on the Embankment near Westminster Bridge in London. Sir John Thornycroft followed in his parent's creative footsteps, but he applied his ability to design to shipbuilding. At the age of 17, Sir John Thornycroft designed a 36-foot steamboat named the Nautilus, and soon after, he traveled to Glasgow University to study naval engineering. Sir John Thornycroft was passionate about constructing streamlined boats that could travel fast in the water, and in the late 19th century, he designed a boat called the Miranda that could achieve 20 knots. Many of Sir John Thornycroft's research and designs inspired hydrofoil boats in the modern day. In 1866, Sir John Thornycroft established John Thornycroft & Co. in Chiswick along the River Thames, and in the 1870s, he was hired by the Royal Navy to design the first torpedo boat, named the HMS Lightning. During World War I, the HMS Lightning and other torpedo boats could travel over 40 knots, skim over minefields without triggering explosions, and were used in battles such as Ostend and Zeebrugge. Sir John Thornycroft was honored for his research, design, and expertise in boat construction and was knighted in 1902. Sir John Thornycroft was eventually forced to retire due to health reasons and moved to a property on the Isle of Wight in Bembridge. At his residence, known as the Steyne House, Thornycroft hired a head gardener to care for a kitchen garden and orchard, later discovering a new apple variety named in honor of the naval architect.
Geography/History
Sir John Thornycroft apples were discovered growing in the garden of Sir John Thornycroft on the Isle of Wight in the early 20th century. The Isle of Wight is located in the English Channel off the southern coast of England. The island is designated as a UNESCO Biosphere Reserve and is the second-most inhabited island in England, known for its mild coastal climate. Sir John Thornycroft apples were found in a small orchard beside the kitchen gardens on Sir John Thornycroft's property, the Steyne House, in Bembridge on the Isle of Wight. The property's head gardener, Mr. Collister, collected the new apples from the garden and worked with the Bunyard of Maidstone to release the variety to growers in 1913. Sir John Thornycroft apples were just one of several varieties developed on the Thornycroft property, and other notable cultivars include Steyne Seedling and King George V. All three of these mentioned varieties received Awards of Garden Merit from the Royal Horticultural Society, with Sir John Thornycroft apples being selected in 1911. Today Sir John Thornycroft apples grow in temperate regions throughout England and are a rare variety localized to home and specialty orchards. Sir John Thornycroft apples are also found in the National Plant Collection at Sparsholt College in England. When in season, Sir John Thornycroft apples are not found in commercial markets and are primarily discovered in fresh markets in their growing regions.
Recipe Ideas
Recipes that include Sir John Thornycroft Apples. One

is easiest, three is harder.