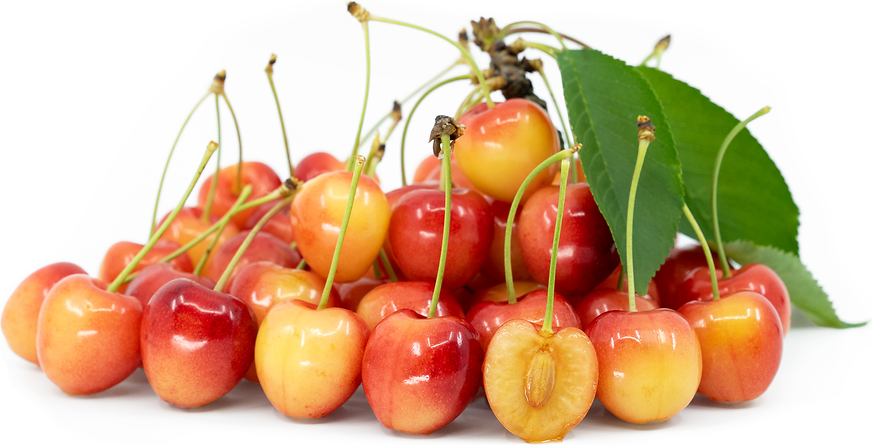 Napoleon Cherries
Inventory, lb : 0
Description/Taste

Napoleon cherries are a moderately-sized varietal averaging 2 to 2.5 centimeters in diameter with a cordate shape. The old cherry variety was a large cultivar for its time but compared to modern cherries that have swelled in size; it has become a medium-sized fruit. The cherries have subtly peaked shoulders tapering into a slender, broadly pointed base, and the fruits are connected to long, slender green stems ranging from 4 to 4.5 centimeters in length. The fruit's surface is smooth, taut, and glossy, feeling slightly firm to the touch. The skin is also extremely delicate and thin, bruising and discoloring quickly once picked from the tree. Napoleon cherries are known for their brightly colored, marbled skin, showcasing vibrant hues of red, orange, red-pink, and pale yellow. Underneath the surface, the golden yellow to pale yellow flesh is dense, aqueous, tender, and soft, bursting with juice when consumed. The flesh also encases a central, light brown, semi-attached stone. Napoleon cherries have low sugar and moderate acidity, creating a delicate blend of sweet and sharp flavors with lingering tangy nuances.


Seasons/Availability

Napoleon cherries are available mid-summer, typically harvested for 2 to 3 weeks in late June or mid-July.


Current Facts

Napoleon cherries, botanically classified as Prunus avium, are a mid-season variety belonging to the Rosaceae family. The sweet cherries grow on deciduous trees reaching 3 to 4 meters in height and are a Bigarreau cherry, a French term for firm-fleshed type cherries. Napoleon cherries are also a kind of white cherry, a general descriptor used for cherries with pale flesh and white juice. The variety is known by many names, including Napoleon Bigarreau, Garrafal Napoleon, Wellington, and Oxheart in Europe, and Queen Anne, Royal Anne, and Royal Ann in North America. Napoleon cherries are also affectionately referred to as "Naps" among cherry growers. In the present day, Napoleon cherries are not commercially cultivated due to their easily bruised skin and need for other pollinators. Still, the variety has remained a specialty cultivar preserved in home gardens and through select growers. A single Napoleon cherry tree can produce over fifty pounds of fruit in one season, and the cherries are versatile, consumed fresh, incorporated into culinary preparations, or used in canning and preserves.


Nutritional Value

Napoleon cherries are a source of vitamin C to strengthen the immune system while reducing inflammation, vitamin K to assist in faster wound healing, and vitamin A to maintain healthy organ functioning. The cherries also provide some calcium to build strong bones and teeth, potassium to balance fluid levels within the body, fiber to regulate the digestive tract, and other nutrients, including magnesium, B vitamins, copper, manganese, iron, and zinc.


Applications

Napoleon cherries have a sweet and tangy flavor suited for fresh and cooked preparations. The cherries were traditionally consumed straight out of hand, savored for their juicy nature and sharp flavoring, and were most often enjoyed directly off the tree. It is important to note that Napoleon cherries bruise easily when handled and will develop brown discoloring rather quickly after picking. The fruits should be prepared with care and can be tossed into salads, sliced and mixed into fruit bowls, or used as a fresh topping over yogurt and granola. The cherries can also be blended into smoothies, combined into fruit juices, or mixed and frozen into sorbets. Napoleon cherries were historically used to decorate cakes and other desserts in England, valued for their variegated, yellow and red coloring. In addition to fresh preparations, the cherries can sometimes be incorporated into pies, turnovers, or tarts. They can also be simmered into syrups and sauces, cooked into jams, or made into a sugary condiment to pour over ice cream. In the 19th century, Napoleon cherries were favored for canning and were used to make maraschino cherries. They were also typically soaked in mixtures of alcohol and sugar, left to ferment for thirty days, and consumed as a fruity beverage. Napoleon cherries pair well with citrus, stone fruits, coconut, cheeses such as ricotta, goat, and mascarpone, vanilla, chocolate, herbs such as basil, cilantro, thyme, and mint, and spices including cinnamon, ginger, cloves, allspice, and nutmeg. Whole, unwashed Napoleon cherries should be immediately consumed for the best quality and flavor. The cherries have a short shelf life and can only be kept in the refrigerator for 1 to 2 days. They should also not be rinsed until they are going to be consumed, as washing will accelerate spoilage.


Ethnic/Cultural Info

In Buckinghamshire, a county in Southeastern England, cherry trees are a part of a curious tale featured in country folklore. The superstitious tradition begins with cuckoo birds sitting in cherry trees. The boisterous birds are said to love the fruits, feasting on them multiple times a day. When the birds are found in the cherry tree, they are believed to be able to predict the number of years a person has to live. Legend has it that Buckinghamshire children would call to the cuckoos and exclaim, "Cuckoo, cherry tree, please won't you tell me, how many years until I die?" The children would listen for the cuckoo's signature cry, and depending on the number of times the cuckoo would sing, it would equate to the number of years the caller had left to live. This folk tale was symbolic of life in the English countryside as birds, and cherry trees often represented the passage of time. Birds mark the transitioning of seasons as they migrate, a sign to farmers of the changing climate, and cherry trees only fruit for a few weeks each year, acting as a reminder of time's fleeting nature. Napoleon cherries were an exceptionally short-lived variety in England, but despite its limited availability, the variety was beloved for its productive nature, providing enough fruits for humans and the cuckoos to share.


Geography/History

Napoleon cherries are a type of white cherry native to Europe. The variety's origins are unknown, but some historians believe it may be of German descent. In the 1915 book The Cherries of New York, author U.P. Hedrick mentioned that Napoleon cherries may have existed as far back as the 17th century. The variety was also recorded as being named Napoleon, after the French emperor, by a Belgian man known as Parmentier. Napoleon cherries were planted throughout Europe, especially in England and Germany, and were a popular cultivar during the early 19th century. The cherries were one of the most widely grown sweet cherries in England, and at the time, very few white cherry cultivars were cultivated commercially and in home gardens. Napoleon cherries dominated cherry production for over 120 years in England, especially in Kent, and were shipped across England using river barges. The variety also produced several sports and clones that were later grown in home gardens. Napoleon cherries were eventually brought to the New World, where it was planted as a sweet cherry cultivar in the United States. In 1847, nurseryman Henderson Luelling migrated from Iowa to Oregon, settling in the Willamette Valley. Luelling brought over 700 fruit trees with him, including a Napoleon cherry tree, and planted them on his property in Oregon to establish a nursery. Henderson's brother Seth later joined him to expand the business. While the brothers were creating the nursery, the rumor was that the name tag of the Napoleon cherry tree was lost during their travels. The unmarked cherry tree was renamed Royal Ann, also spelled Royal Anne, and went on to become a widely grown commercial cultivar throughout the Pacific Northwest. Today Napoleon cherries are a specialty cultivar localized to home gardens and select specialty growers. The variety is not commercially cultivated in the present day due to its delicate nature, but it was used in several breeding programs, most notably in the lineage of Stella cherries, the first self-fertile cherry variety. Napoleon cherries are cultivated throughout Canada, the United States, Europe, and Australia. When in season, the variety is mainly offered directly from growers or farmers markets. The Napoleon cherries featured in the photograph above were sourced from the cherry orchard at Brogdale Farm in Faversham, England.