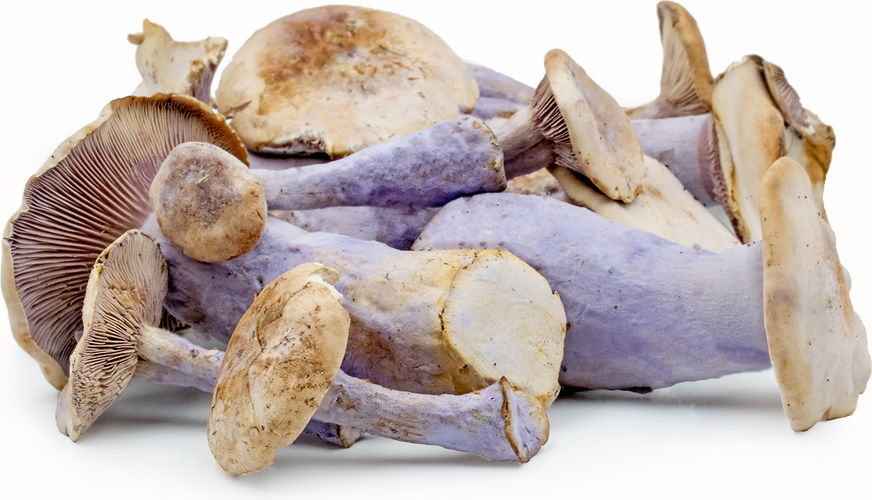 Blue Foot Mushrooms
Inventory, 5 lbs : 0.64
This item was last sold on : 12/04/23
Description/Taste
Blue Foot mushrooms are a small to medium-sized varietal with caps averaging 3 to 12 centimeters in diameter. The caps are convex with curled edges when young, and as they mature, they flatten and develop wavy, uncurled edges. The caps are smooth, slightly tacky, thick, and brittle, showcasing cream-colored, tan, to brown hues. Underneath the caps are tightly packed, purple-brown gills attached to the stem. These gills release spores that leave a pale pink spore print. The stems are elongated and thick, ranging from 4 to 6 centimeters in length to 2 to 2.5 centimeters in diameter, and are spongy, dry, and firm when raw. Blue Foot mushrooms are known for their pale purple, lilac, to lavender stems. This coloring is more prominent when the mushroom is young, and as it ages, the stems will fade into a brown, tan, ivory tone. When the stem is sliced open, the flesh has a cream-colored nature. Blue Foot mushrooms must be cooked and hold their shape when heated. Cooked mushrooms will develop a silky, velvety, and meaty consistency and have a fragrant, woodsy, and earthy flavor with subtly bitter, nutty, and floral nuances.
Seasons/Availability
Blue Foot mushrooms are available year-round, with a peak season in the fall through winter.
Current Facts
Blue Foot mushrooms, botanically classified as Clitocybe nuda, are a distinctly colored species belonging to the Tricholomataceae family. Mushrooms sold under the Blue Foot name are generally cultivated versions of the wild Wood Blewit mushroom, also known as Blewit. Wild Wood Blewit mushrooms are traditionally foraged from deciduous and coniferous forests in the Northern Hemisphere and are favored for their flavor and aroma. Cultivated Blue Foot mushrooms are challenging to grow but are desired by chefs for their sturdy texture and mild taste. Blue Foot mushrooms are also written as one word, Bluefoot, and are known in France as Pied Bleu, translating to "Blue Foot." It is important to note that Blue Foot mushrooms are not a true blue mushroom like the blue entoloma, which is blue inside and out. There is also another mushroom known as Blue Foot, Psilocybe caerulipes, that is consumed for its psychoactive properties and is not used in culinary applications. In the modern day, cultivated Blue Foot mushrooms are a versatile ingredient incorporated into various cooked preparations as a specialty mushroom.
Nutritional Value
Blue Foot mushrooms are a source of fiber to regulate the digestive tract, vitamin C to strengthen the immune system, and thiamine, also known as vitamin B1, which helps support the nervous system and blood sugar metabolism. The mushrooms also provide potassium to balance fluid levels within the body, vitamin D to assist the body in absorbing calcium to build strong bones and teeth, and folate to produce genetic material, including DNA.
Applications
Blue Foot mushrooms must be cooked prior to consumption and are suited for roasting, grilling, braising, stewing, and sautéing. The earthy mushrooms should be gently brushed and cleaned of dirt and debris, and once prepped, they can be added to mushroom medleys for enhanced flavoring and texture. One of the unique traits of Blue Foot mushrooms is their ability to hold their shape when cooked. The mushrooms are typically cooked with cremini, shiitake, and other varieties to add body to sautés, and the flesh will not wilt and shrink in size. Blue Foot mushrooms can also be cooked in heavy cream and served over toast, added to marinades or stirred into pasta dishes and risotto. It is worth noting that the lavender to lilac hues will be lost in the cooking process. In Europe, Blue Foot mushrooms are popularly cooked into omelets, simmered into soups and stews, tossed into stir-fries, or grilled for a smokey flavor. They can also be incorporated into sauces for roasted meats. Blue Foot mushrooms pair well with aromatics such as garlic, shallots, and onions, herbs including parsley, thyme, and fennel, tofu, meats such as veal, beef, and pork, eggs, arugula, sherry, and dry marsala. Raw Blue Foot mushrooms will keep for 3 to 5 days when stored in an open container lined with paper towels in the refrigerator.
Ethnic/Cultural Info
In England, Wood Blewit mushrooms, the wild form of Blue Foot mushrooms, occasionally grow in circular rings known as fairy rings. English folklore often mentions fairy rings as a place where elves, fairies, or pixies gather to dance in the woods. Some legends also claim fairy rings are a portal between the fairy world and Earth. Fairy rings symbolize positive and negative omens in various cultures throughout Europe, and in England, it was believed that if a human stepped into the ring and danced with the fairies, they would be required to dance until they passed out from exhaustion. In reality, fairy rings occur due to underground mycelium roots that spread in a circular formation. Mushrooms appear around the edges of this circle, and each year as the underground mycelium stays alive, new mushrooms will form along the border. Fairy rings can expand in size as the mycelium spreads underground, and it is reported that some fairy rings in Europe are thought to be hundreds of years old.
Geography/History
Blue Foot mushrooms are native to Europe and North America and are cultivated versions of the wild Blewit mushroom. Wild Blewits have been present in deciduous and coniferous forests since ancient times. The mushrooms are also found growing individually or in groupings in grasslands and woodlands and have expanded in habitat to appear in parks and gardens. Blewits were first described by French Mycologist Jean Baptist Francois Pierre Bulliard in 1790 and were later reclassified into various botanical families throughout the 19th and 20th centuries by other mycologists. Over time as Blewit mushrooms became a popular foraged mushroom, scientists began studying the variety to produce in cultivation for increased sales. Today Blue Foot mushrooms are cultivated in North America and Europe and can be found through fresh markets and specialty grocers. In Europe, the mushrooms are mainly present in France, Ireland, England, and the Netherlands. In the United States, the mushrooms are cultivated in both the Pacific Northwest and Northeastern states.
Featured Restaurants
Restaurants currently purchasing this product as an ingredient for their menu.
Recipe Ideas
Recipes that include Blue Foot Mushrooms. One

is easiest, three is harder.
the other 1...
Podcast