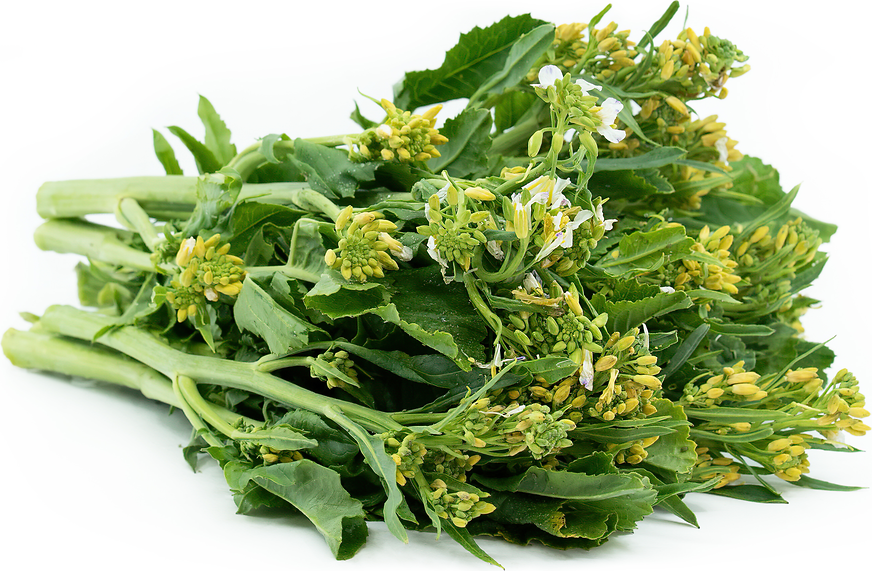 Nanohana
Inventory, lb : 0
Description/Taste
Nanohana is comprised of a mixture of edible stems, leaves, and unopened or partially opened flower buds. The greens are the top portions of the rapeseed plant and are generally cut around 14 to 15 centimeters in length. The stems are smooth, firm, thick, and bright green and have a straight, upright nature, while the leaves have a broad and flat, oval shape with prominent veining and serrated edges. The unopened flower buds, sometimes referred to as florets, grow in tiny clusters and are green with an oval, tapered appearance. Some of the flower buds may be slightly opened, depending on maturity, revealing small yellow, white, to purple blooms, depending on the variety. Yellow is the most common flower color, and each flower will produce four delicate, velvety petals. When selecting Nanohana for culinary dishes, look for bunches where the flowers have yet to open and are still tightly closed. The leaves should also appear fresh and not wilted. Nanohana has a vegetal, grassy, and subtly bittersweet flavor with a crunchy, chewy consistency. When the greens are blanched or cooked, they develop a tender, crisp quality, and the flavor will become mild with a light but pleasant bitterness.
Seasons/Availability
Nanohana is available in the late winter through early spring.
Current Facts
Nanohana, botanically classified as Brassica napus, is a name for the young greens of the rapeseed plant belonging to the Brassicaceae family. Rapeseed plants generally grow over one meter in height as they reach maturity, but the tops of the plant are harvested when they reach around 15 centimeters in length to ensure the stems, flower buds, and leaves have a more tender texture for culinary dishes. Nanohana translates from Japanese to mean "vegetable flower" and is a seasonal green that marks the beginning of spring in Japan. The seasonal greens are sought out by chefs and home cooks in Japan for their bright, fresh, and subtly bitter flavor, and the entire bundle of harvested stems, flower buds, and leaves is edible, creating zero waste during cooking. Rapeseed is also seen as a symbol of cheer, hard work, luck, and strength. The plant's roots extend far into the ground, providing a sturdy base, and the flowers and leaves point toward the sky, symbolically representing hope for the future. The plants are typically sought out in the spring, and according to the beliefs of feng sui, the bright yellow blooms are thought to bring good luck when arranged in a vase and placed west in a home.
Nutritional Value
Nanohana is a source of calcium to build strong bones and teeth, vitamin C to strengthen the immune system, and iron to develop the protein hemoglobin for oxygen transport through the bloodstream. The flower buds and greens also provide folate to produce red blood cells, vitamin B1 to assist the cells in the body to turn food into usable energy, fiber to regulate the digestive tract, and other nutrients, including antioxidants, potassium, magnesium, and phosphorus. In Japan, Nanohana contains compounds such as polyphenols and is thought to help detox the body. It is also said that Nanohana stimulates digestion and is an ingredient to boost metabolism after the winter season.
Applications
Nanohana has a grassy, vegetal, and subtly bitter flavor suited for lightly cooked preparations. The young greens are edible raw, but it is more common for chefs to blanch the greens before serving to develop a tender texture and more palatable flavor. Nanohana can be blanched or boiled and served in a light mixture of mustard, sesame, or wasabi, or it can be blanched and sauteed with meats as a main dish. The young stems, leaves, and buds can also be added to stir-fries, tossed into soups, used in salads, or chopped and stirred into dips. In Japan, Nanohana is believed to contain positive energy, and when the flower buds are consumed, the cheerful energy is absorbed into the body. One of the most popular preparations in Japan is serving Nanohana in a dashi with bonito flakes. Nanohana is also utilized in a wide array of specialty dishes in regions where the plant is grown. In Yokohama Town in the Aomori Prefecture, chefs showcase Nanohana at the Nanohana Matsuri festival as a fresh, springtime ingredient. The buds and greens are commonly used in oils, desserts, appetizers, and unique preparations such as doughnuts and ice cream. They are also deep-fried in tempura batter or pickled as a tangy condiment. Nanohana pairs well with bamboo shoots, asparagus, ferns, meats such as pork, poultry, and beef, seafood, and aromatics such as garlic, ginger, shallots, and onions. Whole, unwashed Nanohana will keep up to five days when stored in a plastic bag in the refrigerator's crisper drawer.
Ethnic/Cultural Info
Nanohana flowers are cherished for their bright yellow, cheerful nature. The blooms are a seasonal attraction grown across Japan and are regarded to be full of energy, warmth, and positive feelings. The yellow flowers are often planted near peach and cherry trees, allowing farmers to host festivals to honor the brilliantly colored and contrasting blooms. Peach and cherry trees provide pink, purple, and white shades, while rapeseed plants emit bright yellow petals. Visitors from all over Japan flock to these fields each year to take photos with the pink and yellow blooms, and during the festivals, rapeseed flower gifts are sold as souvenirs, including bright yellow birthday candles made from the plant. Beyond modern-day celebrations, Nanohana has symbolized spring in ancient texts, specifically in haikus, poems, and songs. The young greens were mentioned in the Manyoshu, one of the oldest collections of Japanese poetry, compiled in 759 CE by Otomo no Yakamochi. Manyoshu, also known as the Collection of Ten Thousand Leaves, is an anthology of poems written by poets of every social class, from emperors to peasants. There are over 4,516 poems within the collection, and many of the poems are said to reference images of springtime and summer.
Geography/History
Nanohana is the harvested tops of rapeseed plants believed by experts to be native to Western Asia and Northern Europe and has been growing wild since ancient times. The species was introduced into Central and Eastern Asia in the early ages and was cultivated in China by the Han Dynasty from 206 BCE to 220 CE. Around the same time, Nanohana was carried to Japan during the Yayoi Period, 300 BCE to 250 CE. After its introduction into Japan, Nanohana was cultivated to produce rapeseed oil through the Edo period. The plants were later grown as leafy vegetables in the Meiji Period, from 1868 to 1912. Today Nanohana is primarily planted and harvested in the Chiba prefecture in Japan, especially in Minamiboso, and is cultivated in the Aomori, Kochi, Kanagawa, and Tokushima Prefectures. Nanohana is also produced in China in the provinces of Sichuan, Guizhou, Jiangxi, Anhui, Hubei, and Guangxi Zhuang. When in season, Nanohana is sold through local fresh markets, grocers, and distributors in Japan and China. Outside of Asia, the species is known by different names and is cultivated and sold worldwide.
Recipe Ideas
Recipes that include Nanohana. One

is easiest, three is harder.