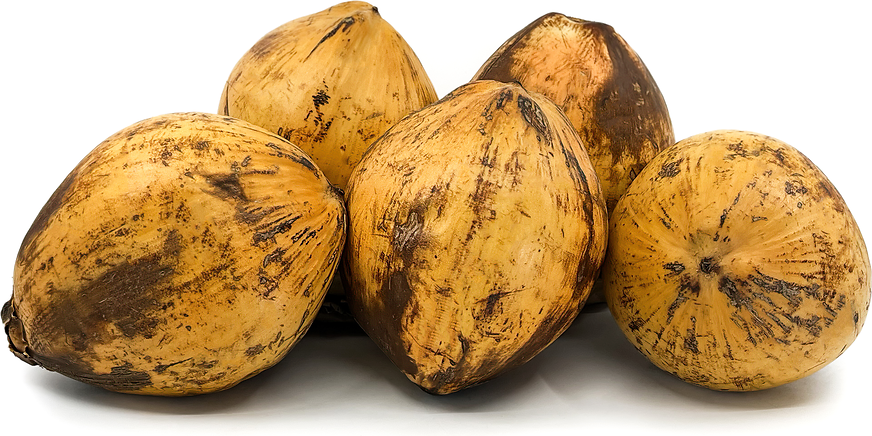 Golden Dwarf Coconuts
Inventory, lb : 0
Description/Taste

Golden Dwarf coconuts are smaller than other commercial varieties, averaging 15 to 31 centimeters in length, and have an oval to round shape with a broad center tapering to pointed ends. The coconut's exterior surface layer, the golden yellow-orange exocarp, is smooth, hard, and firm. Depending on age and growing environment, the exocarp may also showcase dark brown markings. Underneath the outer layers, the mesocarp or fibrous husk is woody, rough, and textured, covering a thin, hard shell known as the endocarp. Golden Dwarf coconuts are known for their sweet flesh, also called the endosperm, and depending on the age of the coconut, the flesh may house nutrient-rich water in a center chamber. The flesh is white, semi-firm, slippery, crunchy, and aqueous, with a crisp mouthfeel. Golden Dwarf coconuts have a subtly sweet and nutty flavor with woody, vanilla undertones.


Seasons/Availability

Golden Dwarf coconuts are available year-round.


Current Facts

Golden Dwarf coconuts, botanically classified as Cocos nucifera, are a category of palm species belonging to the Arecaceae family. The dwarf cultivars are smaller than other commercial palm varieties, ranging from 1.8 to 9 meters in height, allowing growers to easily harvest the coconuts. Golden Dwarf coconuts are native to Southeast Asia, and several varieties are generally categorized under this name, including Malayan Yellow Dwarf, Golden Malayan, Jamaican Red, and Fiji Dwarf. Golden Dwarf coconuts are commercially produced throughout India and Southeast Asia, and the fruits mature for approximately 11 months on the tree before they are harvested. Growers favor the palm species for their high yields, small size, and uniform, upright crown, and the palms are also valued for their variegated green to golden-hued leaves. In the modern day, Golden Dwarf coconuts are sold as a specialty variety in markets and are purchased for culinary use. The coconuts are rare but versatile and can be incorporated into fresh and cooked preparations.


Nutritional Value

Golden Dwarf coconuts are a source of fiber to regulate the digestive tract, vitamin C to boost the immune system, and calcium to build strong bones and teeth. The variety also provides vitamin E to protect the cells against the damage caused by free radicals, iron to develop the protein hemoglobin for oxygen transport through the bloodstream, phosphorus to generate genetic material such as DNA and RNA, and other nutrients, including vitamin K, folate, niacin, thiamine, and riboflavin. Beyond vitamins and minerals, coconut oil is used throughout Asia in hair and on the skin as a moisturizer. Coconut water is also a source of electrolytes to prevent the body from dehydrating on warm days or in humid climates.


Applications

Golden Dwarf coconuts have a subtly sweet, nutty taste suited for fresh and cooked preparations. The coconuts are harvested for their water and flesh, and the water is often consumed on its own or mixed into fruit juices, smoothies, milkshakes, and other beverages. The flesh can be eaten raw or chopped and mixed into fruit bowls, porridge, and other breakfast dishes. In addition to fresh preparations, Golden Dwarf coconuts are incorporated into chutney, cooked into curries, or added to seafood dishes. The flesh can be toasted, shredded, or ground into a powder and used to flavor dips such as raitas, shaved into rice, simmered in vegetable kormas, or baked into coconut chips. Golden Dwarf coconuts also complement sweet preparations and are popularly added to puddings, cakes, custards, and cookies. In India, Golden Dwarf coconuts are used in rava ladoo, a dessert comprised of hand-rolled treats traditionally served at celebrations, sheera, and burfi, a bar made from sugar, milk, nuts, coconut, and cardamom. Golden Dwarf coconuts are also processed into oils and flour. Golden Dwarf coconuts pair well with spices such as garam masala, curry powder, cardamom, and cinnamon, aromatics including ginger, garlic, and onions, eggplants, tomatoes, figs, lime juices, mint, cilantro, and nuts such as peanuts, pistachios, or cashews. Whole, unopened Golden Dwarf coconuts will keep for several months. Once opened, fresh coconuts will keep for 4 to 5 days.


Ethnic/Cultural Info

Coconuts are nicknamed the "tree of life" in India. The tropical fruits are prevalently grown along coastal regions in India and have been providing hydration, food, shelter, and construction materials for civilizations for thousands of years. Coconut palms are known as Nariyal in Hindi, meaning "fruit containing water," and Sirphal in Sanskrit, meaning "god's fruit." In Hinduism, coconuts, including the Golden Dwarf, are a traditional offering at temples, and some temples will not accept contributions unless a coconut is presented as a part of the offering. Coconuts, as offerings, are broken open to symbolize the breaking of the ego. The water inside is poured on figurines of the gods and is meant to remove negativity and welcome purity into life. Some coconut offerings are also left with a small tuft of fiber. This tuft is said to represent hair, the coconut a head, and the white flesh as the mind.


Geography/History

Coconut palms are thought to have originated in India and Southeast Asia and have been growing wild since ancient times. Coconuts spread naturally via ocean currents, and eventually, they were carried by civilizations along ancient trade routes and migratory paths as a natural water source. The history of Golden Dwarf coconuts is unknown, but some experts believe it may have developed from coconut palms in Malaysia or India. Golden Dwarf coconuts are grown in well-drained soils in full sun and thrive in tropical to subtropical climates. There are several varieties of Golden Dwarf coconut palms, and the various types are primarily grown and sold in India, specifically southern India, Sri Lanka, and Southeast Asia. Golden Dwarf coconuts are rarer than other commercial varieties throughout India. The Golden Dwarf coconuts featured in the photograph above were sourced through a market in Chennai, India.