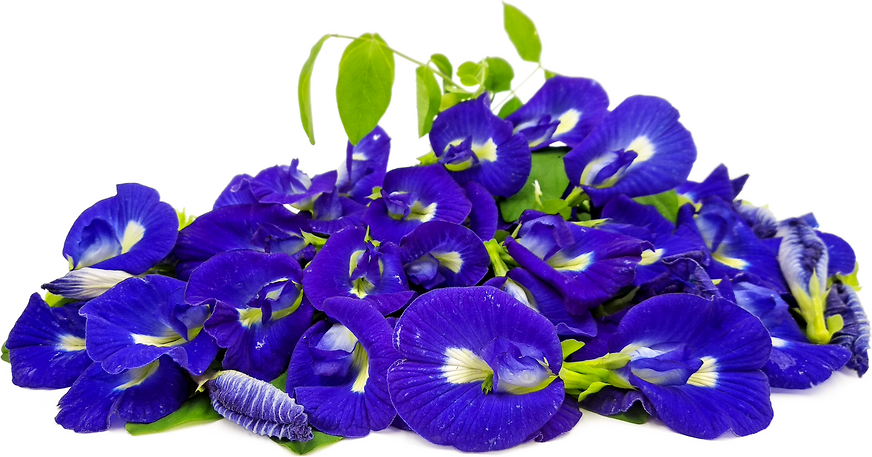 Telang Flowers
Inventory, lb : 0
Description/Taste
Telang flowers are small to medium in size, averaging 4 to 12 centimeters in length and 3 to 4 centimeters in diameter, and have a broad, oval, and flat to slightly curved shape. The flowers appear individually or in pairs on the vines and are comprised of a larger winged petal that sits upright with two smaller petals at the bottom-center of the bloom. The petals are soft, velvety, and smooth to the touch and appear in vibrant shades of dark blue-purple with a pale-yellow, white center. Telang flowers have a crisp and tender consistency when eaten fresh and release an earthy, woody, grassy, and slightly sweet flavor.
Seasons/Availability
Telang flowers are available year-round in tropical climates.
Current Facts
Telang flowers, botanically classified as Clitoria ternatea, are delicate blooms that grow on an herbaceous, evergreen climbing vine belonging to the Fabaceae family. The vines can extend over one meter in length, producing edible pods and flowers, and are native to tropical Asia, where the flowers have been revered for their medicinal properties and natural coloring since ancient times. Telang flowers are most commonly known in the Western World as Butterfly Pea flowers and are also referred to as Cordofan Pea, Darwin Pea, Blue Pea, Asian Pigeonwing, Fula Criqua, Pukingan, Cunha, and Blue Bell vine worldwide. The flowers secrete a colorful purple-blue hue when immersed in hot water, and this pigmented liquid can be used in mixology, tea, desserts, and other culinary preparations. In the modern-day, Telang flowers are harvested from wild and cultivated plants and are sold fresh, dried, or in powdered form.
Nutritional Value
Telang flowers are an excellent source of flavonoids, antioxidants containing anti-inflammatory properties to protect the immune system, reduce inflammation, and cleanse the digestive tract. The flowers also provide potassium to balance fluid levels within the body, calcium to strengthen bones and teeth, vitamin C to increase collagen production, and contains other nutrients, including zinc, iron, magnesium, vitamin E, and manganese. In Southeast Asia, Telang flowers have been a part of Chinese and Ayurvedic medicines for thousands of years to improve cognitive function and reduce stress. The flowers are also steeped into a tea to help treat insomnia, relieve fevers, and purify the blood. In Ayurveda, Telang flowers are known as aparajita, meaning "the invincible," a name used in reference to the flower's healing abilities. The flowers are also classified as a Medhaya Rasayana ingredient, a term in Ayurveda for elements that help to improve memory, mental clarity, and cognitive function.
Applications
Telang flowers have a mild, sweet, and subtly grassy flavor well suited for fresh and cooked preparations. The fresh flowers are mostly consumed raw, used as an edible garnish over soups, grain bowls, and salads, or incorporated into cocktails, tea, and sparkling beverages. Try freezing petals of the flowers in ice cubes as a festive addition to drinks. Telang flowers are famous worldwide for their purple, color-changing hue in beverages. Fresh or dried flowers can be steeped in boiling water to extract a deep indigo-purple-colored tea. Telang flower tea can transform into hues of pink when mixed with an acid such as lemon juice or into shades of red when combined with hibiscus. The tea can also be made with fresh lemongrass for added flavor. In Thailand, Telang flowers are used to color lemonade or are served with lime and pandan-infused syrup in a drink known as nam dok anchan. Telang flower infusions are common in Southeast Asia, but they have recently increased in popularity in the United States for their color-changing properties in craft cocktails. The extracted coloring is also used in culinary dishes as a natural food dye. Telang flowers can be used to give a blue-hue to rice or desserts such as coconut-based puddings, glutinous rice, cakes, dumplings, and bars. The flowers can also be used whole, dipped in batter, and fried as an appetizer or snack, or served with earthy cheeses. In modern kitchens, chefs use the flowers as a coloring agent for boiled eggs, sushi rice, butter, and lattes as a contemporary twist on traditional recipes. Telang flowers pair well with lavender, lemongrass, matcha, chamomile, citrus, vanilla, honey, nutmeg, and cinnamon. Whole, fresh flowers should be used immediately for the best quality and flavor. When the flowers are dried, they can be stored in a cool, dry, and dark place for 1 to 2 years.
Ethnic/Cultural Info
In Southeast Asia, Telang flowers are traditionally used in Peranakan cooking, also known as Nyonya cuisine, and this unique and distinct cooking style was developed from a blend of local and foreign practices. Peranakan generally refers to an ethnic grouping of people with a mix of Chinese, Indonesian, and Malaysian heritage, but the term can also encompass several other ancestries, known as Jawi, Chitty, Java, or Arab Peranakans. In Nyonya cuisine, Telang flowers are favored for their nutritional properties and are often incorporated into liquids to impart a colorful hue. The flowers are steeped into boiling water with rice to develop a natural, purple-blue coloring, or they are mixed with coconut milk for cakes and other desserts. Telang flowers are also notably used in variations of the famous dish nasi ulam, a meal of minced herbs, flowers, vegetables, and flavorful rice. Nasi means "rice" in Malay, and ulam means "salad" or "an assortment of herbs," descriptors that embody the variety of ingredients found within the dish. There are many ways to prepare nasi ulam, and at Green Circle Eco Farm in Singapore, Telang flowers are used as a fresh, edible addition as a contemporary take on the classic dish. Owner and farmer Evelyn Eng grows Telang flowers in the farm's fruit forest and offers visitors a sensory experience of harvesting the flowers, preparing them for the dish, and tasting the flower's mild flavor in combination with the other herbs. Evelyn's nasi ulam uses over thirty different herbs and vegetables in her recipe, and all the fresh ingredients were sourced from her farm. Visitors also have the experience of preparing nasi ulam in Evelyn's outdoor kitchen, learning the art of Nyonya cooking practices while working beside nature in an eco-conscious setting.
Geography/History
Telang flowers are native to tropical Asia and have been growing wild since ancient times. The flowers have been used as a culinary and medicinal ingredient for thousands of years, gathered from wild plants, but over time, villages began planting the climbing vine in gardens for easier access. In the 1800s, Telang flowers were given their botanical name by German Botanist Johann Philipp Breyne when he encountered the plant on Ternate Island in Indonesia. Telang flowers were also spread worldwide through human migration, becoming naturalized in many tropical to subtropical climates. Telang flowers thrive in the wild beside riverbanks, in forests, and along vegetation borders. They can also be planted and found growing along fences, walls, and on trellises in urban communities. Today Telang flowers are primarily gathered from wild or home garden plants, sold fresh through local markets in Southeast Asia, Australia, Africa, and Central and South America. The flowers are also cultivated on a small scale and are dried and sold whole or ground into a powder, marketed as a nutritional supplement.
Recipe Ideas
Recipes that include Telang Flowers. One

is easiest, three is harder.