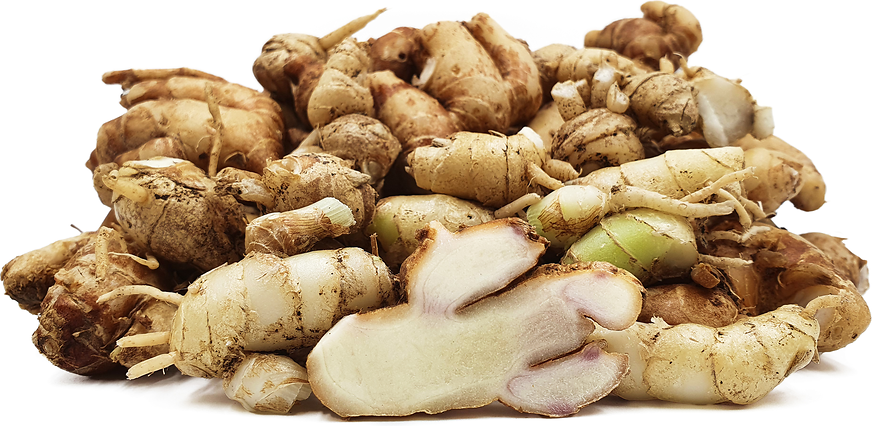 Kencur Ginger
Inventory, lb : 0
Description/Taste

Kencur is comprised of 2 to 4 broad, flat, and oval-shaped leaves that average 10 to 15 centimeters in length. The leaves grow close to the ground in a rosette formation, and the plant is unusual as there is little to no stalk or central stem present. Kencur leaves are smooth and can be solid, dark green to variegated hues of dark and light green, and the leaves grow directly from the clustered rhizomes in the soil. The rhizomes are small, growing to approximately 2 to 3 centimeters in diameter and 2 to 6 centimeters in length, and are generally short and stubby with a bulbous, oval to round appearance. The skin is semi-thin, rough, and textured with visible rings, ranging in shades of brown, red-brown, and light brown. Underneath the surface, the white flesh is dense, crisp, and fibrous with an aqueous, slippery, chewy consistency. Kencur releases an earthy, subtly sweet aroma and has a floral, camphor-like flavor with peppery, herbal, earthy, bitter, and spicy undertones, invoking a lingering warmth within the throat and mouth when consumed.


Seasons/Availability

Kencur is available year-round.


Current Facts

Kencur, botanically classified as Kaempferia galanga, is a perennial plant belonging to the Zingiberaceae or ginger family. The low-growing plant thrives in tropical climates of Southeast Asia and has been used for its edible rhizomes and leaves in medicinal and culinary preparations for centuries. Kencur leaves are stemless, reaching 10 to 45 centimeters in height, and often appear as if they are laying on the ground, earning the plant the name Sand Ginger. Kencur translates from Indonesian to mean "Aromatic Ginger" and was named for its fragrant underground rhizomes, roots that are closely related to ginger and galangal. Kencur is often considered one of the four types of galangal, but this type is primarily used as a spice or in medicinal practices compared to other types of galangal incorporated into curries. The rhizomes are labeled by many names in local markets, including Cenkur in Malaysia, Pro Horm, Prah Kra-oup, or Waan Horm in Thailand, Shan Nai or Sha Jiang in Chinese, and Cutcherry. In Southeast Asia, Kencur rhizomes are gathered from wild plants or cultivated in home gardens, sold fresh, dried, or ground into a powder.


Nutritional Value

Kencur rhizomes are a source of fiber to regulate the digestive tract, phosphorus to protect bones and teeth, iron to develop the protein hemoglobin for oxygen transport through the bloodstream, and potassium to balance fluid levels within the body. The rhizomes also provide nutrients such as manganese, magnesium, zinc, and antioxidants to reduce inflammation, and contain essential oils that have been used in Asian medicines as a remedy for several diseases and ailments. In Traditional Chinese Medicine, Kencur is used as a diuretic and is consumed in tonics and beverages to reduce symptoms associated with colds and flu. In Indonesian and Malaysian medicines, the rhizomes are chewed to soothe sore throats, remove harmful bacteria from the digestive tract, and increase appetite in young children. Kencur rhizomes are also used in India as a remedy to lessen abdominal pain and intestinal wounds.


Applications

Kencur rhizomes have a medicinal, herbal, and earthy flavor utilized as a spice in culinary dishes or flavoring in beverages. The rhizomes are most prominently featured as a spice in Balinese, Javanese, and Szechuan cuisine and can be grated or crushed when fresh or dried and ground into a powder sprinkled into cooking. Many home chefs often buy pieces of dried Kencur and prefer to grind the rhizome into a powder just before use to maintain a more robust flavor. Kencur rhizomes are incorporated into curry dishes, mixed into a paste for urap, an Indonesian dish consisting of grated coconut, aromatics, and vegetables, or stirred into peanut sauces. The rhizomes can also be combined into sambal goang, a spicy condiment spooned over salad or vegetables, made from a blended mixture of Kencur rhizomes, oil, garlic, cayenne peppers, and salt. In addition to the rhizomes, young Kencur leaves can be steamed and mixed into soups and curries, chopped finely and tossed into the herb dish nasi ulam, folded into rice dishes as added flavoring, or mixed into chile paste. Whole, Kencur rhizomes will keep 2 to 3 months when stored in a plastic bag in the refrigerator's crisper drawer. Dried and powdered rhizomes will keep for several years when stored in a cool, dark, and dry location.


Ethnic/Cultural Info

Kencur rhizomes are traditionally incorporated into jamu, a type of natural medicine in Indonesia consisting of herbal tonics and beverages. Jamu has been present in Indonesian medicinal practices since 722 CE, and the term "jamu" was developed by a healer of the Javanese Royal Courts. Many variations of jamus have been recorded throughout history, each made with indigenous herbs, fruits, leaves, seeds, and spices of Indonesia to treat a specific ailment and boost health. Jamus have remained a staple immune-boosting beverage in the modern-day, and there are even jamu cafes in Indonesia that sell contemporary milkshakes and fruit drinks. There are also female jamu practitioners known as ibu jamus who mix their own custom blends of ingredients for neighborhood residents. The practitioners roll in carts with premade blends and ingredients for freshly made drinks into the neighborhoods and sell the beverages as a morning refreshment. Kencur rhizomes are used in jamu beras Kencur, a thick drink made from blended rice, lime juice, tamarind paste, palm sugar, Kencur, salt, and turmeric. Once blended, the beverage is lightly simmered with pandan leaves to enhance the flavoring.


Geography/History

Kencur plants are native to tropical and subtropical Asia and have been growing wild since ancient times. The plants are typically found in humid forests, growing in partial shade with fertile, well-drained soil. Since the plant's discovery, Kencur rhizomes and leaves have been harvested from wild plants for natural medicines. Over time, the plant was sown and cultivated in home gardens and became a favored flavoring for specific culinary preparations throughout Southeast Asia. Today Kencur plants are still found wild and produced in India, Thailand, Bangladesh, Cambodia, Vietnam, Myanmar, Taiwan, China, Malaysia, and Indonesia. Harvested fresh rhizomes and leaves are primarily found through local vendors at wet markets. Dried rhizomes and powders are available through online retailers, medicinal health stores, and local markets in Southeast Asia. The Kencur featured in the photograph above was sourced from a vendor at the Geylang Serai Market and Food Center in Singapore.