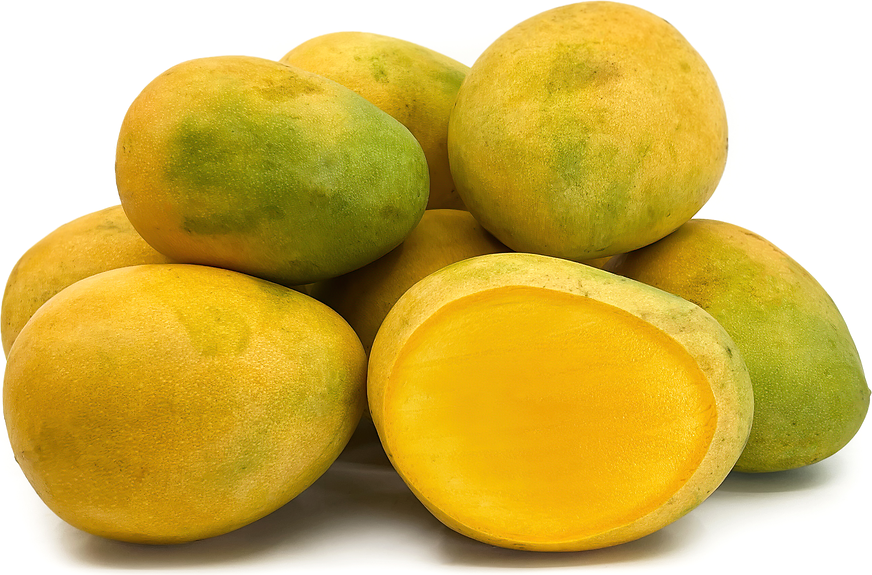 Jawahar Mangoes
Inventory, lb : 0
Description/Taste

Jawahar mangoes are a small to medium-sized varietal, averaging 10 to 12 centimeters in length and 6 to 7 centimeters in diameter, and have an oblong to oval shape with bulbous, curved shoulders tapering to a bluntly pointed non-stem end. The variety ranges from 215 to 240 grams in weight, sometimes reaching over 450 grams in select cultivation areas, and the skin is semi-thick, smooth, and taut. Jawahar mangoes ripen from green to variegated shades of golden yellow, green, and yellow-orange. Some fruits may also showcase a faint red blush on surface areas exposed to direct sunlight. Underneath the skin, the yellow flesh is dense, firm, aqueous, and succulent. One distinct characteristic of the variety is its ability to stay firm, even after ripening. Jawahar mangoes have a high sugar content, around 22.5 Brix, and moderate acidity, creating a sweet, tangy, and balanced taste with tropical and fruity nuances.


Seasons/Availability

Jawahar mangoes are available in the summer in India, with a peak season in May through June.


Current Facts

Jawahar mangoes, botanically classified as Mangifera indica, are an Indian variety belonging to the Anacardiaceae family. The mid-season cultivar was developed as an improved commercial variety in the 1980s and was released as a versatile mango used in fresh and cooked preparations. Jawahar mangoes are a popular variety in the state of Andhra Pradesh in India and are favored by growers for the tree's consistent, regular bearing and high yields. The variety is also valued for its firmer flesh and is sometimes known as Javari, Jawari, and Jawahari in Indian markets. In the modern day, Jawahar mangoes are relatively localized to Southern India and are consumed in a wide array of sweet or savory dishes throughout the summer as a seasonal delicacy.


Nutritional Value

Jawahar mangoes have not been extensively studied for their nutritional properties. The mangoes are a source of fiber to regulate the digestive tract, vitamin A to maintain healthy organ functioning, and vitamin C to boost the immune system. The variety also provides calcium to build strong bones and teeth, potassium to balance fluid levels within the bloodstream, vitamin K to assist in faster wound healing, magnesium to control optimal nerve functioning, and other nutrients, including iron, vitamin E, folate, copper, manganese, and B vitamins. In Ayurveda, the traditional medicine of India, mangoes are viewed as a way to increase digestion and cool the spirit. They are also thought to help reduce inflammation and clean the kidneys.


Applications

Jawahar mangoes have a sweet taste suited for fresh and cooked preparations. Ripe Jawahar mangoes can be consumed straight out of hand, discarding the skin and seed, or the flesh can be sliced and tossed into salads, mixed into fruit medleys, and chopped into side dishes. They can also be sprinkled with chaat masala and lime juice as a tangy snack. In Andhra Pradesh, Jawahar mangoes are used in their green state in curries, soups, rice, and pickles, or they are shredded and coated in spices and seasonings as a crunchy side dish. Jawahar mangoes can also be eaten ripe in desserts such as puddings, custards, and jellies, or they can be blended into milkshakes, smoothies, and ice-based drinks. Jawahar mangoes pair well with spices such as turmeric, mustard seeds, curry leaves, and fenugreek, aromatics including garlic, ginger, onions, and chile peppers, and fruits such as coconut, pineapples, bananas, and papayas. Whole, unopened Jawahar mangoes should be ripened at room temperature, away from direct sunlight. Once ripe, the fruits should be immediately consumed for the best quality and flavor. Ripe Jawahar mangoes can be kept in the fridge for 1 to 2 days.


Ethnic/Cultural Info

Mango trees are a life-giving source of income for female residents in the village of Dharhara in the Indian State of Bihar. When girls are born within the village, at least ten mango trees are planted around her residence to mature with her and produce fruits that can be sold. Selling the mangoes from these trees helps the families save and generate a traditional dowry for their daughter's future wedding. The practice of planting mango trees in Dharhara has allowed families to be less financially burdened when their daughters are ready to marry. When the girls mature and become young women, the families honor the mango tree's lifesaving status by symbolically marrying the women to their trees. This union is held as a public act of thankfulness and worship, and a wedding celebration is conducted with customary food, music, and village gatherings.


Geography/History

Jawahar mangoes are native to India and were developed through Bihar Agriculture University, Sabour. The variety was created from a cross between Mahmood Bahar mangoes and Gulabkhas mangoes in the 1980s and was released for commercial production in 1989. Much of the variety's history after its release is unknown, but the cultivar was adopted into select regions of India for commercial purposes. Today, Jawahar mangoes thrive in tropical to subtropical climates and are grown in the states of Andhra Pradesh and Tamil Nadu. The variety is seasonally sold through local markets, grocers, and directly through growers. The Jawahar mangoes featured in the photograph above were sourced through Spar Market in Chennai, India.