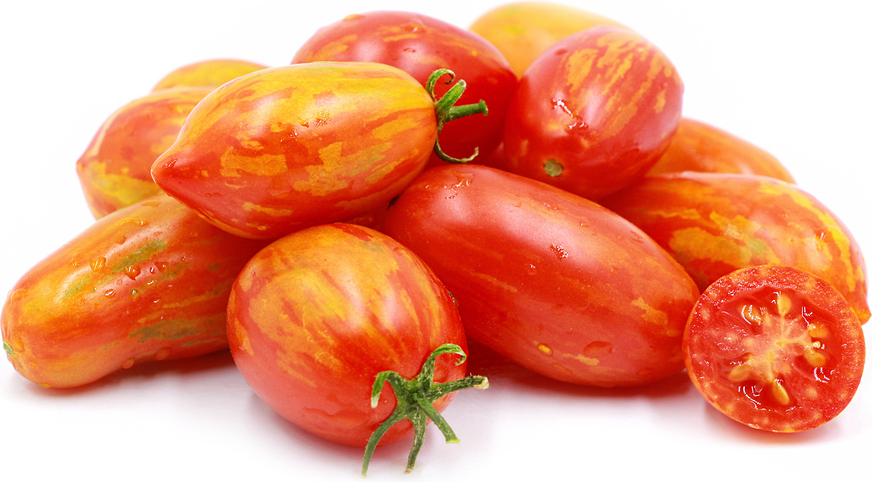 Sunset Falls Plum Tomato
Inventory, lb : 0
Description/Taste
Sunset Falls tomatoes are small, plum-shaped tomatoes about two inches long, weighing just one or two ounces. They have beautiful orange and yellow stripes on their skin, and they offer a mild, sweet flavor. Sunset Falls tomato plants are a determinate or "bush" variety, meaning that they grow to a compact height and ripen all at once. This variety is a great choice for gardeners with limited space as they perform well in containers or hanging baskets.
Seasons/Availability
Sunset Falls tomatoes are available in early summer.
Current Facts
Sunset Falls tomatoes are a member of the Solanaceae family and are botanically referred to as Solanum lycopersicum, formerly Lycopersicon esculentum. Sunset Falls is an F1 Hybrid variety, produced through a controlled, man-made method of pollination. F1 hybrids are bred by deliberately crossing two stable seed lines, known as inbred lines, which produce especially uniform offspring with specific traits, such as unique coloration, and good yield. In genetics, the term is an abbreviation for Filial 1 – literally meaning 'first children.' Hybrids tend to be more robust, disease resistant, and and better able to overcome adverse growing conditions.
Nutritional Value
Tomatoes are a good source of calcium and iron, and they also contain decent amounts of potassium. They contain high levels of vitamin C and vitamin A, along with a large range of valuable cancer-fighting phytochemicals, most notably lycopene, which is a naturally occurring antioxidant responsible for the tomato's red pigmentation. Research has shown that the protective effects of tomatoes against prostate cancer and heart disease result from the synergy of lycopene and other phytonutrients that are naturally present in whole tomatoes.
Applications
Sunset Falls tomatoes are great for fresh eating, and they add nice color to vegetable platters or salads. They can also be grilled and used for kebab skewers. They pair well with oregano, beans, chives, peppers, thyme and other fresh herbs, and soft cheeses. Store Sunset Falls tomatoes at room temperature until ripe, after which refrigeration can slow the process of decay.
Ethnic/Cultural Info
Hybridization has been around since the 19th century when Gregor Mendel, an Augustinian monk, first recorded his results in cross breeding beans. Today, plants such as the Sunset Falls tomato are developed with a specific purpose or for a specific trait, such as color, texture, durability, although it is not always about marketability. Some F1 hybrids mature faster and earlier, making the plant more suitable for shorter growing seasons, or some are prone to higher yields, resulting in larger crops from smaller farm space.
Geography/History
Sunset Falls is a hybrid variety, but like all tomato cultivars, it can trace its heritage to coastal South America, where eleven species of wild tomatoes have been growing for millions of years. Mesoamerican farmers first cultivated tomatoes as early as 700 AD, but it wasn't until the early 1900s that tomato breeders reported oval or grape-shaped tomatoes, distinguished by a constriction at the ends of the fruit. Like all tomato varieties, Sunset Falls cannot withstand any frost, so take care to plant outside in a sunny location only after the danger of frost has passed. Note that growing in containers may require more frequent watering.
Podcast